Cheesy Taters & Bacon (AIP)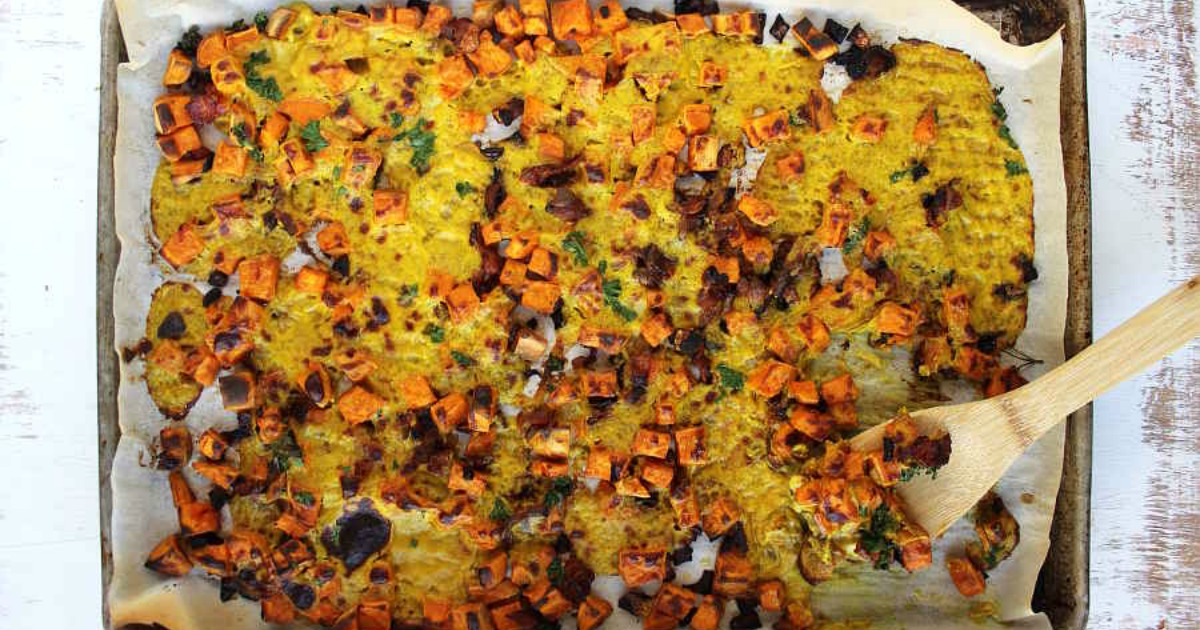 1 small sweet onion, diced
2 large sweet potatoes, peeled and ½" cubed
3 cloves garlic, thinly sliced
4 slices compliant bacon, diced
Place a rack in the center of the oven, and heat to 400 F.
Line a large sheet pan with parchment, and drizzle with about 1 tsp of avocado oil.
Add the onions in a single layer to the pan and drizzle with a tad more oil.
Bake for 15 minutes, or until edges are starting to brown. (I like to use this time to prep the potatoes, garlic and bacon.)
Remove the pan from the oven, and increase the heat to 425 F.
Add the potatoes, garlic and bacon to the pan, and use tongs to toss everything together evenly. Spread out into an even layer, and bake for 35 to 40 minutes or until bacon has crisped a bit, onions are a darker color, and potatoes have caramelized slightly.
Make sure to toss the mixture with tongs half way through cooking so they cook evenly. Meanwhile, make the cheese sauce.
Add all CHEESE SAUCE ingredients to a high-speed blender and blend on high for 30 seconds or until mixture is very smooth and creamy.
You may need to stop the blender halfway through to scrape down the sides and push the ingredients around a bit.
You may be tempted to add more water at first, but it will eventually puree into a nice, consistent sauce as-is.
After the potato mixture has cooked the 35-40 minutes, remove from the oven, then set to broil at 500 F.
Toss the potato mixture and spread back out into an even layer.
Pour / drizzle the cheese sauce over the top of the potato mixture, then broil for 5 to 7 minutes or until top looks a bit golden brown and slightly dry (just like glorious, baked cheese).
Recipe by
Gutsy By Nature
at https://gutsybynature.com/2018/06/07/cheesy-taters-bacon-aip-sheet-pan-recipes/