Chicken and Bok Choy Stir Fry (Paleo, AIP)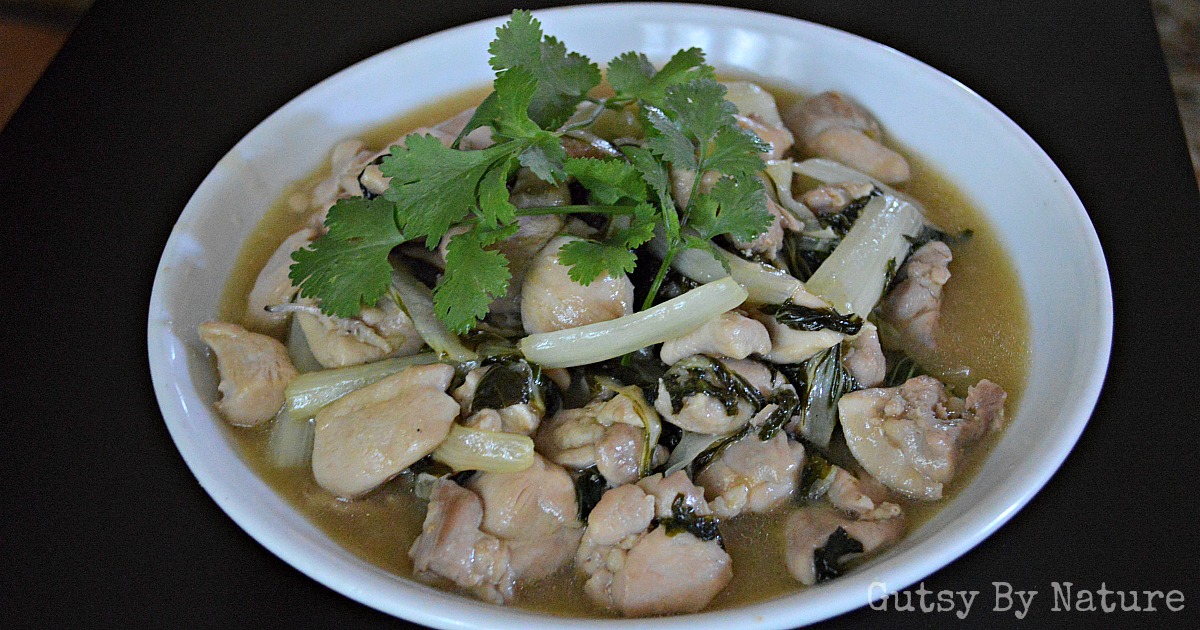 ¼ cup lemon juice
3 tablespoons honey
2 teaspoons fish sauce
2 tablespoons coconut aminos
2 tablespoons grated fresh ginger
3-4 garlic cloves, crushed
½ teaspoon salt
2 tablespoons coconut oil
1½ pounds boneless, skinless chicken thighs, cut into bite-sized chunks
1 pound baby bok choy, cut into pieces about 1-2 inches
1 tablespoon arrowroot powder (optional)
Fresh cilantro
Whisk together lemon juice, honey, fish sauce, coconut aminos, ginger, garlic, and salt. Set aside.
In a large skillet, heat coconut oil over medium-high heat. When hot, add the chicken pieces and spread in a single layer. Let cook, undisturbed for 3 minutes.
Stir chicken pieces and continue to cook for 4 more minutes, stirring occasionally.
Add bok choy and stir carefully to distribute. It will reduce in size quickly, but it may be a little difficult to stir and keep it in the skillet at first. Once the bok choy is mostly wilted, cook for another 2 minutes, stirring the entire time.
Add the sauce from step 1 and allow to cook for 2-3 more minutes. Meanwhile, whisk the arrowroot powder with 3 tablespoons water to prepare a slurry. Then slowly add it to the pan, stirring to distribute.
Garnish with chopped fresh cilantro and serve.
Recipe by
Gutsy By Nature
at https://gutsybynature.com/2018/06/05/chicken-and-bok-choy-stir-fry-paleo-aip/