Stuffed Flank Steak (AIP, SCD, Paleo)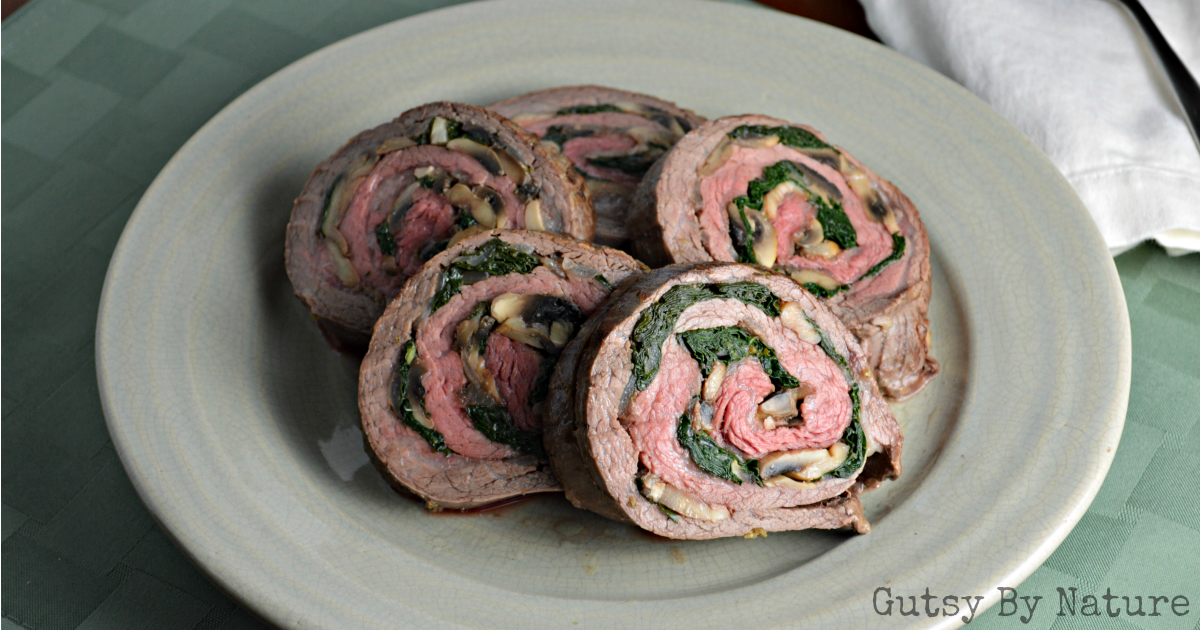 1 tablespoon coconut oil
2 ounces mushrooms, sliced
2 cups chopped kale, tough stems removed
1 small onion, chopped
1 teaspoon granulated garlic powder
1 teaspoon dried oregano
Salt
1-2 pounds flank steak (preferably from grass fed beef)
Olive oil
Preheat oven to 425° F.
In a large skillet over medium-high heat, melt the coconut oil. Add the sliced mushrooms, chopped kale, and chopped onion. Sauté until onion and kale are soft and mushrooms have released much of their liquid (7-10 minutes).
Mix in garlic powder, oregano, and salt to taste.
Butterfly steak and pound until ¼ to ½ inch thick.
Season meat with salt on both sides, then lay it out so that the grain of the meat is running parallel to you.
Spread mushroom and vegetable mixture on top, leaving a 1 inch border around all sides.
Take the edge of the meat closest to you and begin rolling tightly, using your hands to keep all the filling inside. Use kitchen twine to tightly tie the roll together every 3-4 inches.
Carefully transfer the rolled meat into a baking pan. Drizzle with olive oil and place in hot oven.
Roast for 35 minutes. Remove from oven and allow to rest for 15 minutes.
Remove the twine and slice into pieces of desired thickness for serving.
Recipe by
Gutsy By Nature
at https://gutsybynature.com/2018/08/14/stuffed-flank-steak-aip-scd-paleo/