Thai Chicken Curry with Mushrooms and Carrots (AIP, SCD)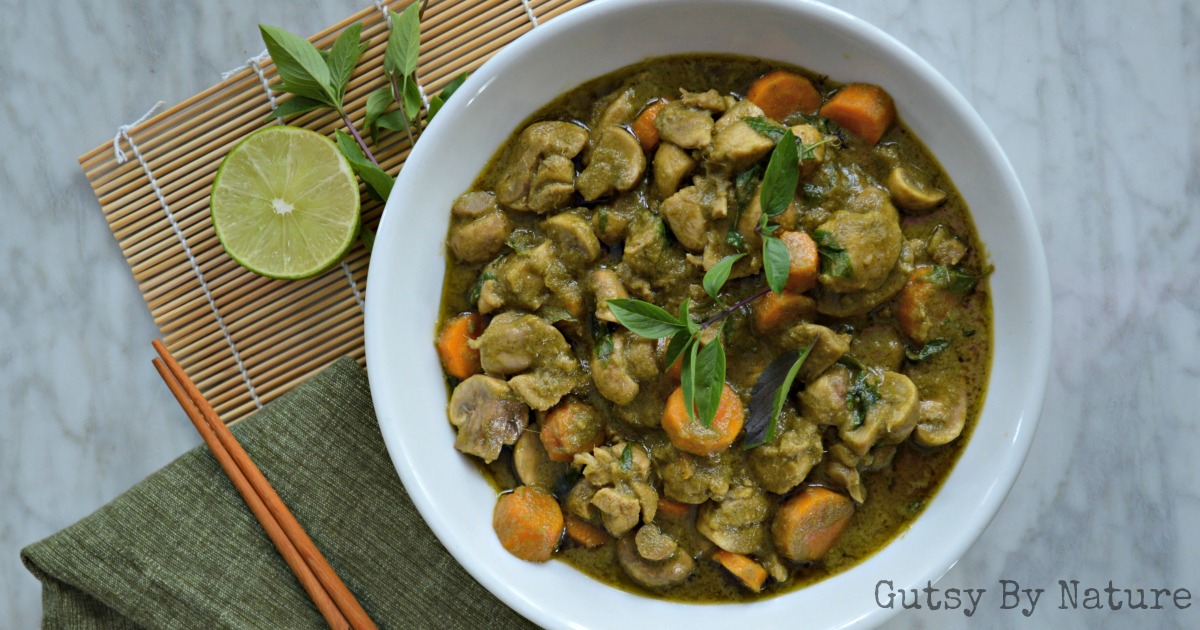 ½ cup cilantro leaves and stems
½ cup Thai basil leaves
1 6 inch long stalk lemongrass, minced
1 inch chunk fresh ginger, minced
1 large shallot, minced
2 garlic cloves, minced
1 teaspoon fish sauce (omit for SCD)
½ teaspoon sea salt
¼ teaspoon cloves
pinch of cinnamon
¼ teaspoon dried ground galangal (or dried ginger)
juice and zest of 1 lime
½ cup water
2 tablespoons coconut oil
1 cup coconut milk (divided)
1 pound boneless, skinless chicken thighs, cut into bite sized pieces
8 ounces button mushrooms, cut into bite sized pieces
2 large carrots, peeled and cut into bite sized pieces
up to 1 tablespoon fish sauce (omit for SCD)
¼ cup Thai basil leaves, plus more to garnish
1 lemon, cut into wedges
Make curry paste by combining cilantro, ½ cup Thai basil leaves, lemongrass, fresh ginger, shallot, cloves, 1 teaspoon fish sauce, salt, cloves, cinnamon, galangal, juice and zest of lime, and water in a high speed blender. Puree until smooth.
In a large skillet, heat coconut oil over medium-high heat. Add paste and cook, stirring constantly, until very fragrant and the oil has started to separate.
Stir in ½ cup coconut milk and bring to a simmer, then reduce heat to medium and cook until slightly darkened (about 3 minutes).
Stir in chicken pieces and ½ cup coconut milk. Cook for 4 minutes.
Add mushrooms and carrots. Stir to distribute evenly. Cover and cook for 5 more minutes, or until chicken has cooked through and carrots and mushrooms are soft.
Taste and add up to 1 tablespoon fish sauce and additional salt if desired.
Add ¼ cup Thai basil leaves and stir. Bring to a simmer just long enough to soften leaves, then remove from heat.
Serve with additional Thai basil leaves and lemon wedges.
Recipe by
Gutsy By Nature
at https://gutsybynature.com/2018/08/21/thai-chicken-curry-with-mushrooms-and-carrots-aip-scd/