Balsamic Steak Mason Jar Salads (AIP, SCD)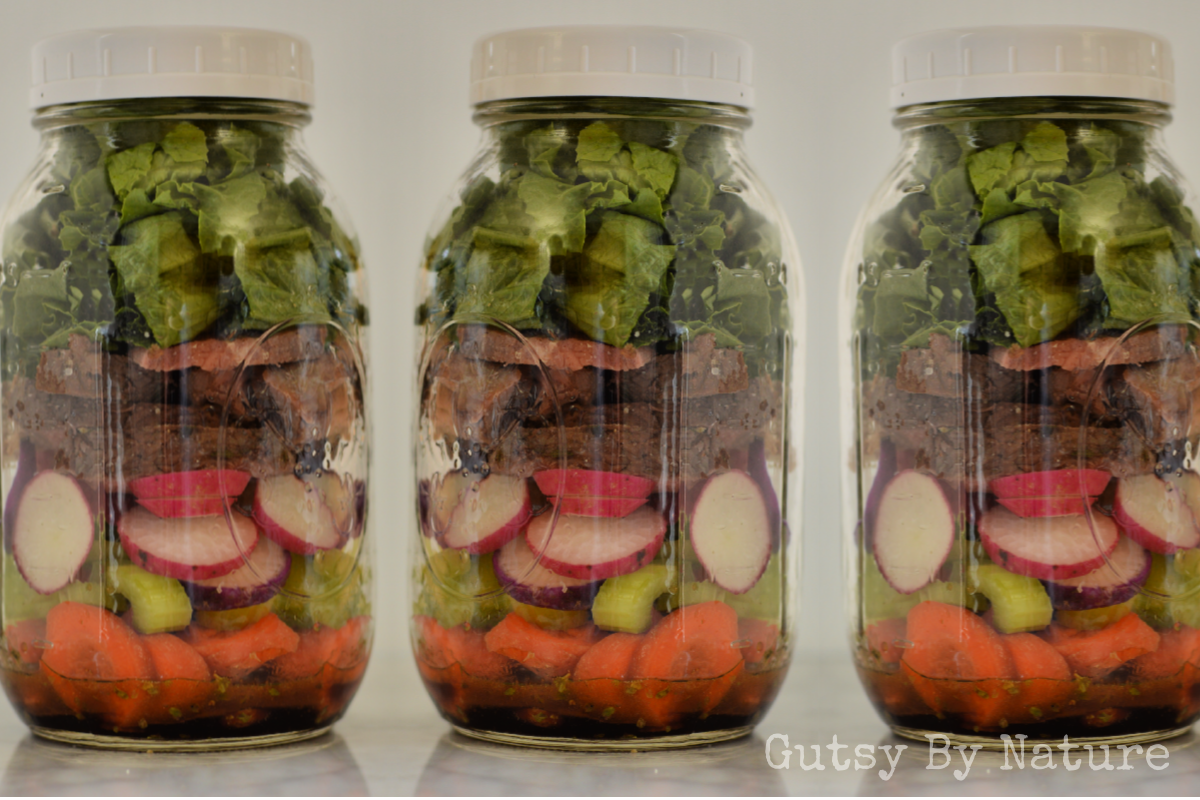 ¼ teaspoon garlic powder
¼ teaspoon onion powder
½ teaspoon dried oregano
¼ teaspoon salt
1 tablespoon water
2 tablespoons balsamic vinegar
2 tablespoons apple cider vinegar
⅓ cup olive oil
½ teaspoon anchovy paste
1 8-10 ounce New York strip steak or similar cut
salt
1 tablespoon coconut oil
4 carrots, cleaned and cut into coins
12 small radishes, cleaned and sliced
4 clery ribs, chopped
2 romaine lettuce hearts, or 1 full head, cut into bite sized pieces
In a small jar with a lid, place garlic, onion, oregano, salt, and water. Set aside while you prepare the steak.
Season steak liberally with salt. Heat a cast iron skillet over medium high heat. Add coconut oil. When oil is hot, sear steak in skillet for 3-4 minutes on one side. Flip and sear for 3-4 minutes on the other side. (This will result in a medium-rare steak. Cook longer if you prefer it more well done). Remove from pan and set aside to rest.
Prepare carrots, radishes, and celery as indicated or desired.
To small jar with dressing seasonings, add vinegars, olive oil, and anchovy paste. Shake vigorously to combine.
Slice the steak in half lengthwise then cut slice against the grain into pieces about ¼ inch thick.
Distribute dressing evenly among 4 quart sized Mason jars. Then layer, in this order: carrots, celery, radishes, steak pieces, and lettuce.
Store in refrigerator until ready to eat. Serve by inverting contents into a large bowl.
Recipe by
Gutsy By Nature
at https://gutsybynature.com/2019/01/01/meal-prep-tricks-balsamic-steak-mason-jar-salads-aip-scd/