Bacon Beef Liver Pâté with Rosemary and Thyme from The Nutrient-Dense Kitchen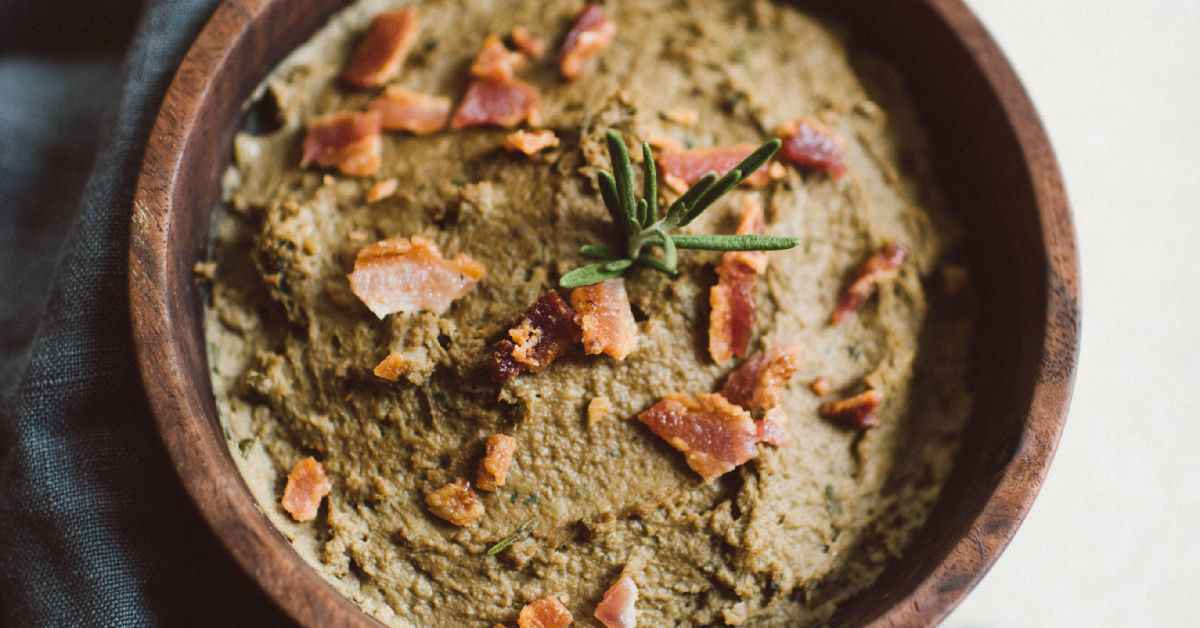 4 slices thick cut, uncured bacon
1 small onion, minced
4 cloves garlic, minced
1 pound grass-fed beef liver, rinsed, dried, and sliced into 2- to 3- inch pieces
2 tablespoons minced fresh rosemary
2 tablespoons minced fresh thyme
⅓ cup coconut oil
½ teaspoon sea salt
Fresh herbs, for garnish
Slices of fresh carrot or cucumber, for serving
Cook the bacon slices in a cast-iron skillet, flipping as needed until they are crispy. Transfer to a paper towel-lined plate to cool, keeping the fat in the pan.
Add the onion and cook for about 5 minutes, stirring, on medium heat. Add the garlic and cook for a minute more. Clear a space in the center of the skillet by moving the onions and garlic to the outside of the pan, adding the liver slices to the center one by one, making sure they lie flat. Sprinkle with the rosemary and thyme. Cook for 2 to 5 minutes per side, or until the liver is no longer pink in the center. Sent aside to cool for a few minutes.
Transfer the mixture to a high-powered blender or food processor, add the coconut oil and sea salt. process until a thick paste forms.
Put the pâté into a medium bowl. Chop the bacon and fold it into the pâté.
If you are going to serve the pâté immediately, transfer some into a small serving bowl, garnish with the fresh herbs, and serve the vegetables alongside. If you are making the pâté for later, transfer it to a storage container and refrigerate, it will keep for up to 1 week.
MODIFICATIONS: For a low-FODMAP version, replace the onions and garlic with diced celery. For a coconut-free version, use olive oil instead of the coconut oil.
Recipe by
Gutsy By Nature
at https://gutsybynature.com/2019/03/05/bacon-beef-liver-pate-with-rosemary-and-thyme-from-the-nutrient-dense-kitchen/