Colorful Cauliflower Salad (AIP, SCD)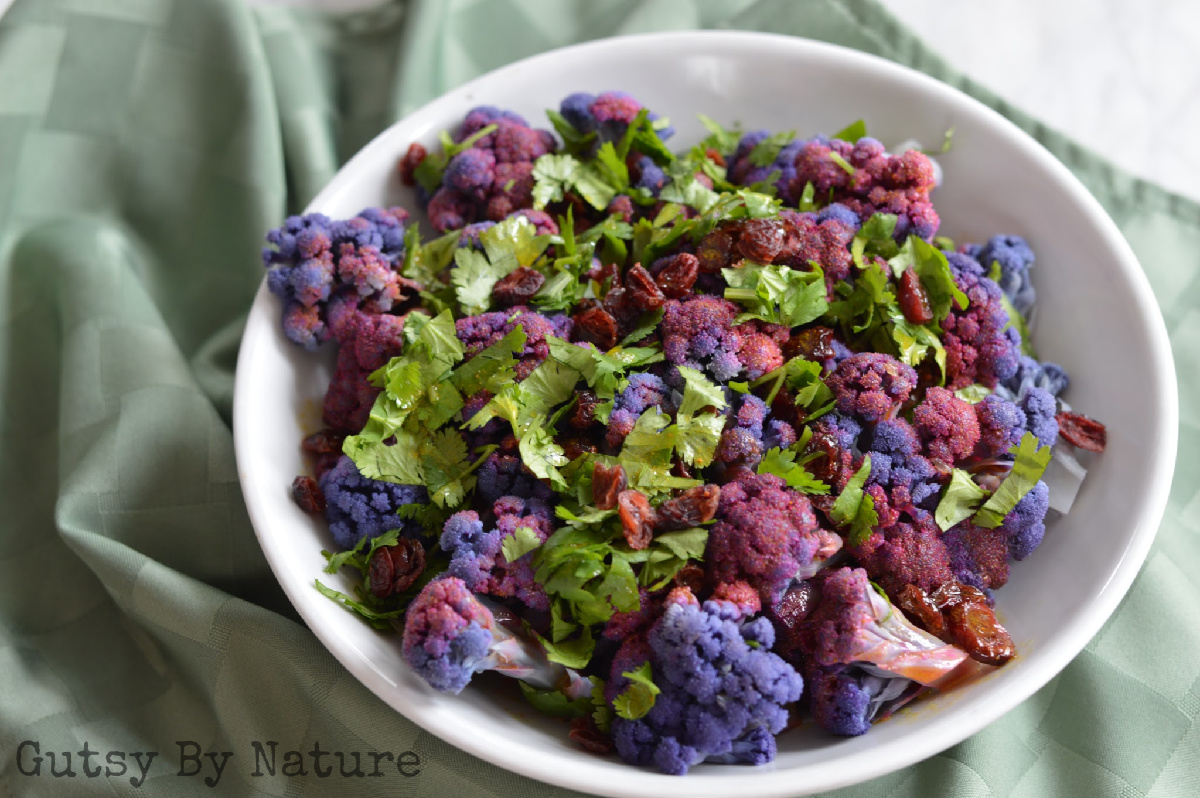 1 large head purple cauliflower
juice of 1 lemon
⅓ cup extra virgin olive oil
1 teaspoon anchovy paste
¼ teaspoon salt
½ teaspoon dried ground turmeric
½ cup dried cranberries
¼ cup chopped fresh cilantro
Cut cauliflower head into bite sized florets.
Place a steamer basket inside a large pot. Place water in the bottom of the pot and bring to a boil.
When water is boiling, add cauliflower to steamer basket and cover. Allow to steam blanch for 6 minutes.
Meanwhile, fill a large bowl or other container with ice water. When blanching is complete, drain the cauliflower and immediately place in ice water to quickly stop the cooking.
Prepare the salad dressing by combining lemon juice, olive oil, anchovy paste, salt, and turmeric in a glass jar with a tight fitting lid. Shake vigorously and set aside.
Drain cauliflower and transfer to large serving bowl. Add dried cranberries and gently toss to distribute.
Drizzle dressing over cauliflower and cranberries mixture and then top with fresh cilantro.
Serve immediately. Leftovers may be kept in refrigerator for up to 3 days.
Recipe by
Gutsy By Nature
at https://gutsybynature.com/2019/04/16/colorful-cauliflower-salad-aip-scd/