Asparagus & Garlic Scape Soup (AIP, SCD)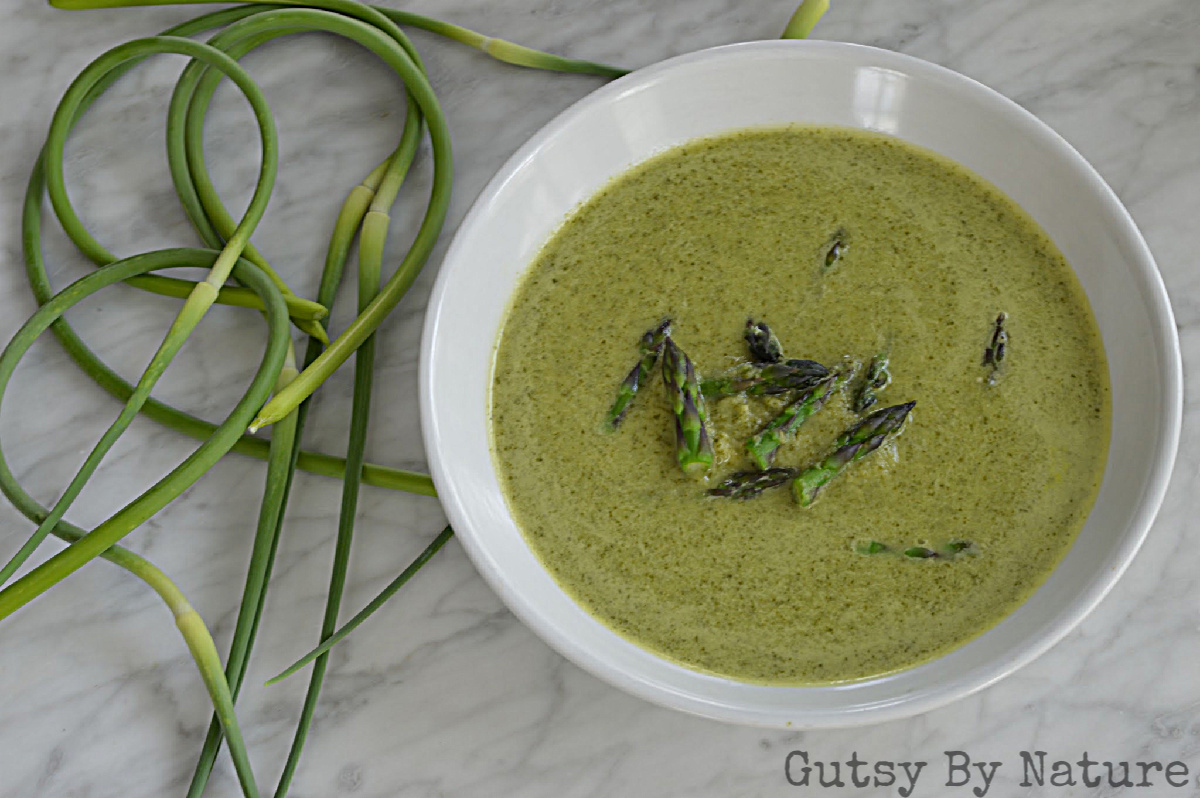 ½ pound asparagus
1 tablespoon olive oil
6 garlic scapes
½ pound cauliflower, cut into florets OR white sweet potato, peeled and cut into chunks
1 teaspoon salt (or more to taste)
4 cups broth
2 cups kale, spinach, or other leafy greens
1 tablespoon fresh lemon juice (or more to taste)
Heat about 1 cup water to boiling in a large saucepan.
Cut off top 2-3 inches of asparagus and set aside the rest for step 5.
Place asparagus tips in a steamer basket and place in saucepan over boiling water. Cover and steam for 3 minutes. Drain water and place asparagus tips in a bowl of ice water and set aside.
Return now empty saucepan to medium heat and add 1 tablespoon olive oil.
Roughly chop garlic scapes and remaining asparagus stalks. Add to saucepan along with cauliflower or sweet potato and cook, stirring constantly, until everything is vibrant green and slightly soft (3-4 minutes).
Add salt and broth. Bring to a simmer and then cover and cook for 5 minutes.
Add greens and cook for 2 minutes or until greens are wilted and other vegetables are very soft.
Remove from heat and use immersion blender to puree soup.
Add lemon juice. Taste and adjust seasonings.
Drain the asparagus tips from step 3 and add to the soup before serving.
Recipe by
Gutsy By Nature
at https://gutsybynature.com/2019/05/28/asparagus-garlic-scape-soup-aip-scd/