Thai Basil Beef with Carrots & Rainbow Chard (AIP)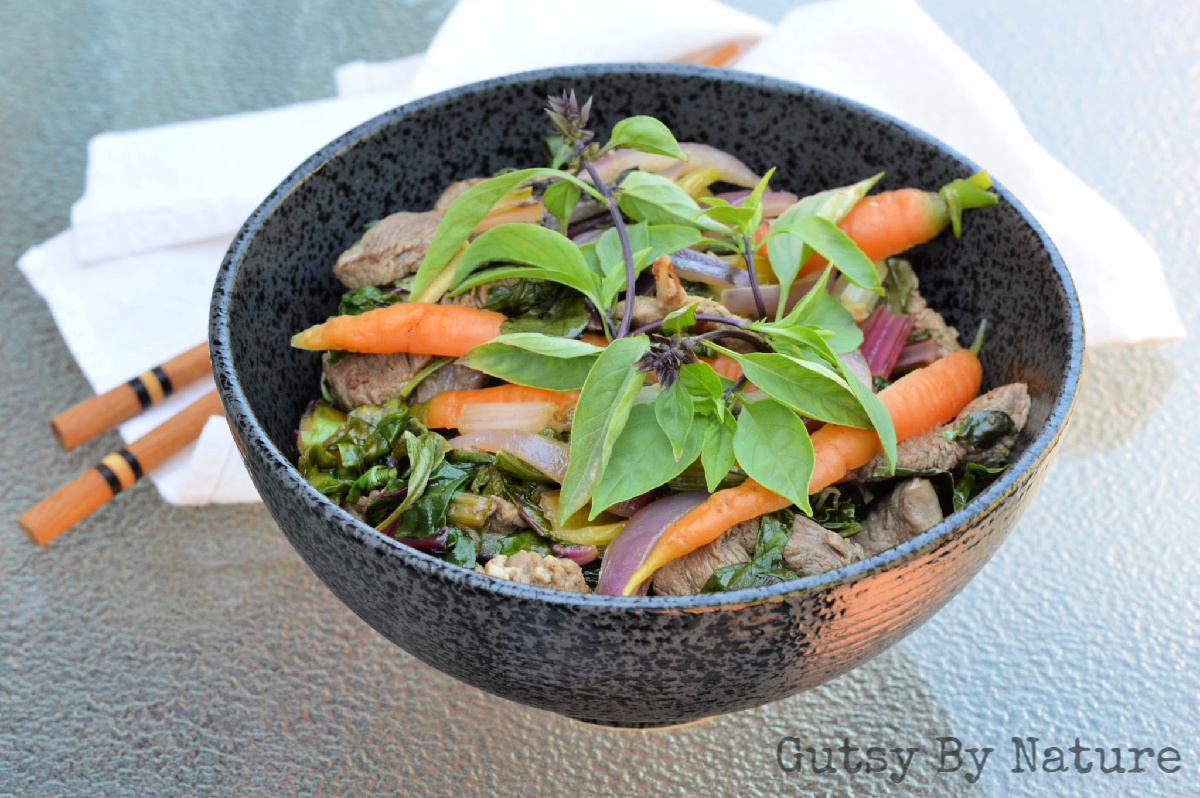 1 pound grassfed boneless beef steak, cut into pieces ¼ inch thick (flank, strip, or sirloin steaks all work well)
salt
2 tablespoons avocado oil (divided)
1 small red onion, thinly sliced
2 garlic cloves, thinly sliced
6 small carrots, cut lengthwise into halves or quarters
1 bunch rainbow chard, leaves chopped and stems cut into 2 inch pieces
¼ cup bone broth
2 tablespoons coconut aminos
2 tablespoons apple cider vinegar
1 cup Thai basil leaves, removed from stems, plus more for garnish
Season beef pieces lightly with salt.
Heat 1 tablespoon oil in large skillet over medium-high heat. Cook beef on each side 2-3 minutes and then remove and set aside. Do not clean skillet.
Add 1 tablespoon oil to same skillet along with onion and garlic. Cook, stirring frequently, for about 3 minutes or until slightly soft.
Add carrots and cook for 2 more minutes, stirring frequently.
Add chard leaves and stems and cook just until wilted leaves have wilted then add broth and use a wooden spoon to loosen brown bits.
Add coconut aminos, apple cider vinegar, and meat along with any released juices. Stir to distribute and allow meat to come up to temperature.
Off heat, toss in basil leaves and allow them to wilt.
Serve immediately, garnished with additional basil leaves if desired.
Recipe by
Gutsy By Nature
at https://gutsybynature.com/2019/06/18/thai-basil-beef-with-carrots-rainbow-chard-aip/