One Pan Salmon & Rainbow Chard with Garlic & Tarragon (AIP, SCD)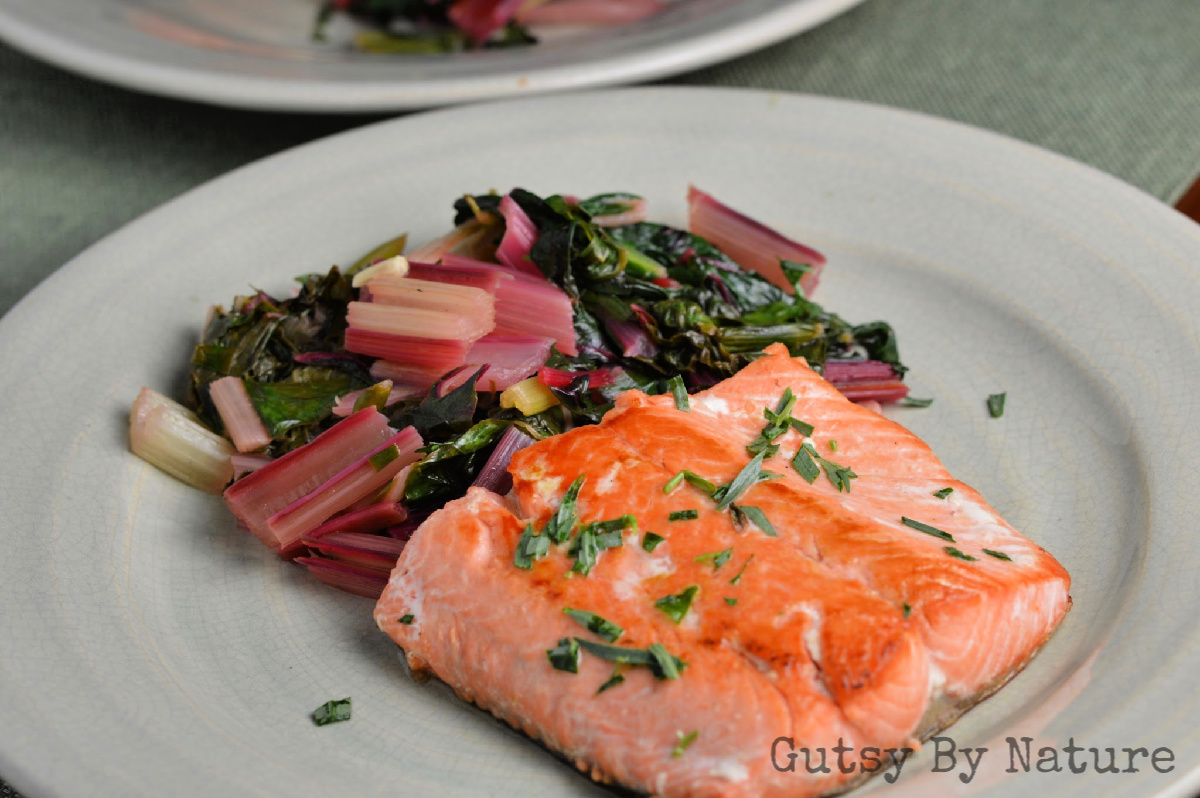 2 pounds rainbow swiss chard
2 tablespoons avocado oil (divided)
2 garlic cloves, peeled and sliced
juice of 1 lemon
2 tablespoons fresh tarragon, minced
salt to taste
1 pound wild caught salmon, cut into 4 serving pieces
Cut off the stems of the rainbow chard and cut into 1 inch pieces. Cut the leaves into strips, about 1 inch wide.
Heat 1 tablespoon avocado oil in a large skillet over medium high heat.
When hot, add the chard stems and the sliced garlic cloves. Cook, stirring constantly, for 4 minutes. Add the leaves and continue to cook, stirring constantly, for another 5 minutes or until leaves and wilted and stems are soft but still have a bit of crunch to them.
Off heat, stir in lemon juice and most of the minced tarragon (reserving a little bit to garnish the salmon at the end). Remove cooked chard from pan for serving and wipe with a paper towel.
Return now empty skillet to medium high heat and add remaining tablespoon avocado oil.
When oil is hot, gently place salmon pieces in pan, skin side down.
Allow to cook undisturbed for 3 minutes. Flip and cook for 3 minutes more on the other side.
Sprinkle with remaining chopped tarragon.
Remove salmon from pan for serving with cooked chard.
Recipe by
Gutsy By Nature
at https://gutsybynature.com/2019/07/09/one-pan-salmon-rainbow-chard-with-garlic-tarragon-aip-scd/