Chicken and Herb Dumpling Hot Dish (AIP)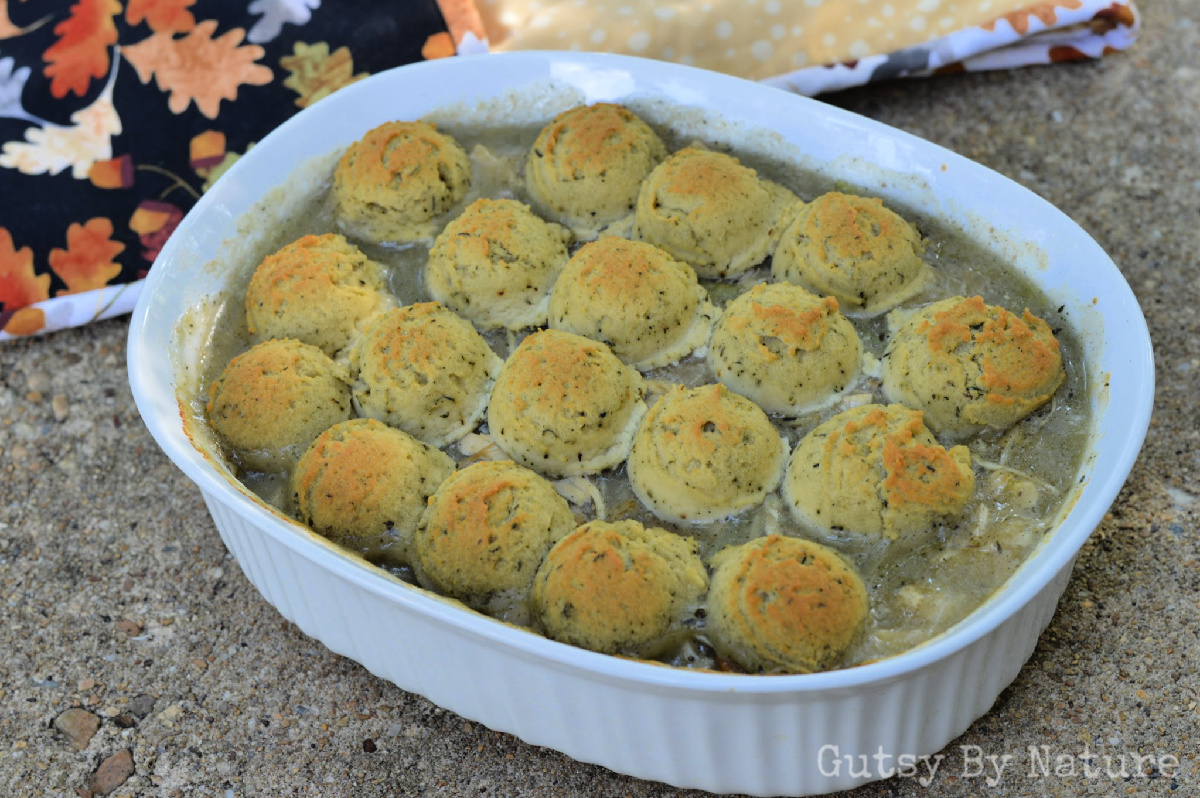 1 whole chicken
salt
2 bay leaves
water
2 tablespoons coconut oil
1 medium onion, diced
4 medium carrots, cut into ¼ inch coins
2 celery ribs, diced
¼ cup cassava flour
2 teaspoons dried thyme (divided)
2 teaspoons dried sage (divided)
½ cup coconut flour
½ cup arrowroot starch
½ teaspoon baking soda
⅓ cup lard or palm shortening
1 cup warm water
½ teaspoon garlic powder
In large pot or Dutch oven, place chicken, 1 tablespoon salt, 1 tablespoon apple cider vinegar, bay leaves, and enough water to cover the chicken completely.
Bring to low boil, then reduce to simmer and cover. Cook for 90 minutes.
Remove chicken and allow it to cool enough that you can easily handle it.
Discard the bay leaves and reserve 4 cups of the cooking water for this recipe. Save the remaining cooking water to be used as a broth in other recipes.
Remove meat from the chicken carcass and chop or shred into bite sized pieces.
Heat coconut oil in now empty pot over medium heat. Add onions, carrots, and celery and cook for about 5 minutes, or until onions have become translucent and carrots are beginning to soften. Add cassava flour and cook until it has browned slightly, another 2-3 minutes, stirring the whole time.
Add 4 cups of reserved cooking liquid and cook until sauce is thick and slightly reduced and carrots are quite soft, about 5 minutes.
Add 1 teaspoon thyme and 1 teaspoon sage. Add cooked chicken.
Taste and salt as desired.
Pour into a 2-3 quart casserole dish.
Preheat oven to 375° F.
In a medium bowl, mix coconut flour, arrowroot starch, baking soda, ½ teaspoon salt, lard or palm shortening, water, and 1 teaspoon thyme, 1 teaspoon sage, garlic powder, and ½ teaspoon apple cider vinegar. Use your hands to need into a thick batter.
Form batter into 15-18 small dumplings, dropping them onto the top of the hot chicken mixture as you go. A scoop like the kind you would use for cookie making works well, or just use a tablespoon.
Place in oven and bake for 40 minutes, or until filling is bubbling and dumplings are cooked through and slightly browned on top.
Serve hot.
Recipe by
Gutsy By Nature
at https://gutsybynature.com/2019/08/06/chicken-and-dumplings-hot-dish-aip/