Braised Romanesco with Onions, Olives, and Raisins (AIP, SCD)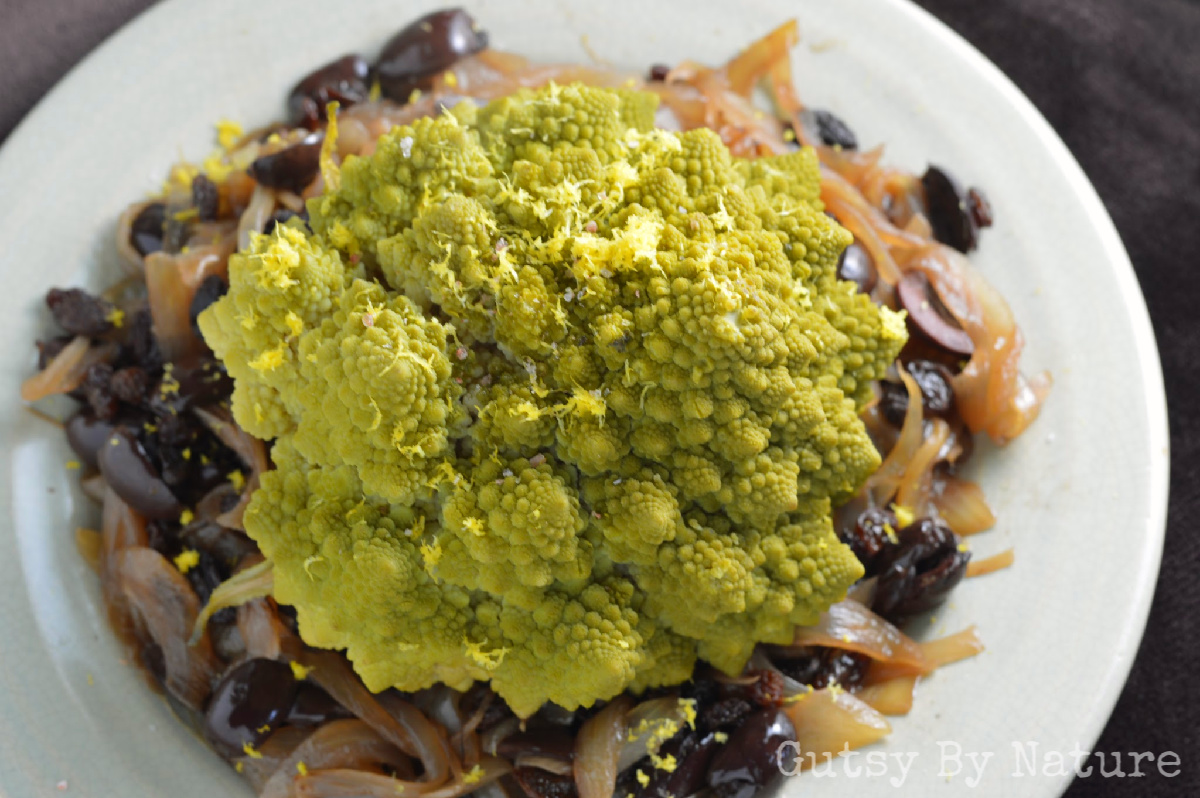 1 large head of romanesco broccoli (1-2 pounds)
2 tablespoons olive oil
1 large yellow onion, sliced (about 3 cups total when sliced)
1 cup bone broth
½ cup kalamata olives
½ cup raisins
zest and juice of 1 lemon
salt to taste
Remove and discard any leaves that came attached to the romanesco head. Using a sharp paring knife, cut a large X about 2 inches deep into the bottom of the head. Set aside.
In a large pot with a lid, such as a Dutch oven, heat olive oil over medium-high heat.
Add onion to hot oil and saute, stirring frequently, until very soft and slightly brown (5-7 minutes).
Add bone broth and olives and bring to a boil. Reduce heat to low.
Gently place romanesco head on top of onion mixture.
Cover and simmer for 30-40 minutes, or until romanesco is very tender and will cut apart with ease.
Carefully remove the romanesco and set aside. Add raisins and lemon juice to onion mixture and stir. Taste and salt as desired.
Place the onion mixture on serving plate and then place the whole romanesco on top of that. Garnish with lemon zest and a sprinkle of coarse salt before serving.
Recipe by
Gutsy By Nature
at https://gutsybynature.com/2019/09/10/braised-romanesco-with-onions-olives-and-raisins-aip-scd/