Red Snapper Livornese (AIP, SCD)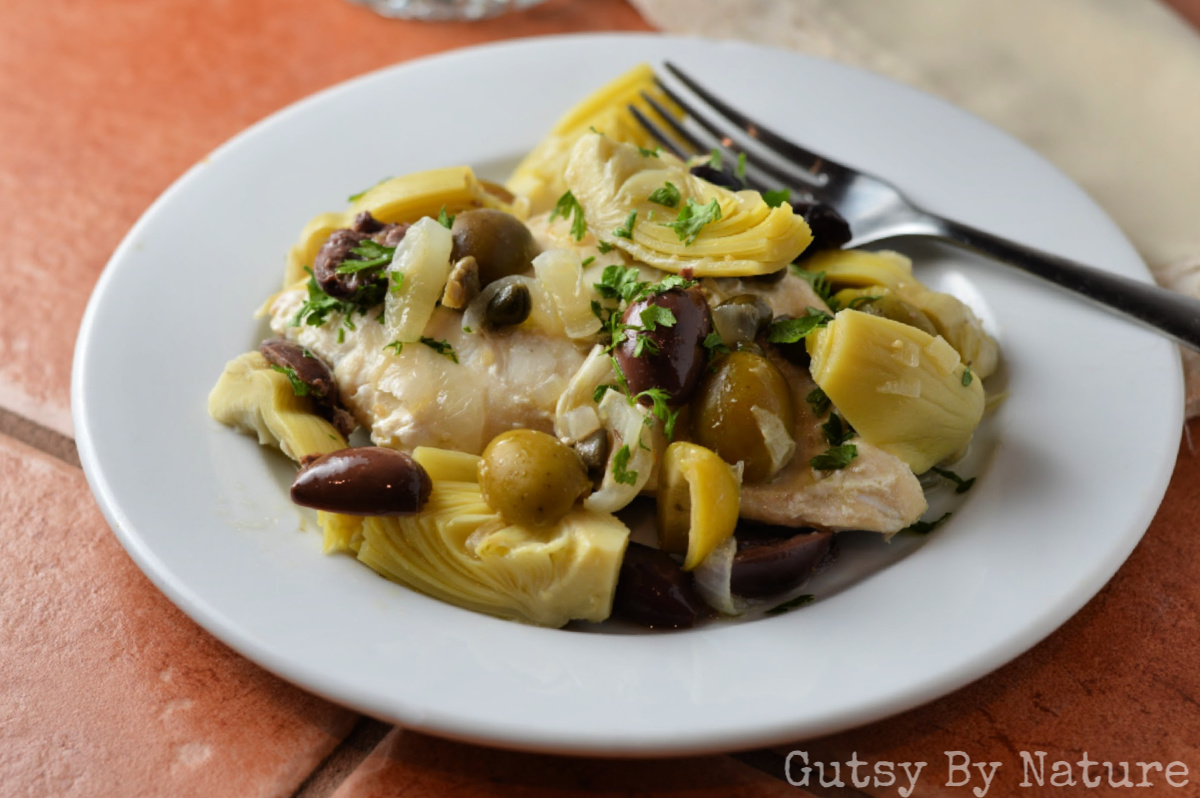 2 tablespoons extra virgin olive oil
1 medium onion, minced
3 tablespoons crushed garlic
1 tablespoon capers, drained
½ cup green olives, cut in half
½ cup kalamata olives, pitted and cut in half
½ cup quartered artichoke hearts
1 cup fish stock or chicken bone broth
juice and zest of 1 lemon
4 red snapper fillets (1-2 pounds total)
salt
minced parsley
In a skillet or braising pan with a lid, heat olive oil over medium high heat. Cook onions and garlic until soft and translucent (3-4 minutes.
Add capers, olives, artichoke hearts, broth, and lemon zest. Mix well and bring to a strong simmer.
Push the olives, artichokes and other solids to the sides of the pan as best you can, then nestle the fillets in so that they are in contact with bottom of the pan. Redistribute the olive and artichoke mixture to cover over the fillets.
Reduce heat to low simmer. Cover and cook without disturbing for 15 minutes.
Remove lid and check one fillet for doneness. It should be cooked through and flaky. If in doubt, cook longer. "Overcooking" isn't a concern with this recipe, it just gets better as the flavors absorb into the fish!
When done, add lemon juice. Add salt to taste if desired (may not be necessary since the olives and capers add a saltiness).
Serve garnished with minced parsley.
Recipe by
Gutsy By Nature
at https://gutsybynature.com/2019/10/08/tomato-free-red-snapper-livornese-aip-scd/