Easy Roasted Carrot Fries with Carrot Top Chimichurri (AIP, SCD)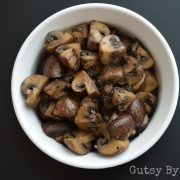 6–7 medium carrots (about 1 bunch)
1 teaspoon extra-virgin olive oil
¼ teaspoon fine Himalayan salt
Freshly cracked black pepper, to taste
1 cup (60 g) chopped carrot greens, thick stems removed (about 1 bunch)
½ cup (120 ml) extra-virgin olive oil
2 tablespoon (30 ml) red wine vinegar or coconut vinegar
1 teaspoon fine Himalayan salt, or to taste
1 tablespoon (9 g) minced garlic
½ teaspoon red pepper flakes (OMIT for elimination phase of AIP)
Preheat the oven to 400°F (200°C).
To make the fries, cut the tops off the carrots and set them aside for the chimichurri. Peel the carrots and cut them in half crosswise. Take the bottom, thin halves and cut them in half lengthwise. Take the top, thick halves and cut them lengthwise into quarters. This will give you spears that are about the same size.
Place the carrot spears on a metal baking sheet and drizzle with the oil. Sprinkle the salt and pepper on top. Use your hands to rub the oil and seasonings onto every carrot spear. Spread them evenly on the baking sheet, ensuring they aren't crowded. Roast the carrot spears for 15 to 20 minutes, turning them halfway through cooking.
While the carrots are roasting, make the chimichurri. Massage the carrot greens, olive oil, vinegar and salt together with your hands in a bowl until the greens release some of their water and they soften. Stir in the garlic and pepper flakes (if using). Serve the carrot fries with the chimichurri on the side as a dipping sauce, or spread it on top of each serving.
Chef's Note: If you can't find carrots with the greens attached, you can substitute flat leaf (Italian) parsley in the chimichurri.

Reprinted with permission from Fast & Flavorful Paleo Cooking by Amanda Torres, Page Street Publishing Co. 2020. Photo credit: Jean Choi
Recipe by
Gutsy By Nature
at https://gutsybynature.com/2020/03/31/easy-roasted-carrots-aip-scd/