Sheet Pan Chicken Fajitas (AIP)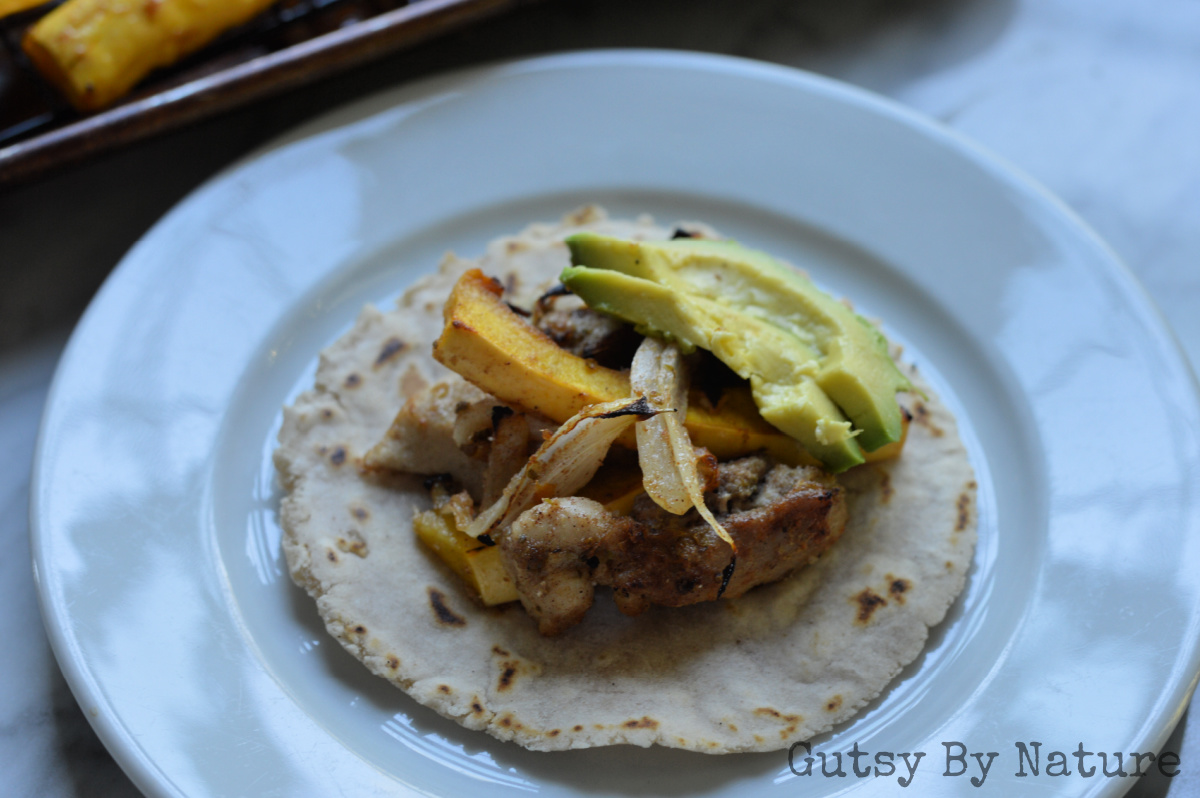 1 pound boneless skinless chicken thighs, cut into strips
1 small white onion, peeled and sliced pole-to-poll
1 small delicata squash (less than 1 pound)
1 teaspoon salt
2 teaspoons onion powder
2 teaspoons garlic powder
½ teaspoon ground ginger
½ teaspoon ground cinnamon
2 teaspoons oregano
2 limes
3 tablespoons avocado oil
1 avocado, peeled and sliced
fresh cilantro (optional)
cassava flour tortillas (optional, for serving)
Cut chicken and onion as indicated. Cut delicata squash in half lengthwise so you can scoop out the seeds. Then cut into pieces to roughly match the size and shape of the chicken thigh pieces and onion slices. Place all into a shallow dish or bowl.
Combine salt, onion and garlic powder, ginger, cinnamon, oregano, juice from limes, and avocado oil. Pour over chicken, onion, squash mixture and toss to coat evenly.
Allow to marinate for 1 hour (if you are making your own homemade cassava flour tortillas, now is the time to do it!).
Heat oven to 450° F. Put a wire rack on a sheet pan and then spread chicken, onion, squash mixture evenly over.
Bake in oven for 10 minutes, then remove from oven and toss and rotate all pieces.
Switch oven to broil with rack about 4 inches from broiler element, and return pan to oven for 5-10 minutes.
Watch carefully and remove early if you see burning.
Serve with avocado slices, tortillas if desired, and a sprinkle of cilantro.
Recipe by
Gutsy By Nature
at https://gutsybynature.com/2020/10/20/sheet-pan-chicken-fajitas-aip/