Cobb Salad (AIP, SCD)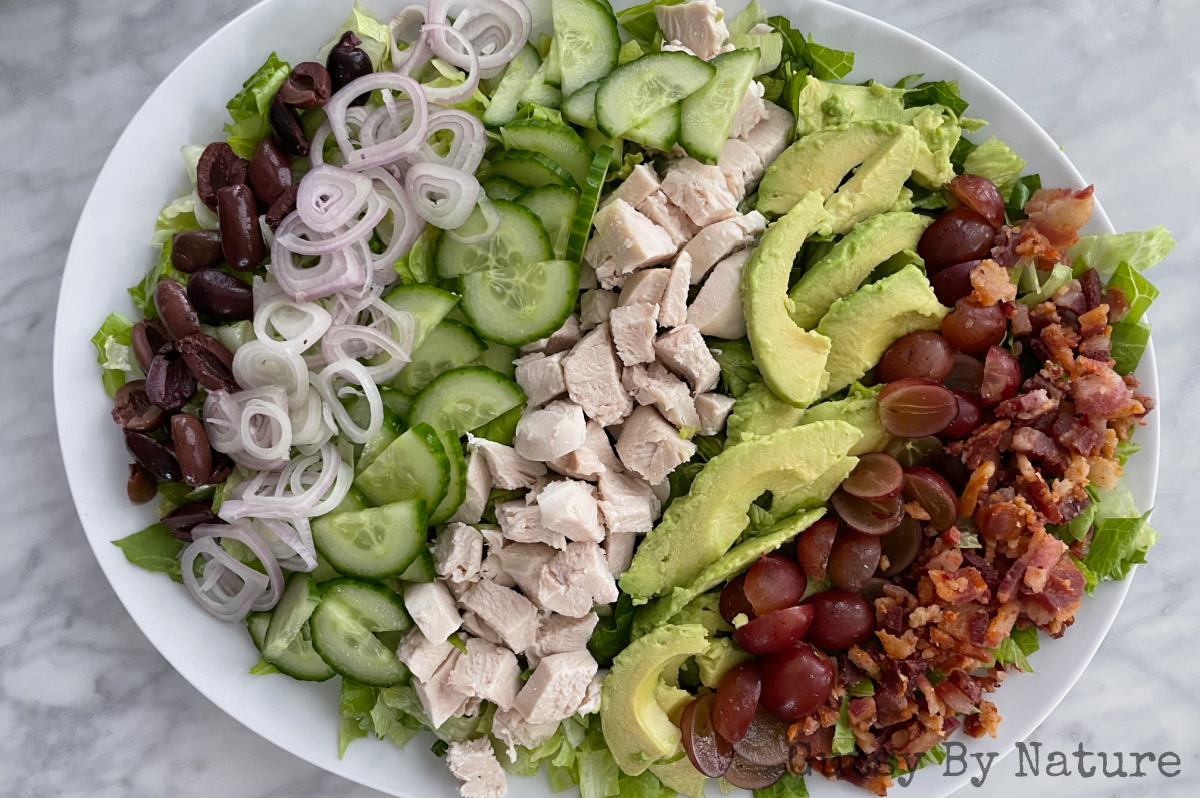 4 thick cut slices bacon
1 8 ounce chicken breast
1 bay leaf
1 garlic clove (reserve for use in dressing)
½ teaspoon salt
½ cup olive oil
3 tablespoons red wine vinegar
1 tablespoon dried oregano
½ teaspoon salt
2 medium romaine lettuce hearts, chopped
2 ounces kalamata olives, halved or chopped
1 medium cucumber, halved and thinly sliced
1 small shallot, peeled and thinly sliced
1 medium avocado, cut into slices or diced
4 ounces red grapes, sliced in half
Prepare protein toppings ahead of time so they will be chilled by the time you are ready to serve the salad. In skillet or oven, cook bacon until crisp. Drain fat and chop bacon, set aside.
Place chicken breast, salt, bay leaf, and garlic clove in a medium saucepan and add enough water to cover. Bring to boil, then reduce to simmer and poach until internal temperature of chicken is 135° F (about 8-12 minutes). Remove chicken and allow to cool. Discard water and bay leaf, but reserve garlic clove.
Smash garlic clove with a fork or spoon in a bowl or jar (it should be quite soft). Add all dressing ingredients and whisk or seal in jar and shake to combine.
Prepare the romaine lettuce and other salad toppings as described in ingredient list. Cut cooled chicken breast into bite sized cubes.
Make a bed of chopped romaine lettuce on a platter and then arrange each of the toppings in a pattern of your choosing.
To serve, use tongs to toss salad together and then drizzle on about half of the dressing and toss again. Serve salad with remaining dressing for diners to add individually to taste.