Sheet Pan Ginger Garlic Salmon and Vegetables (AIP, SCD)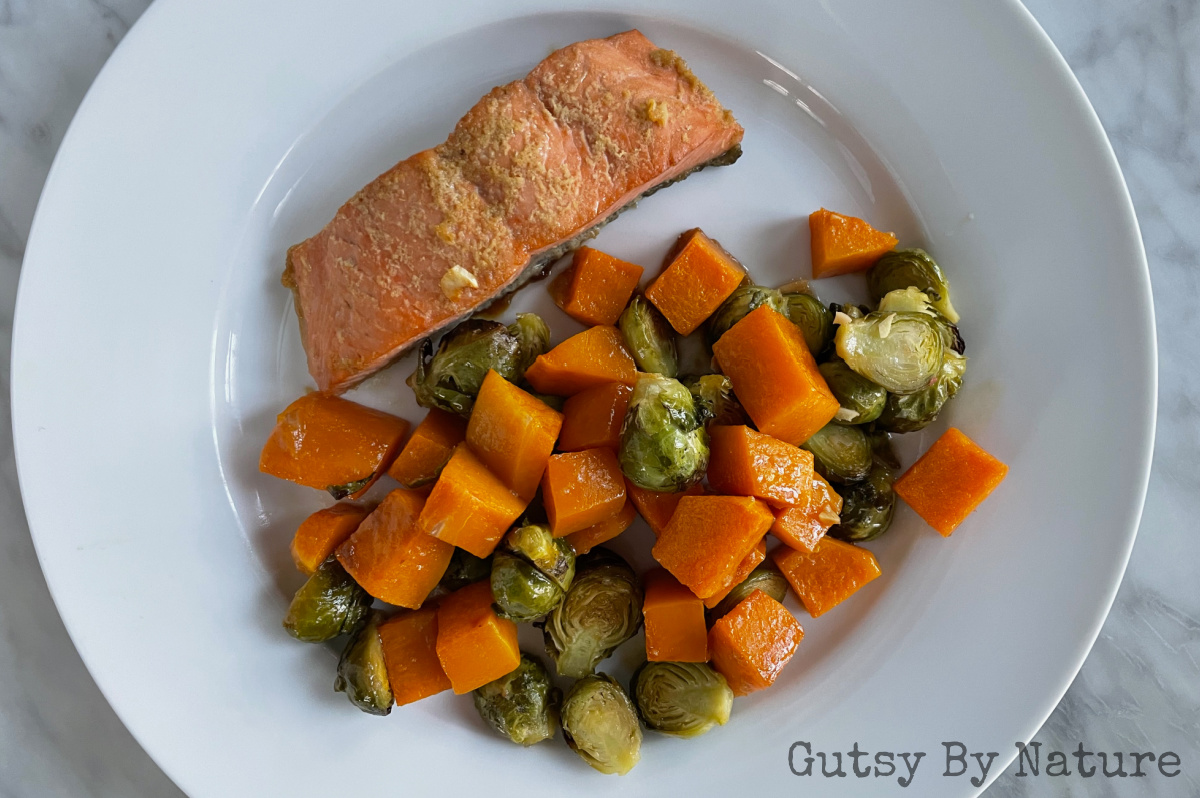 4 filets of wild calmon, skin-on if possible, each about 5 ounces
2 tablespoons coconut aminos
1 tablespoon avocado oil
1 tablespoon fresh lemon juice
1 teaspoon Red Boat fish sauce
1 garlic clove, minced
1 teaspoon freshly grated ginger
2-3 cups butternut squash, peeled and cut into cubes
12 ounces Brussels sprouts, trimmed and halved if large
2 tablespoons avocado oil
1 garlic clove, minceed
½ teaspoon sea salt
Preheat oven to 400° F. Line a 13x18 inch sheet pan with a sheet of parchment paper.
Combine marinade ingredients in a medium bowl. Add salmon and turn to coat all sides. Set aside.
In a large bowl, combine vegetable ingredients. Toss to coat all pieces as evenly as possible, then spread on baking sheet.
Bake vegetables alone for 12 minutes, allowing the salmon to marinate during this time.
Remove sheet pan from oven, stir vegetables and push to edges of pan, creating an open center for the salmon.
Place marinated salmon fillets in the center of the sheet pan and then pour the marinade over top.
Back for 15 more minutes and then serve immediately.
Recipe by
Gutsy By Nature
at https://gutsybynature.com/2020/12/15/sheet-pan-ginger-garlic-salmon-vegetables-aip-scd/