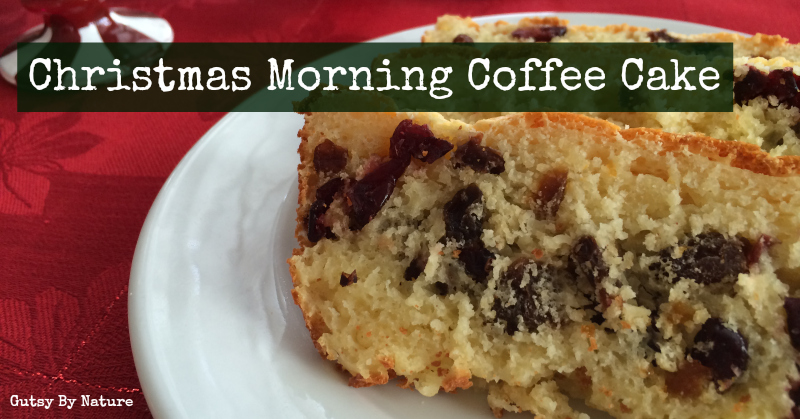 For as long as I can remember, my mother made a "candy cane coffee cake" from her old Betty Crocker cookbook for breakfast for us on Christmas morning. It's a yeasty dough, braided around a filling of dried apricots and maraschino cherries, curved into the shape of a large candy cane, and then drizzled with a simple powdered sugar glaze. We ate it every year, after opening our presents and before heading off to grandparents' houses, along with homemade venison and pork breakfast sausage. It is a taste I associate with happiness, with family, and most of all with feeling loved. I actually haven't had it for a few years now, since we now celebrate Christmas with my in-laws, but for some reason I really wanted to figure out how to recreate that familiar taste and texture in a form that is compatible with my new grain-free, refined sugar-free way of eating.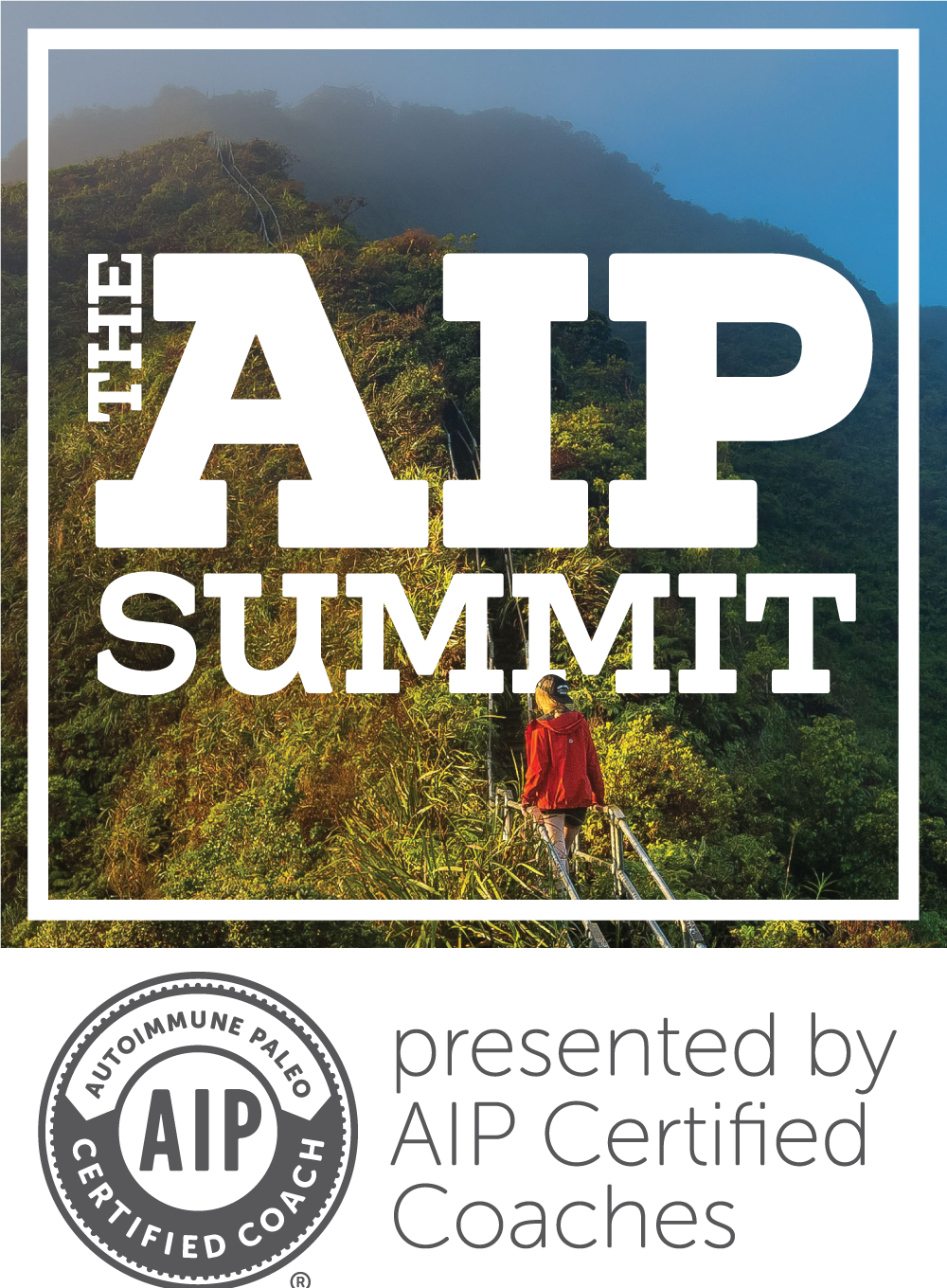 A paleo yeast dough
The yeasty flavor of this coffee cake is a must and so was my first challenge as I set out to create this recipe. Seems like most paleo-ish bakers shy away from yeast, but I'm not sure why. The Paleo Mom has one but since it is almond flour and almond meal based and I don't digest almonds well, I haven't tried it. Others I found online use flaxseed meal but I knew that would not produce the coffee cake texture I was going for here. No, I needed this to feel and taste just like the unhealthy, refined white flour original! So, I turned to the folks who aren't afraid to embrace starch in the name of comfort food (or to piss off other paleo folks by admitting to being shallow… but that's a different story), and used a recipe in Megan McCullough Keatley and Brandon Keatley's book Primal Cravings as my starting point.
Side note: If you are a low-carb paleo dieter, or you have problems consuming a lot of starch then you should stop reading this post now. This recipe is not for you. If you can consume nuts, there are tons of other paleo-ish treats out there that will be just as satisfying (and I'm not going to lie… a lot easier to make than this one!). But if starch plays a role in your healthy diet, continue on…
The fruit filling
Dried apricots and maraschino cherries are the traditional filling, but ever since I learned how they make those cherries, I've lost all interest in those. Dried fruit is tastier anyway and easy to find with just normal, natural ingredients in them. I ended up using a mixture of dried apricots, dried cranberries, and raisins, but you could use dried cherries or a combination of whatever you like.
Giving up the cane
As much as I would have liked to shape my coffee cake like the Betty Crocker original, it was obvious as I started making the dough that wasn't going to happen. Without the gluten to "glue" it all together, it just doesn't have the ability to do that. Instead I resigned myself to making it in regular glass loaf pan and just layered the fruit. The final product lacked something in presentation, but it tasted every bit like my mom's traditional dish. You'd never believe that it was gluten and grain free if you didn't make it yourself!
Where to get the ingredients
You should be able to find these speciality flours in a good health food store these days, but if you start using them with any kind of regularity you will find they are much cheaper bought in larger quantities online. Here are links to tapioca flour and potato starch. I use this brand of yeast because it doesn't have any additives and this brand of gelatin because it comes from grass fed animals. You can buy coconut oil and coconut flour here.
Notes on healing diets
Nope. This recipe isn't compatible with any of them! It matches what I eat right now, which is based on a paleo template and is grain free, gluten free, dairy free, nut free, and low in refined sugar. This recipe contains eggs and potato (which rules it out for AIP), lots of starch (making it a no-go for SCD), and dried fruit (which are high in several different FODMAPs).
Print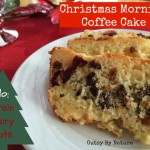 Christmas Morning Coffee Cake (Grain Free, Dairy Free, Nut Free)
---
Author:

Total Time:

2 hours 40 mins

Yield:

8

1

x
Description
This recipe recreates the taste of a family holiday favorite without grain, dairy, or nuts. Technically paleo, though probably not suitable for people who want a low-carb treat.
---
3/4 cup

warm water

1 tablespoon

honey

2

packages yeast (each one

1/4 ounce

)

3 tablespoons

coconut oil, melted

2

eggs

2 teaspoons

powdered gelatin

3/4 cup

tapioca flour

3/4 cup

potato starch

1/4 cup

coconut flour

2 teaspoons

baking powder

1 teaspoon

salt

1/3 cup

of dried apricots, chopped

1/3 cup

of dried cranberries

1/3 cup

of raisins
---
Instructions
Combine water and honey in a small bowl or large glass measuring cup. Sprinkle yeast over top and allow to bloom for several minutes while you gather your other ingredients.
Melt coconut oil and and add to yeast mixture. Add eggs and powdered gelatin, whisking vigorously to combine.
In a large bowl, whisk together the tapioca flour, potato starch, coconut flour, baking powder, and salt. Add the wet ingredients and whisk thoroughly, making sure their are no lumps.
Place a kitchen towel over the bowl and let it rise in a warm, draft-free area for 1 hour.
Grease a 1.5 quart loaf pan and pour about 1/3 of the dough into the bottom of the pan.
Sprinkle half the dried fruit on top of the dough in the pan, then spread another 1/3 of the dough and sprinkle the rest of the dried fruit on top of that. Spread the remaining dough on top of the dried fruit.
Preheat oven to 375 degrees and allow the completed coffee cake to rise for about 30 minutes.
Bake until the cake is lightly browned, about 35-45 minutes.
Allow to cool in the pan for about 10 minutes, then run a knife around the edge and carefully invert the pan to release.
This is best eaten right away, so slice and serve warm.
Prep Time:

2 hours

Cook Time:

40 mins

Category:

baked good

Cuisine:

American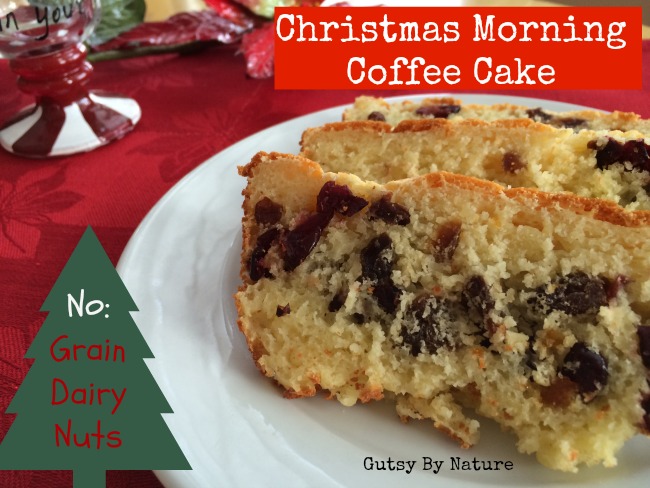 Shared on Fat Tuesday, Allergy Free Wednesday.