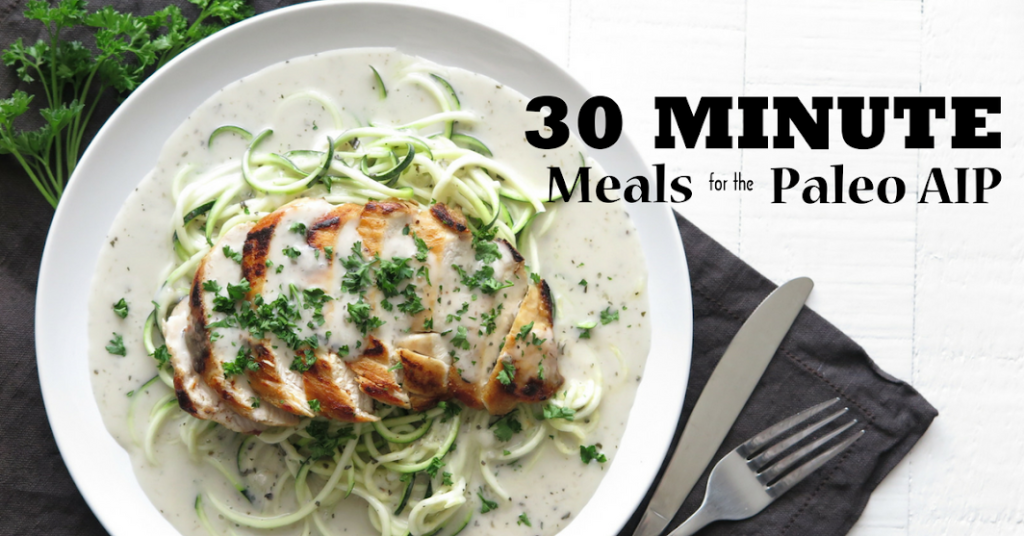 AIP Compliant Meals Fast & Easy!
You don't have to spend hours slaving away in the kitchen, even if you are cooking from scratch and making nutrient-dense meals that are compliant with the elimination phase of the Paleo Autoimmune Protocol (AIP).
The 41 contributors to this community project have decades of collective experience developing and refining AIP recipes and fitting that into busy daily lives. In this new resource, they share the delicious family meals they make every day!
120 complete meals for just $18.90
---
WHAT MAKES THIS BOOK SPECIAL?
This is the work of 41 leading bloggers and AIP Certified Coaches, all of whom are experts on the requirements of the Paleo AIP and have used it to improve their own health and the health of those they love. Together we have created a resource far more substantive than anything any one of us could do, and as a self-published e-book we are able to provide it at minimal cost.

120 MEALS
Each entry includes a main protein, side dishes, sauces to make a balanced meal.

300+ RECIPES!
A traditional cookbook would break these meals up into hundreds of separate recipes.

EASY & FAST
All steps to make the entire meal are detailed, from start to table in 30 minutes or less!

PDF FORMAT
Flexible format that you can view on your tablet, phone, computer, or print on regular paper.

100% AIP COMPLIANT
Suitable for the elimination phase and beyond!

FAMILY FRIENDLY
All recipes serve 4. Easy to double if you cook for a crowd, or scale down if you go solo sometimes.

ECONOMICAL
No more take out! Save time and money by making "fast food" at home.

"BASIC" INGREDIENTS
You don't have to buy expensive "convenience" ingredients to make these recipes.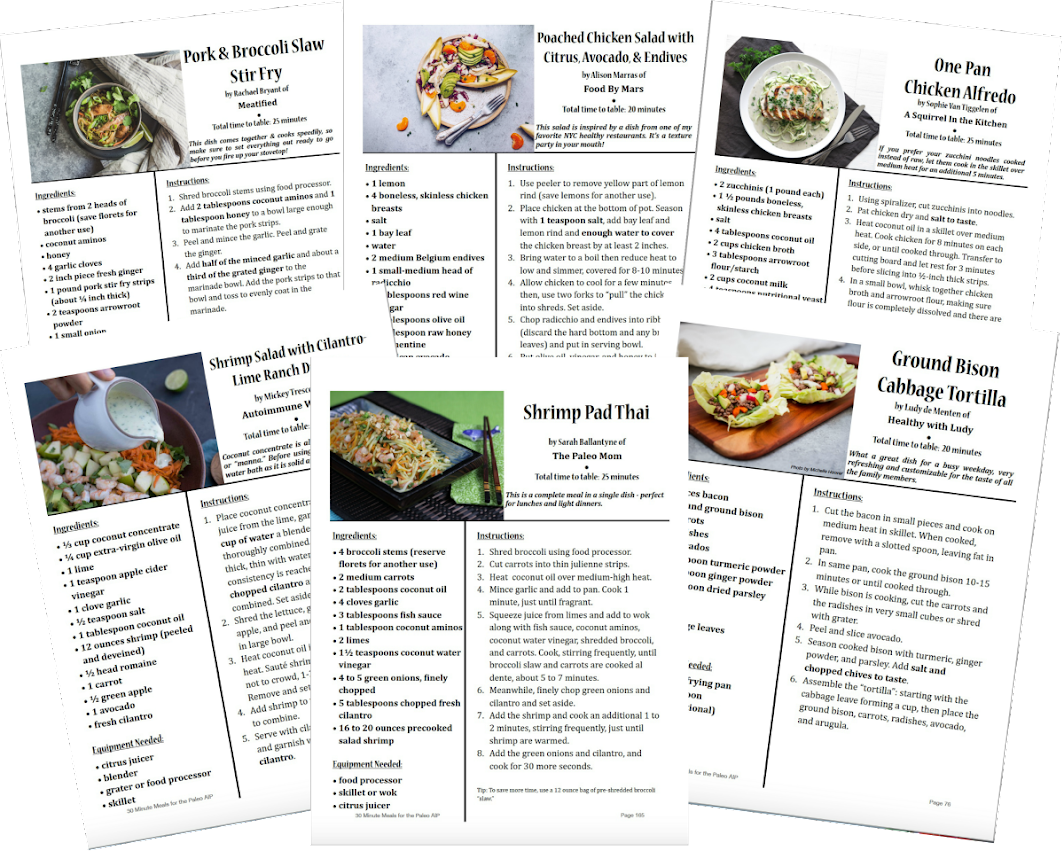 All 120+ recipes are 100% compliant with the Paleo Autoimmune Protocol (AIP) as outlined by Sarah Ballantyne, Ph.D. This means that they are…
Gluten free
Grain free
Dairy free
Egg free
Legume free
Nightshade free
Nut and seed free
Refined sugar free
Made from whole, nutrient-dense, unprocessed foods!
These meals feature flavors from around the world as well as traditional family favorites, but utilizing only ingredients you can get at a traditional grocery store. Click here to see the complete table of contents.
A community effort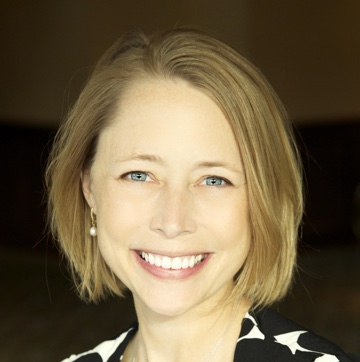 This project is the brainchild of Jaime Hartman, a Nutritional Therapy Practitioner and AIP Certified Coach, and the blogger behind Gutsy By Nature, who repeatedly heard from her clients and readers that it was difficult to find simple recipes for delicious AIP-compliant meals that they could make on their busiest days or when they weren't feeling good enough to spend a long time cooking. Jaime enlisted the help of the 40 individuals you see pictured below to create this comprehensive, collaborative resource.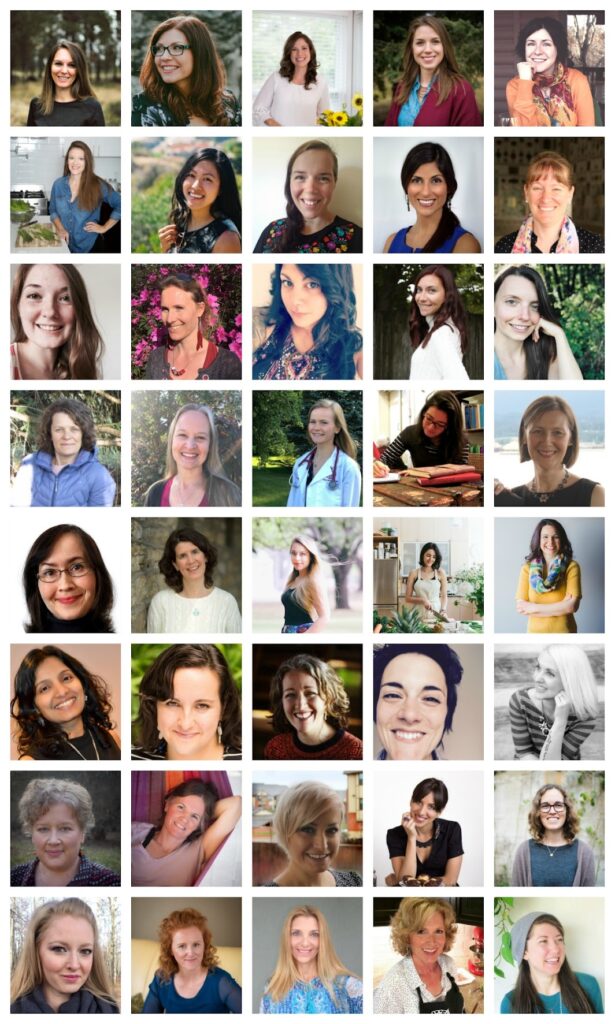 Support your favorite bloggers
The proceeds of your $18.90 purchase for this e-book go directly to the contributing bloggers. Projects like this help us defray the costs of developing and refining AIP-compliant recipes and publishing them on our blogs. We sincerely appreciate your support.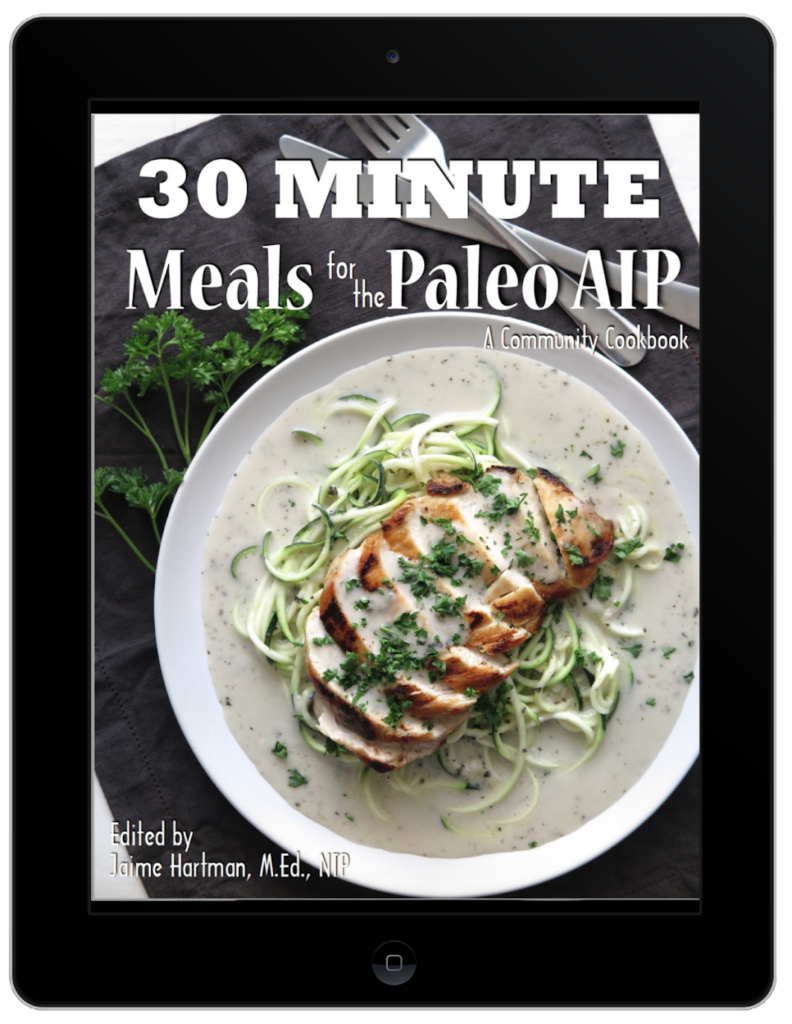 Or, get both community ebooks!