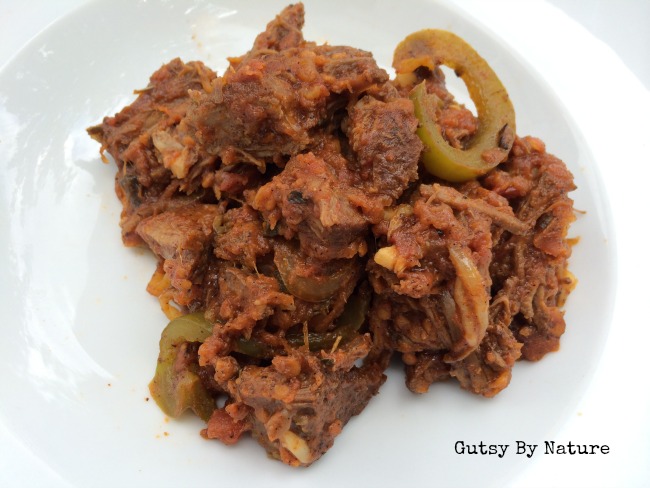 "Ropa vieja" is a Cuban dish that literally translates to "old clothes." You can see why when you look at the picture: the beef is shredded and simmered with sliced peppers, onions, and tomatoes and has the look of something that has been around the block a few times! My first exposure to ropa vieja came a couple years ago, before my paleo days, at The Columbia Restaurant in the Ybor City area of Tampa, Florida and I always had it in mind that I would try to recreate it at home some time, now minus the thickener that keeps it off of the restaurant's gluten free menu listing.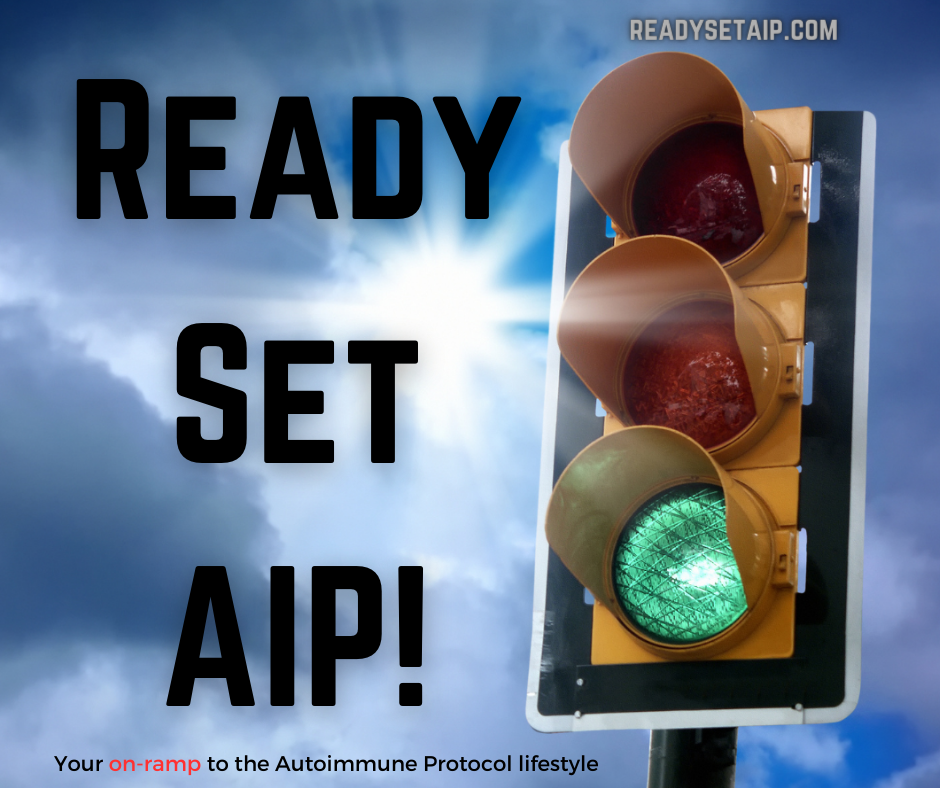 There are many different recipes available for the dish and most call for relatively pricey flank steak, but I was sure that as long as I was willing to cook it slow and low I could create a version that was just as tasty but used one of the cheaper roast cuts currently stocked in my freezer from our recent order of a 1/4 grassfed cow. I ended up finding something close to what I was looking for in the awesome book Pure Beef by Lynne Curry that became my basic template – though I modified it to make it more nutrient dense and simplified it to make it a one pot meal.
Traditionally, one would serve ropa vieja with black beans and rice, or perhaps flour tortillas. If you like the paleo substitute cauliflower rice you might eat it with this. Cauliflower doesn't agree with my digestive system (probably due to the high FODMAP content) so I just ate it plain. Next time I think I'll try making these simple paleo tortillas from Stupid Easy Paleo!
Notes on healing diets:
This dish is clearly not AIP-friendly as it is loaded with nightshades (tomatoes and peppers).* You could make some tasty shredded beef without those ingredients, but it wouldn't be ropa vieja.
Onions and garlic are high FODMAP foods, so people with FODMAP sensitivity should be very cautious about the amounts in here.You could omit them and it would taste good, but once again… it wouldn't be ropa vieja!
This dish is completely SCD/GAPS legal!
* This recipe was my excuse to try reintroducing tomatoes into my diet. It seemed to go well, so I'll be cautiously adding them to my diet. From the anecdotal evidence I've experienced and heard from others, tomatoes are a significant autoimmune trigger for people with joint related disorders like rheumatoid arthritis, but perhaps not as much for Crohn's disease or ulcerative colitis.
Print
Ropa Vieja: Cuban Shredded Beef and Peppers
---
Author:

Total Time:

5 hours

Yield:

4

1

x
Description
Literally translated as "old clothes," ropa vieja is shredded beef with peppers and this version is gluten free and paleo-friendly.
---
2 tablespoons

coconut oil

1

2-3 pound bone-in chuck or arm roast

2

medium onions, one roughly chopped and the other sliced thinly

1

medium carrot, roughly chopped

1

celery stalk, roughly chopped

1 quart

jar whole or diced peeled tomatoes

1

bay leaf

3

garlic cloves, 1 peeled and crushed and the other two diced

1

–

2

cups beef broth

2 teaspoons

ground cumin

1/2 teaspoon

cayenne

1

green pepper, seeded and thinly sliced

1/2 teaspoon

dired oregano
salt and pepper to taste
---
Instructions
Liberally season beef with salt and pepper.
Melt 1 tablespoon of coconut oil in a large dutch oven over medium heat. Brown the roast on all sides, then remove to a plate, leaving any rendered fat and coconut oil behind. If pan is dry, add additional coconut oil.
Sautee the chopped onion, carrot, and celery stock until slightly soft. Add the juice from the tomatoes, the bay leaf, and the one peeled garlic clove to the pot and stir to combine.
Nestle the roast in the dutch oven and add as much broth as is necessary so the roast is about half submerged.
Cover the pot with a lid and bring to a boil, then reduce the heat to low and simmer until the meat sheds easily with a fork (about 4 hours). Check occasionally and add additional broth if the pan begins to get dry.
Use tongs to remove the meat and set aside to cool. Strain the liquid and discard the cooked vegetables and bay leaf, setting the liquid aside to add back later.
Add another tablespoon of coconut oil to the now empty pot and add the sliced onion, cooking until it is soft. Add the cumin, cayenne, garlic, and pepper and continue cooking until the vegetables are tender.
Add the reserved tomatoes and reserved cooking liquid to the pot along with oregano and salt and pepper to taste. Bring to a simmer and cook for about 15 minutes, allowing the tomatoes to break down and the flavors to combine.
Meanwhile, shred the beef, discarding the bone and any cartilage.
Stir in the meet and reheat for about 5 minutes. Adjust salt and pepper to taste.
Prep Time:

30 mins

Cook Time:

4 hours 30 mins

Category:

Entree

Cuisine:

Cuban
Shared on Real Food Forager's Fat Tuesday, Holistic Squid's Party Wave Wednesday, Food Renegade's Fight Back Friday.