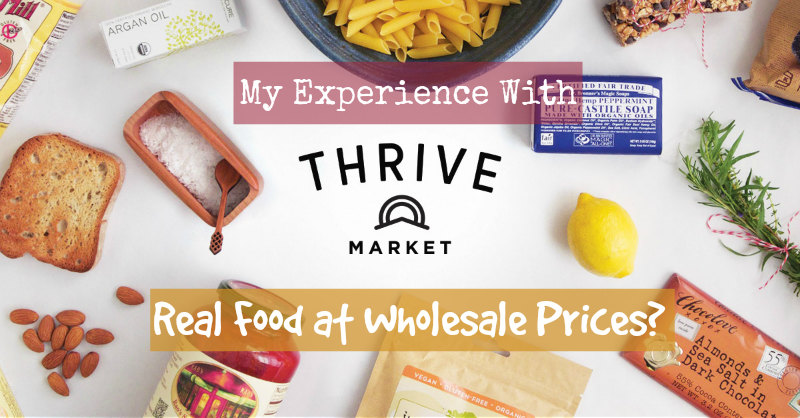 A few months ago there was a flurry of emails and social media chatter going around about Thrive Market, a new business that was a cross between Whole Foods and Costco – meaning that you could get organic, real food at wholesale prices. I am always looking for ways to eat healthy without breaking the bank, so I was intrigued but didn't investigate it much further until recently when I got to the bottom of yet another jar of expensive coconut butter on the same day that yet another friend told me how pleased she was with the prices and service at Thrive Market.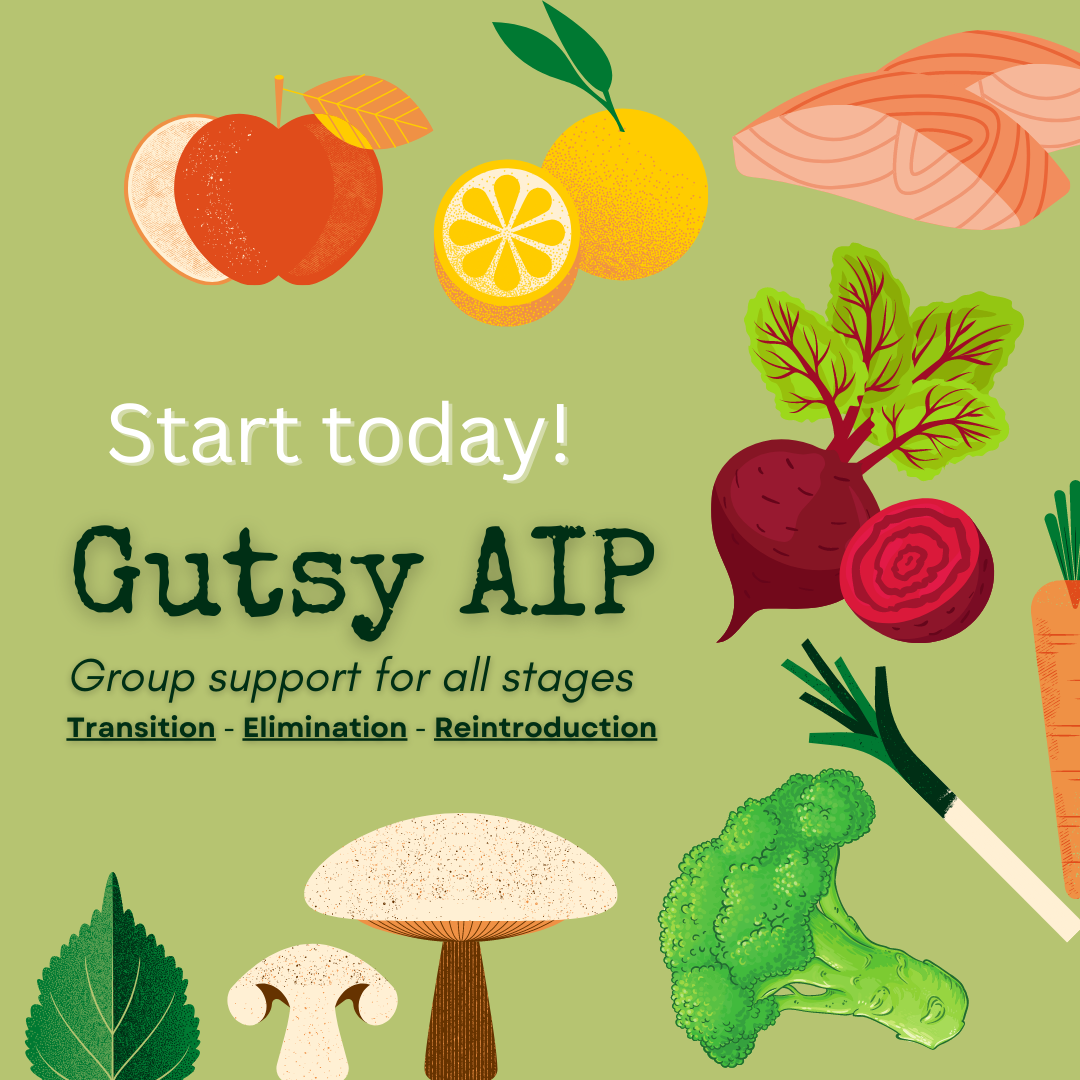 Thrive Market is a membership program, which was the biggest issue holding me back from signing up right away. I already pay for both an Amazon Prime membership and a Costco membership and really didn't want to get "suckered" into another one (nor did I want to give up either of those memberships!). Then I discovered that I could get a 30 day free trial before committing to the $59.95 annual fee, which would allow me to see the range of products they offer, exactly how much I could save on a typical order, and have first hand experience with their customer service. So I did just that! Here is what happened…
What I ordered from Thrive Market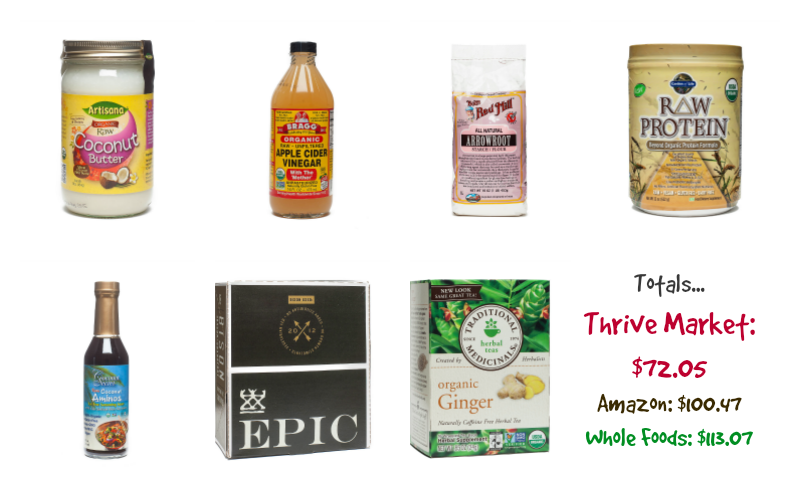 | | | | |
| --- | --- | --- | --- |
| | Thrive | Amazon | Whole Foods |
(NOTE: Prices were current on February 20, 2015)
As you can see Thrive Market beat the prices on Amazon and my local health food store (Whole Foods) every time. Some of the price differences were minimal (the ginger tea, for example) but others were quite dramatic (such as the protein powder… it is nearly half the price at Thrive versus the local store).
The grand total for this order at Thrive Market was $72.05, from Amazon it would have been $100.47, and if I put all those items in my grocery cart at my local store it would have cost me $113.07.
So, is it worth it? Remember that the annual fee for membership to Thrive Market is $59.95. With this order I saved $28.42 over Amazon and $41.02 over purchasing all of those items from Whole Foods, so I still haven't come out ahead whichever way you look at it. But with just one or two more similar orders, I would begin saving.
My order and delivery experience
I placed the order and received notice that it had shipped within 24 hours, but it didn't arrive at my house until a week later, which felt like forever now that I've been conditioned by 2 day free shipping from Amazon Prime. I noticed that the box traveled quite a distance to me from California and we had some bad weather out here on the east coast during that time, so perhaps that time frame is not typical.
I was concerned about how the liquids in the glass bottles would travel, but they were very well wrapped and arrived just fine. Unfortunately however, the bag of arrowroot starch sprung a small leak and everything in the box was coated with a fine white dust. I could salvage most of the starch but it was quite a mess to clean up. I took this picture and sent it to Thrive Market customer service…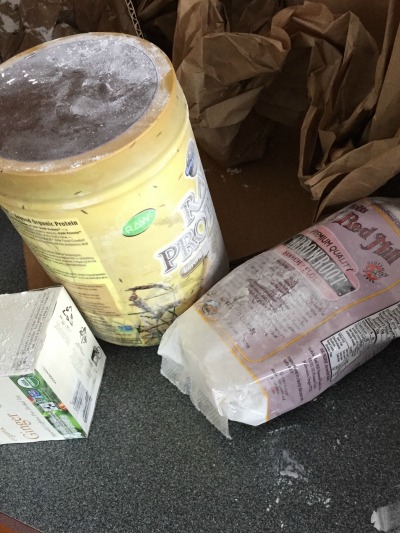 Within 24 hours I received a very apologetic response and a refund for the starch, plus 10% off my next order.
Bottom line… These things happen and I was pleased with their solution. Great customer service.
In Summary…
Thrive Market gives free shipping for all orders over $49, which is great but means that I am not likely to just order one or two small items from them like I would from Amazon. Another negative is the length of time it took to get the order, but clearly you pay for convenience. The most convenient option is my local store but it is the most expensive. Items that are Amazon Prime eligible (and not all of them are) are the second most convenient. So, I imagine that I will continue to purchase some items locally if I need them in a hurry. And of course, I will still use Amazon to fuel my book addiction and shop for non-food items.
But I'm going to try to plan ahead and place at least a couple more orders from Thrive Market that are large enough to get free shipping over the course of the year. While they don't carry everything I need (and of course, it is only non-perishable food… I'll still be supporting my local farmers and merchants for meat and produce) I am excited to try some new foods like cricket bars and explore the wide range of personal care and cleaning products they carry.
I also really like the company ethos and want to support that. For every paid membership, they match that by providing a membership to a low-income family who might not otherwise have access to wholesome convenient food. Additionally, they support GMO labeling, and are committed to sustainability by being carbon neutral and using recycled packaging.
DISCLOSURE: If you use a link from this page to sign up for a free trial, I do get a small commission for referring you. I am also an Amazon affiliate, which means that I earn commissions by linking to Amazon products on this blog. That said, I only recommend products and businesses that I use myself and believe in.
UPDATE (August 12, 2015): While I appreciate the number of people who took time to comment on this post and share their experiences with Thrive, I have decided to close comments going forward and have deleted some particularly un-helpful comments that seemed to be repeats from the same people (sometimes using different email addresses and names, but coming from the same IP address) and didn't add anything substantive to the discussion. Others were repeating suggestions to try other services, which at first I took to be good faith efforts to help fellow readers get healthy food at fair prices, but later began to suspect may have been placed by people associated with those companies but who were not disclosing that fact. I, on the other hand, have been completely transparent about the fact that I am indeed an affiliate for Thrive Market, and I do get a commission for referring you through the links on this page, should you decide to join and continue as a paid member.
I also continue to be a satisfied customer of Thrive Market and am happy to include them among other service providers that I recommend. If you have tried Thrive Market and are anything less than satisfied, call them at (866) 419-2174. Don't send me an email – I don't work for them and can't help you.
Again, I encourage you to visit Thrive Market and enroll for a free trial.
UPDATE August 26, 2015: If you aren't interested in paying a membership fee to shop at Thrive Market, another resource for healthy food at fair prices that I recommend is Barefoot Provisions. This is a great place to get paleo-friendly goods, including cassava flour, healthy fats, convenience items, and much more. They even have an AIP collection and a Whole 30 collection. Disclosure, I am an affiliate for them just as I am for Thrive and for Amazon, but I'm also a happy customer and have started recommending them more often than the others as a well run small company that has top notch products. Click here to learn more about Barefoot Provisions.

UPDATE January, 2018: I can't believe it's been almost 3 years since I wrote this post… and yet it still gets a ton of visits every day, so clearly people are still looking for information on whether or not Thrive Market is a good deal. I'm still a fan, still a customer (I place a large order every two or three months), and still an affiliate. In the years since this was posted, I've seen the product selection expand dramatically, including the development of their own "store brand" for many products, and major improvements in the quality of their packing materials. Ordering is also easier now that they have an iPhone app and I really like that they have opened up their web site so that you can do comparison pricing without having a membership. Shipping still takes longer than I would prefer, but the prices are as low or lower than any other options – including my local grocery store, so it is worth it to plan ahead and place bulk orders.
Interested in trying Thrive Market for yourself? Use this link to sign up and you will get 20% off your first three orders.