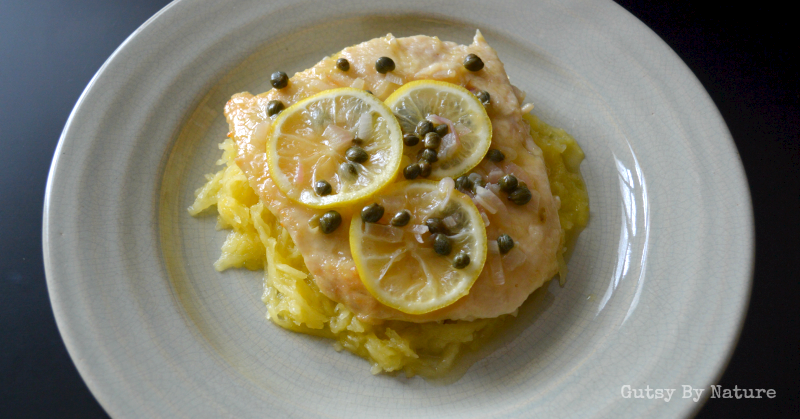 Back in my "eat everything" days, I always ordered chicken piccata in Italian restaurants, so creating a tasty paleo chicken piccata that was gluten-free, grain-free, and dairy-free that I could make at home was a top priority and I've been fine tuning my recipe for months! So when my friends Stacy and Matt (better known as the Paleo Parents) asked me to be part of their roundup of paleo-ified recreations of favorite dishes from the Cheesecake Factory, I knew that was the motivation I needed to finally complete my work and share this recipe with the world.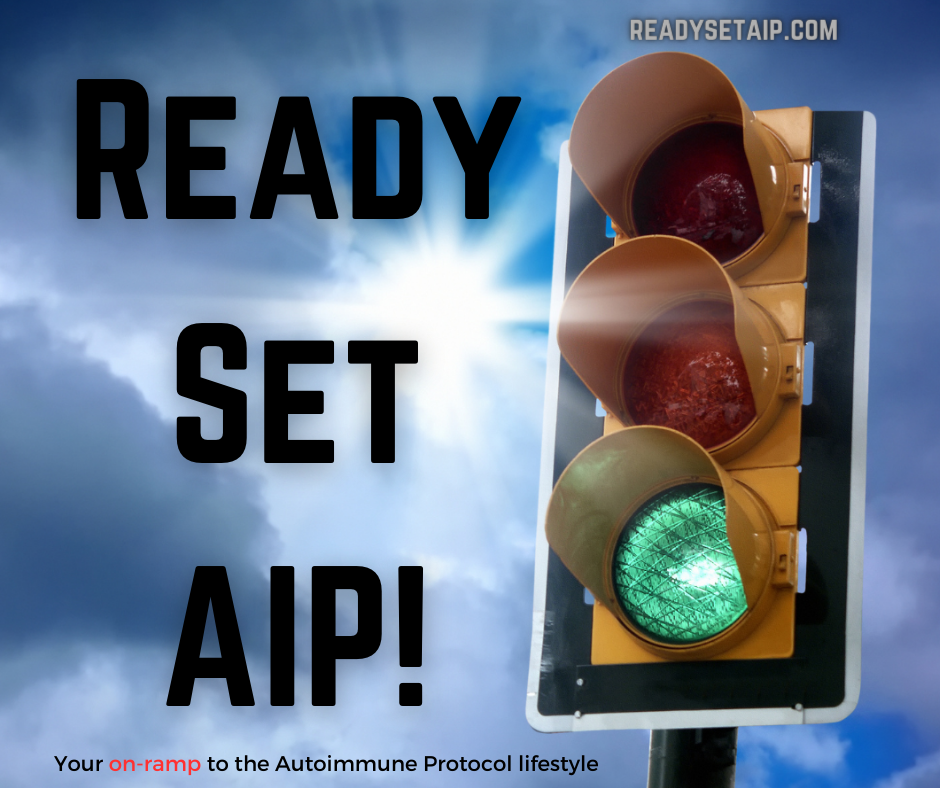 Click here to see the rest of the roundup!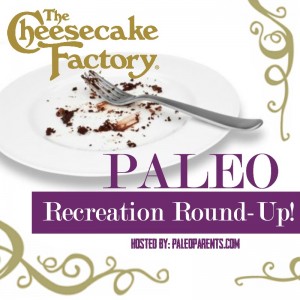 I know I am not the first to paleo-ify chicken piccata, but all the existing recipes seem to use almond flour for coating the chicken breasts which doesn't work for people following the paleo autoimmune protocol (AIP) and isn't something I generally keep in my pantry (I can eat small amounts without problem, but just don't seem to digest heavy almond flour based baked goods very well). Plus, I really thought I could do better than the grainy texture and tendency to burn that I've experienced with past efforts like this using almond flour.
So I did some tinkering, experimenting with different flours and starches and even tried cooking the chicken without any coating at all. The "naked" version tasted fine, but stayed an unappealing white color. Tapioca starch worked well, but too much of it led to a gummy texture. Eventually, I determined that a light coating of arrowroot was the best.
I also played around with different cooking fats and found that coconut oil left an unwelcome coconut taste and resulted in poor browning. Olive oil provided the best flavor and also helped the chicken get a crisper exterior than anything else.
Finally, I turned my attention to the sauce. I experimented with different amounts and types of lemon and lemon juice. I normally love Meyer lemons, but found they were actually a bit too sweet for this application, so I settled on regular organic lemons (it is important to get organic lemons for this recipe because you will be using the whole fruit, rind included). I also tried different aromatics and was most happy with shallots, though garlic is nice as well if you don't have shallots on hand.
If you are a Cheesecake Factory die-hard fan, you may notice that my recipe doesn't include a signature ingredient in their version of chicken piccata: mushrooms. Feel free to include them if you must (slice and cook them first so they release their juices then add them in to the sauce with the capers and lemon juice to warm through), but my personal opinion is that they detract from the delicate balance of sour and salty that you get from the fresh lemon and the brined capers.
Notes for healing diets
Preparation tips
To pound out the chicken breasts, place them between two pieces of plastic wrap and use a cast iron skillet or a meat pounder. A few years ago I bought this one and love it because it also works well for pounding cabbage for sauerkraut. Definitely a worthwhile investment!
Paleo Chicken Piccata Recipe – A Cheesecake Factory Recreation
Print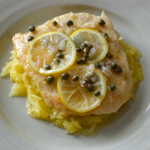 Paleo Chicken Piccata – A Cheesecake Factory Recreation (AIP)
---
Author:

Total Time:

20 mins

Yield:

2

1

x
Description
This gluten-free, grain-free, and dairy-free chicken piccata recipe is delicious and acceptable for people following AIP as well as other healing diets.
---
2

organic lemons

2

boneless skinless chicken breasts
sea salt, to taste

1/4 cup

arrowroot starch

4 tablespoons

olive oil

1

medium shallot, finely diced

1/2 cup

dry white wine

1 cup

chicken bone broth, preferably homemade

3 tablespoons

capers
Optional: fresh parsley for garnish and roasted spaghetti squash, zucchini noodles, or other noodle substitute
---
Instructions
Preheat oven to 200 degrees F.
Thinly slice one half of one of the lemons, juice the other half and the second lemon. Set juice both aside.
Pound chicken breasts out to an even thickness of about 1/4 inch. Season with salt (and pepper if you are not following AIP).
Put arrowroot starch in a shallow dish.
In a heavy skillet large enough to hold both chicken breasts, heat 3 tablespoons of olive oil over medium heat.
Dredge the chicken breasts in the arrowroot and shake off any excess. Carefully place chicken in hot pan and allow to cook undisturbed for about 3-4 minutes.
Chicken should be almost cooked through and be at least a bit browned at this point. Using tongs, turn the chicken pieces over and cook on other side for about 3 minutes, or until cooked through. Do not overcook or your chicken will be dry and tough!
Remove chicken breasts to an oven safe plate and place in warm oven while you are making the sauce.
Add 1 tablespoon olive oil to the pan and immediately cook the shallot until soft, about 3 minutes.
Pour the white wine in the pan to deglaze, scraping up any brown bits. Cook until reduced and then add chicken broth and cook until the sauce has reduced by about 1/2 and thickened somewhat, about 5 minutes.
OPTIONAL: If the sauce is not very thick, you can add an additional teaspoon or so of arrowroot.
Add the reserved lemon juice, capers, and lemon slices, and cook for another minute or so.
Remove pan from heat and pour sauce over chicken.
Serve with spaghetti squash, zucchini noodles, or other paleo-friendly noodle substitute.
Prep Time:

5 mins

Cook Time:

15 mins

Category:

Entree

Cuisine:

Italian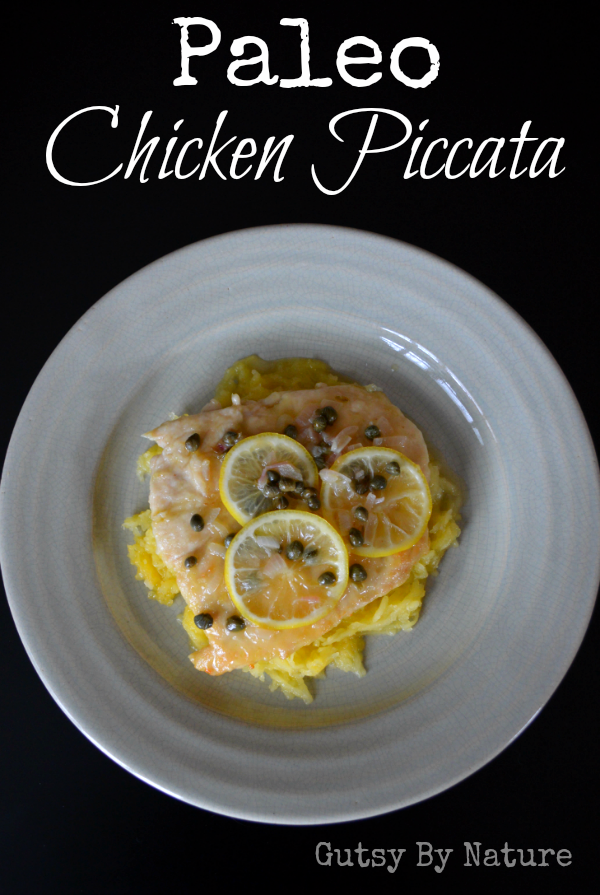 Shared on Paleo AIP Recipe Roundtable.