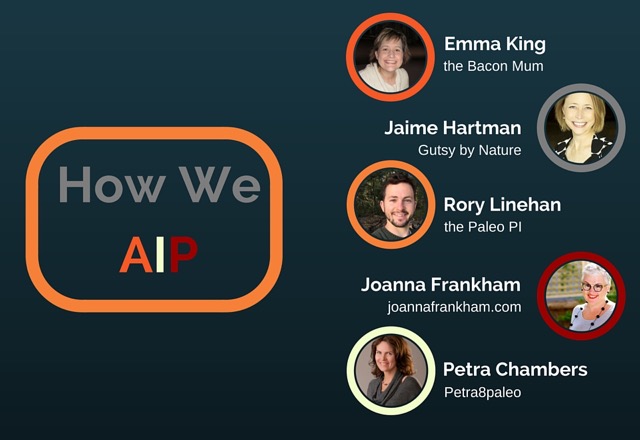 This week the worldwide community of AIP bloggers has banded together to highlight how we each live our healing protocol lifestyle–in real life. We are each committed to taking personal responsibility for our own health, and supporting other people around the world who are interested in doing the same thing.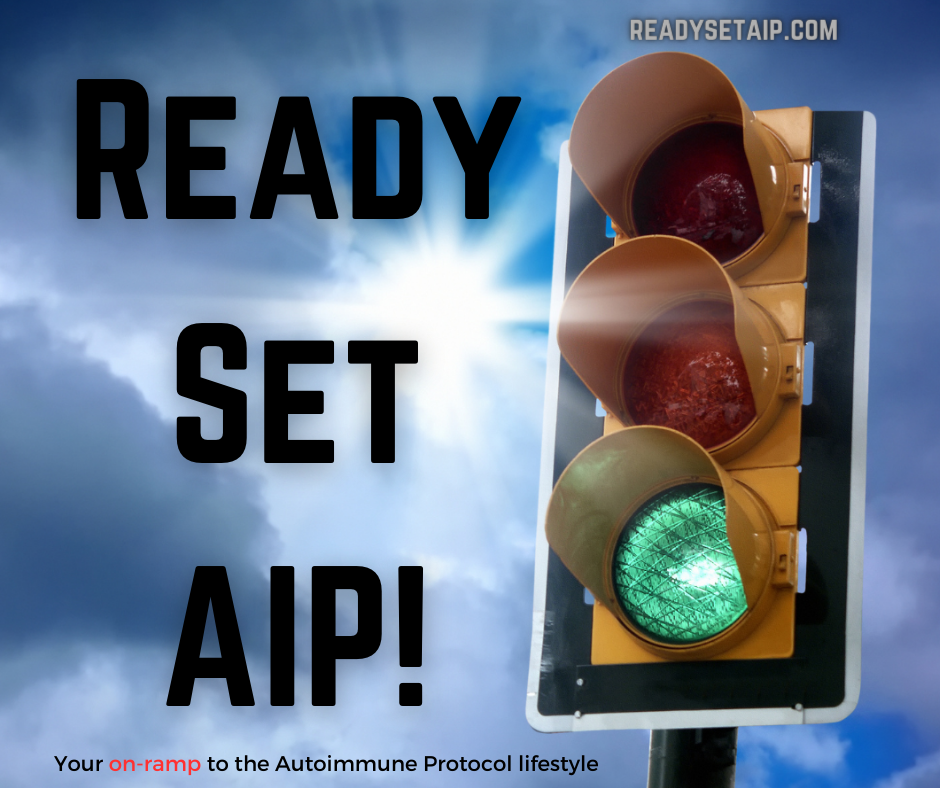 As part of #AIP4me week, I've joined forces with four other paleo healing protocol bloggers. We're each exploring two elements of the AIP Evolved Manifesto created by Angie Alt and Mickey Trescott and we're publishing the results on each other's blogs.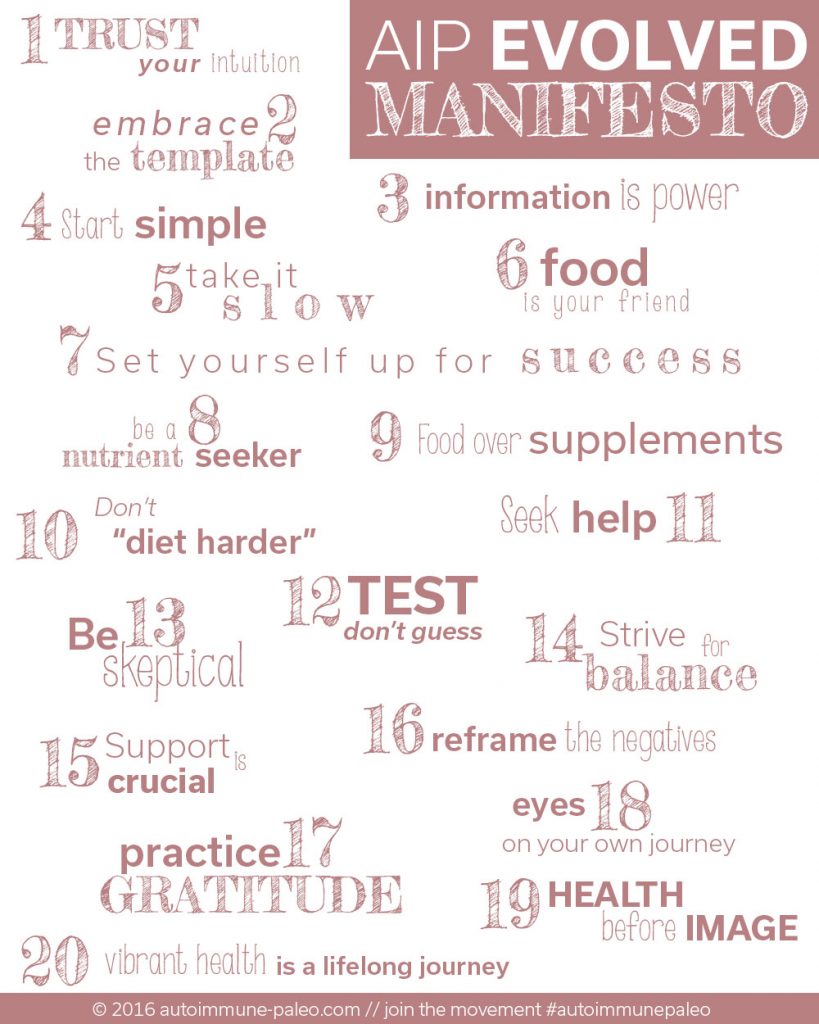 Here's where you'll find us:
These posts are rolling out all week and we'll be linking them together as we go.
Take it away Rory….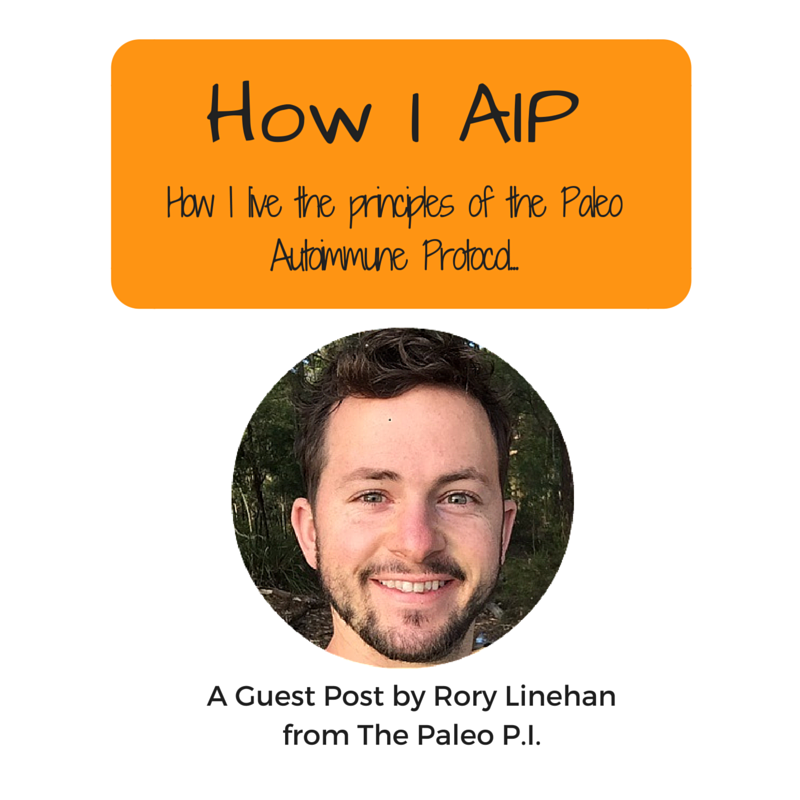 Thanks Jaime!
It's a pleasure to be connecting with the Gutsy by Nature community. Jaime's story is in equal parts inspiring and motivating and has been a beacon of hope for me in some of my tougher times.
It is my hope is that through today's post, those of you who are experiencing or have experienced challenging periods can take strength in the knowledge that through determination, consistency and a positive attitude, your health goals and dreams are possible.
I started the Paleo Autoimmune Protocol almost three years ago. At the time, my health was spiraling out of control. I had rosacea, ocular rosacea, I was depressed, anxious, underweight and hardest of all, uninspired about my future. I felt like I was being engulfed by a giant dark cloud that I couldn't get out of. For someone who always had great health, this was difficult and I quickly found myself asking myself, why me? Why is my life harder than those around me? What did I do to deserve this? Put simply, I assumed a victim mentality and it only exacerbated my situation.
It wasn't until I took charge of my situation, starting with the AIP, that my health and life-outlook improved dramatically. The hard lesson I had to learn was that I was solely responsible for my life and my health and if I wanted to thrive again, I would need to take charge of all the variables which make up great health. On the Paleo PI, I class these into three broad categories, Nutrition, Lifestyle and Mindset (if you want to find out more about why these, check out this post).
In many ways, my health today is better than it ever has been before. I am more confident, positive and happy than I ever have been. I am working abroad in my dream job, I am the owner of a website which helps thousands of people each month, I travel regularly and I am incredibly optimistic about the future. By taking control of my Nutrition, Lifestyle and Mindset I have given myself a bright future and the best news is that, you can do this too.

I am very proud to be supporting the AIP Evolved Manifesto. The 20 Principles which make up this manifesto underpin the Nutrition, Lifestyle and Mindset changes necessary for great health.
I've chosen two of the principles which resonate with me and my journey the most. These principles have been the foundation of the Nutriton, Lifestyle and Mindset changes I have made and have helped me tremendously.
How I AIP: Information is power
Learn enough to be an informed and proactive advocate for your health.
Knowledge is Power. It's an expression we've all heard before and it certainly rings true in the case of our health. Taking charge of your health requires the knowledge to know how to do it.
Start with the basics, learn how nutrition can be medicine, read about how sleep, stress management and time in nature enhance support your health and discover how your mindset (your thoughts, attitudes, beliefs and perceptions) determines your destiny.
One of my favourite sayings is "program yourself for success". This means making the time to read, watch and listen to information which will give you the knowledge you need to thrive. In our time poor society, it can be difficult to prioritise time for ourselves but I assure you that this is essential if you want great health.
In my own life, I dedicate one hour each day to learning new information or reinforcing information I already know. It's as simple as picking up a book, as listening to a podcast or watching a webinar. If you don't proactively fill your mind with information you want to take on, you risk unconsciously filling it with information that may not serve you.
How I AIP: Reframe the Negatives
Find areas where your life has been expanded by your experience with illness.
I can't emphasize enough how important reframing the negatives has been to my health and wellbeing. Losing my health has been by far the most challenging negative to reframe. It was certainly not something I had ever hoped for but it was only through losing my health that I understood how valuable it really was.
Falling ill forced me to pull out all stops to get better. It forced me to become an advocate for myself, boosting my confidence, my self-esteem and my self-image. It made me become vulnerable, reaching out to others, asking for help which in turn fortified the relationships with those closest to me. There are countless other examples of how losing my health has helped me improve my life. As I say to those closest around me, it's something I'm grateful to have gone through.
As I mentioned earlier, I allowed myself to wallow in self-pity when I first became ill. I took on a victim mentality because of all the perceived negatives in my life. This mentality did not serve me at all and only once I started reshaping the negatives in my life did my healing kick-start.
Life is too short to focus on the negatives, make the most of the present by focusing on the positives – you may just be surprised just how much your health benefits from it.
Be sure to visit Rory's blog The Paleo Pi. You can also find him on Facebook, Twitter and Pinterest.