Today is day 7 on the paleo autoimmune protocol (AIP) and I am happy to report that with a bit of pre-planning I had no trouble finding plenty of delicious things to eat and my digestive system is quite happy!
Review: What is AIP?
In the paleo autoimmune protocol, the following foods are eliminated completely: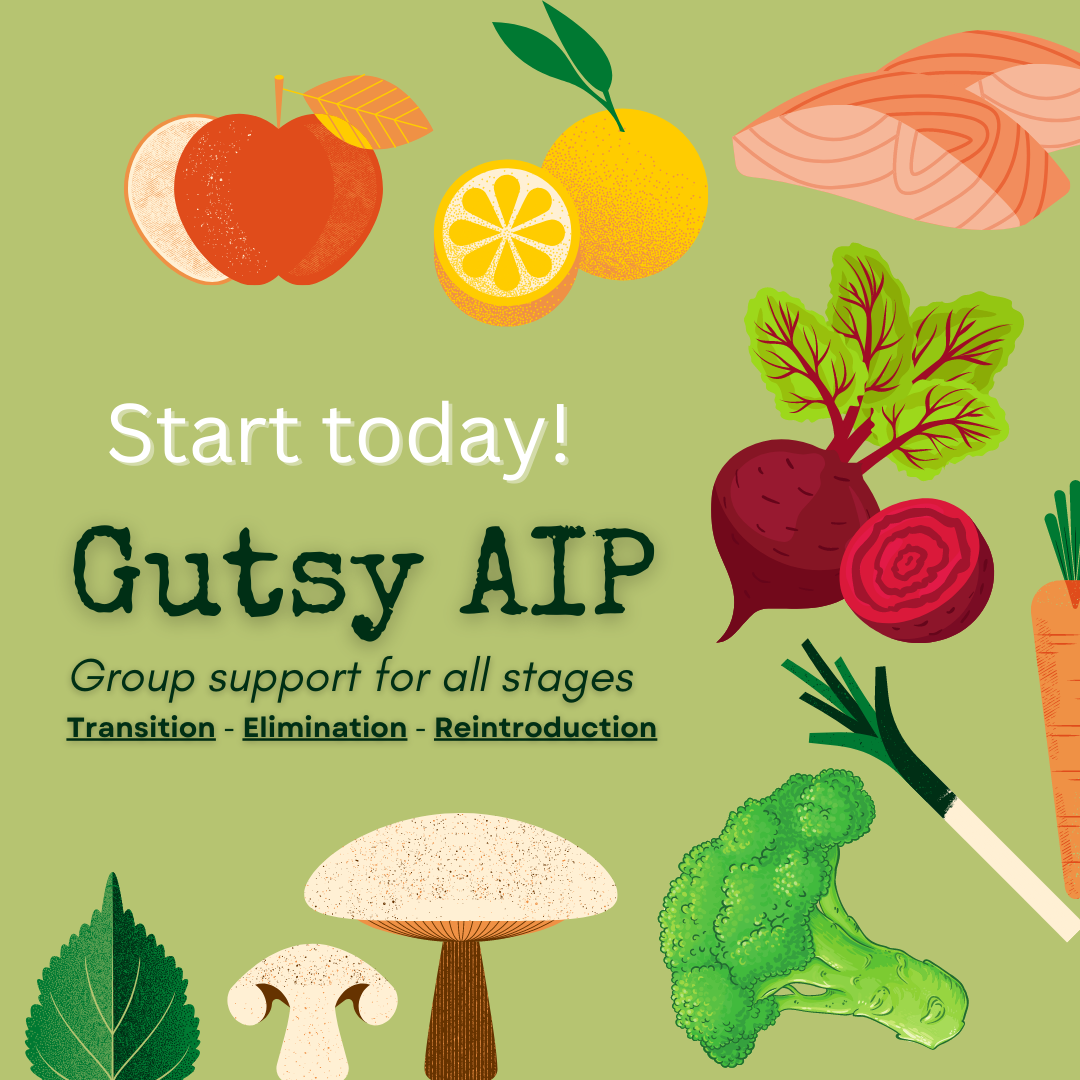 grains
legumes
dairy
nuts and seeds (including coffee and chocolate)
eggs
nightshades (tomatoes, peppers, eggplants, and potatoes)
alcohol (except in dishes where the alcohol is cooked off)
In order to facilitate and encourage gut healing, consumption of the following foods are encouraged:
grass fed, pasture-raised, and/or organic meats
bone broth
organ meats
foods rich in omega 3 fatty acids
fermented foods
wide variety of vegetables and fruits
My transition to AIP
This was actually easier than I expected, but probably because I actually arrived at this stage as part of a journey and didn't just drop those foods all at once. I have been grain free since January. Last month I cut out legumes, dairy, nuts, coffee, and alcohol. The hardest part of that transition was dropping my morning coffee habit! After that, dropping seeds, eggs, and nightshades was relatively minor. I did eat a few nightshades during the first two days because I had some leftovers in the refrigerator that used small amounts of red pepper for seasoning, but I have successfully resisted the delicious tomatoes and eggplants that came in our CSA share this week. Optimistically, I canned the tomatoes and froze the eggplants for future reintroduction.
The key to making this transition work was having ALL meals planned out ahead of time, including breakfasts and lunches. Practical Paleo has been a big help in this regard. Even though I strayed from the meal plan quite a bit to accommodate the meat and produce we had on hand, my own personal preferences, and general life, it was extremely helpful to have the template set up.
Breakfasts on AIP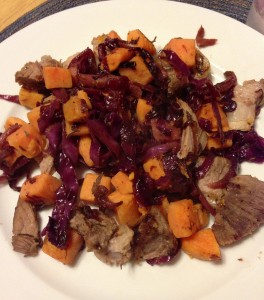 Having a plan is especially important for the first meal of the day. The key to making it work  is to stop thinking of it as "breakfast" and therefore expecting it to include eggs or cereal, and instead thinking of it just as "meal #1" and realize that the only true requirements are that it be palatable and appealing at an early hour and easy to make in the time restrictions of the time of day. A couple days this week I had leftovers from the night before just re-imagined as a hash. One example is the roast pork I posted yesterday. The next morning, I heated up the leftover pork and cabbage in a skillet and added in some cooked sweet potato.
An easy, no-cook breakfast involved simply opening a can of wild salmon and adding an avocado, some olives, and a bit of lemon juice for flavor. This morning I had a little more time, so I cooked some homemade pork sausage (ground pasture-raised pork mixed with salt, sage, rosemary, and parsley) and had it with a side of sauerkraut and then followed that with a banana.
How I feel so far
My digestive symptoms are continuing to improve. I don't see a dramatic difference between last week, when I was still eating nightshades and eggs, but compared to last month when I was still eating some dairy, nuts, legumes, and coffee there is a huge difference. I won't go into the gory details, except to say that I am much more comfortable in general, spending less time in the bathroom, and changing the toilet paper roll a lot less often!
Challenges
Even as my digestion improves, I am still probably not absorbing everything I should be and was underweight to begin with, so I really have to be diligent about eating a good quantity of calorie-rich foods that my body can easily absorb. Since I have a shortened bowel, I have some trouble digesting fats (although that seems to be improving now) and have to be careful that I don't overload my system with too much fruit at a single time. One of the foods that I use to fill in some of that calorie requirement is coconut butter. Coconut has a high concentration of medium chain triglycerides (MCT), which is beneficial for me because the body can utilize the energy in it directly without needing bile. Fortunately, I adore coconut butter and can eat it right off the spoon! Unfortunately, at $14 a jar it is quite expensive. You can make your own from dried coconut flakes for less cost, but no amount of blending seems to make it quite as creamy as the real stuff.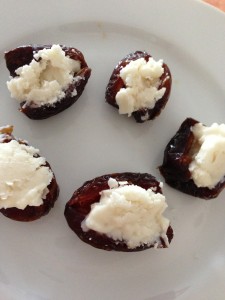 My favorite way to eat coconut butter is stuffed into a couple medjool dates (also very energy dense!).
The next 7 days
I have to take a short overnight business trip this week, so I have to plan some portable meals. I'm thinking a lot of coconut butter, a few cans of fish, a couple pre-cooked burger patties in a small cooler, avocados and olives. Since this is a driving trip and I don't have to worry about TSA, I will also bring a jar of bone broth.
Find more information on the Paleo Autoimmune Protocol here.