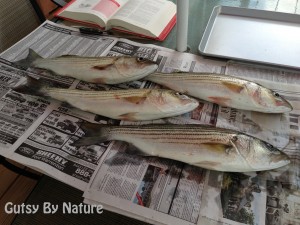 I had to dig deep and find my inner hunter-gatherer this week when my husband brought home four striped bass from a fishing trip with friends. I've eaten lots of fish and watched others clean fish, but was completely intimidated by the prospect of scaling, gutting, and cooking a whole fish that had been swimming in the Chesapeake Bay just a couple hours earlier.
As any good hunter-gatherer in the year 2013 would do, I started with Google for some guidance, but after some frustrating YouTube videos I turned to the printed page and found the best directions in Mark Bittman's How to Cook Everything (you can see my book open for reference in the upper left hand corner of the picture!).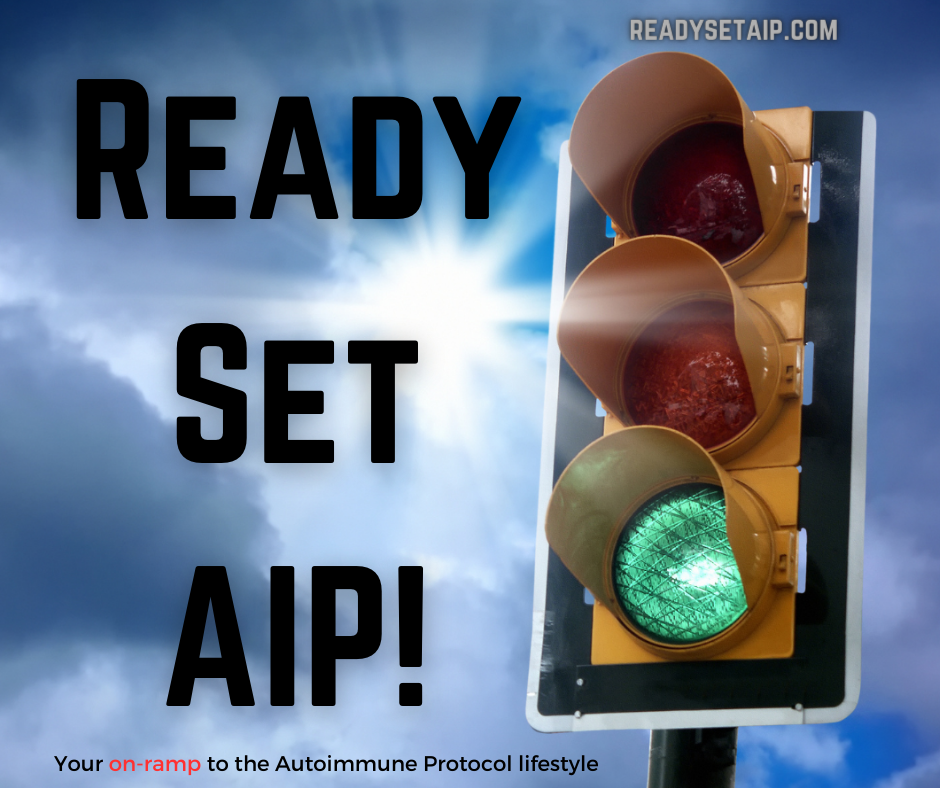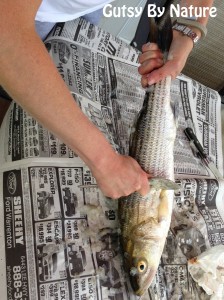 We can agree the first (and messiest) step was to scale the fish. I accomplish this technique using a spoon. Since scales flew everywhere, I did this outside on our balcony and then moved the de-scaled fish indoors to finish the cleaning process so I wouldn't end up eating any of them. I've watched enough Top Chef to know that people react quite badly when you serve them a scale or two!
I was most nervous about gutting the fish, but it wasn't as gross as I thought it would be. Just a simple cut from throat to tail, and then some serious ripping to get all those organs loosened up and removed. The directions I read suggested they would ooze out, but in fact they were pretty well attached. After that I cut off the fins and then removed the gills… once I figured out exactly what was meant by "gills." First I tried to remove the outer layer, but then realized that didn't make much sense. A little more poking around and I discovered the accordion-like pink tissue underneath and found where the bony part of it attached to the body of the fish and snipped it with a scissors.
I gave them a good rinse and then patted myself on the back for a job well done! (And then I cleaned up the tremendous mess I had made and scrubbed myself from head to toe in attempt to get rid of the fishy smell that seemed to have penetrated my pores.)
Three of the fish went into the freezer, but I roasted one of them on a bed of herbs, onions, and lemons, loosely following a recipe from Alton Brown.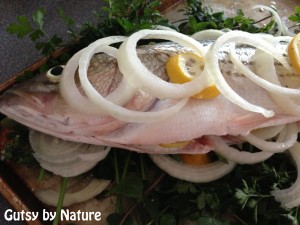 I made a bed of mixed herbs from our herb garden, sliced some onions and two lemons, and used melted coconut oil instead of the olive oil in the original recipe. I also tucked some of the herbs and aromatics inside the fish. Then piled the remaining herbs and aromatics on top of the fish, wrapped it up in aluminum foil, and roasted it in the oven at 500 F for 35 minutes.
Print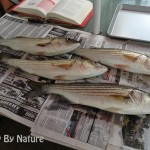 Whole Striped Bass on a Bed of Herbs
---
Author:

Total Time:

45 mins

Yield:

2

-4

1

x
Description
You could make this dish with any whole mild tasting white fish.
---
2 tablespoons

melted coconut oil

1

large onion, sliced thinly

2

small (or

1

large) lemons, sliced thinly

1

bunch of fresh parsley

1

bunch of fresh oregano

2

–

4

springs of rosemary
salt

1

2-4 pound whole striped bass or other fish, scaled and gutted
---
Instructions
Preheat oven to 500 F.
Spread about 1 tablespoon coconut oil in the bottom of a roasting pan or cookie sheet large enough to contain your fish.
Make a bed of about half the herbs, onion slices, and lemon slices on the pan, mounding it high enough that the fish will not sit directly on the pan.
Salt the fish inside and out and place it on top of the mound of herbs.
Drizzle the remaining coconut oil on top of the fish, then pile it with the remaining herbs, onions, and lemons. Tuck a few of the aromatics inside the body of the fish.
Cover the entire pan tightly with aluminum foil.
Place pan in preheated oven and roast for 30-35 minutes.
Let fish rest for about 10 minutes, then remove top layer of herbs and serve.
Prep Time:

10 mins

Cook Time:

35 mins

Category:

Entree

Cuisine:

seafood
The end result: I had a delicious AIP-friendly dinner and felt really good about my survival skills!