Time is flying! I am now on day 21 of the paleo autoimmune protocol (AIP). The first two weeks (see my update #1 here and update #2 here) went by so slowly, but I have now hit my stride and the food planning, prepping, and eating is really starting to feel like second nature now.
More business travel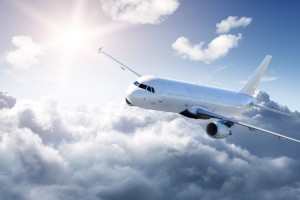 This past week included two short trips, one for business and one for pleasure. The business trip was two nights and required a flight, so I had to plan my meals with TSA requirements in mind and considering space in my suitcase. My usual strategy is to bring enough food to get me through the first 24 hours, then find a natural foods store like Whole Foods or Fresh Market or a local equivalent to restock.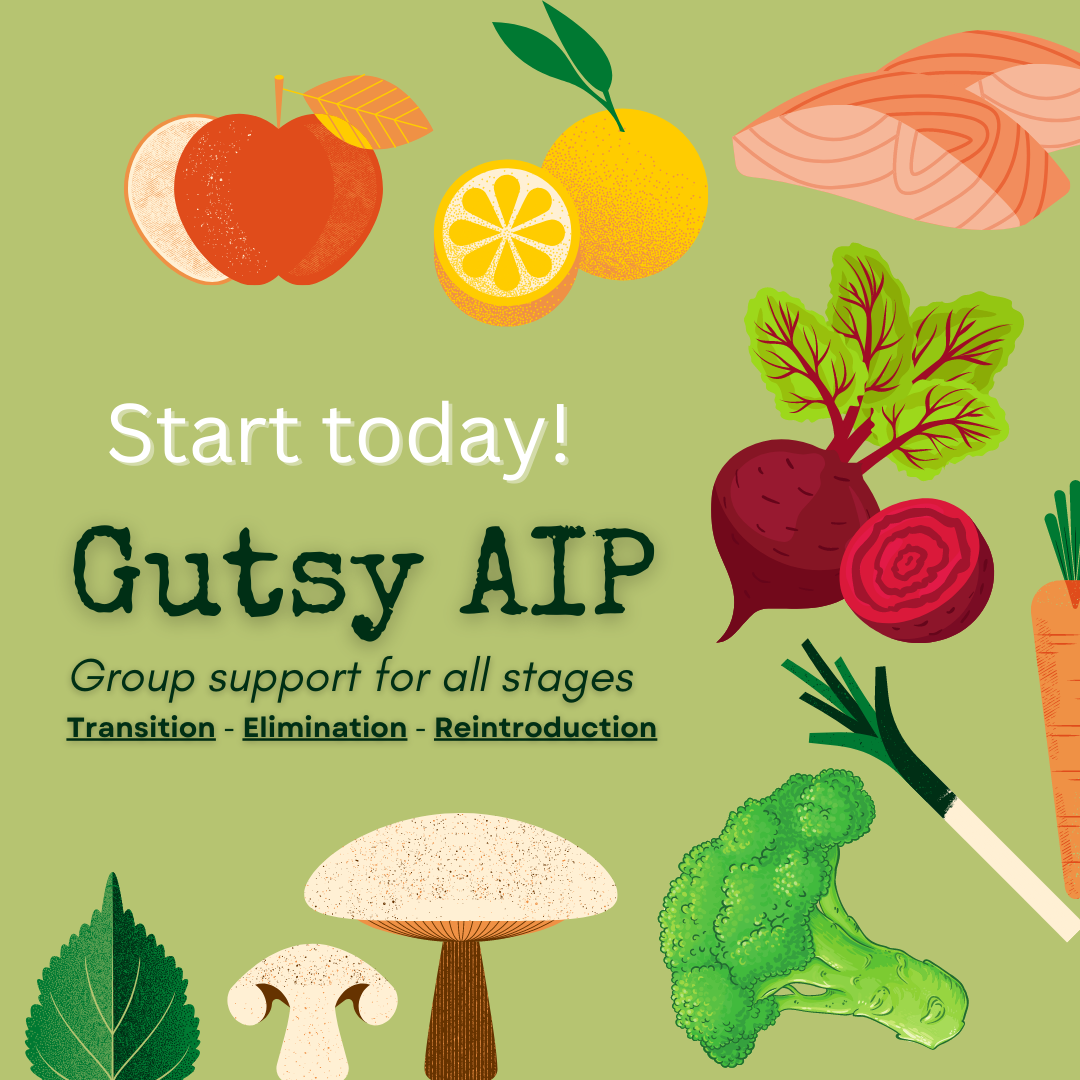 What I brought from home
A jar of coconut butter, refrigerated ahead of time to insure it stays solid through the TSA checkpoint (more about that later!)
A dozen or so Medjool dates
Two cooked hamburger patties
Leftover acorn squash with raisins
Two avocados
A can of tuna and a can of sardines
What I bought at Whole Foods
Cut up fruit
A naked rotisserie chicken
Olives from the olive bar
Frozen butternut squash in steam-in-the-bag packaging
My meals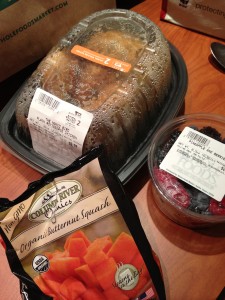 Day one
Dinner  upon arriving at the hotel: One hamburger patty with 1/2 an avocado, plus a cup of cut-up fruit I picked up at the airport. For a sweet treat, a couple dates and coconut butter.
Day two
Breakfast at hotel: The acorn squash with raisins and coconut butter, a can of tuna, plus some fruit from the breakfast buffet at the hotel.
Lunch at client site: The other hamburger patty with 1/2 an avocado and an orange from the hotel breakfast buffet.
Dinner at hotel: The legs and thighs from the rotisserie chicken (my favorite parts!), butternut squash, and fruit – all from Whole Foods. Dates and coconut butter for sweet treat.
Day three
Breakfast at hotel: Half of the remaining chicken and the rest of the butternut squash and cut up fruit from the night before.
Lunch at client site: The rest of the chicken, the olives, and a banana from the hotel breakfast buffet.
Dinner part 1: The remainder of my coconut butter and dates before passing through TSA security. Dinner part 2: A plain lettuce salad and the can of sardines.
Challenges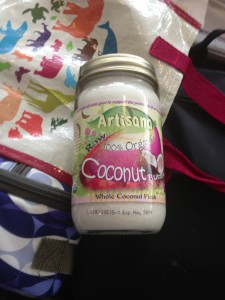 Keeping things cold and yet still fit in my carryon luggage is always difficult. I have an insulated lunch box that a refreezable pack fits into and had just enough room for the hamburger patties and acorn squash. I rinsed out the containers after that food was consumed in order to make my lunch for day three and snagged silverware and napkins from the hotel. In my experience, TSA has no problem with those ice packs as long as they are frozen but will make you throw them out if they have thawed.
Speaking of TSA, I had to argue with the agent that my hard-as-a-rock coconut butter was indeed a solid. He read on the jar that it could be "spread" on things and determined that it should be classified as a "gel." I was polite but adamant that it was solid and eventually won. Not wanting to press my luck on the return trip (especially after it spent time in a hot car and was definitely no longer solid by anyone's interpretation!), I made a point to eat the whole jar before my return flight.
My tips for eating AIP on the road
Plan ahead. Decide what you will eat at each meal, scope out the shopping options ahead of time, and bring containers that can do double duty.
Fruit is ubiquitous. It is the one thing you can find pretty much anywhere. It is the only thing I eat off the hotel breakfast buffet and have no problem finding cups of cut up fruit in airports, grocery stores, coffee shops, and even some gas stations or rest areas. It is a nice way to round out a meal and decrease the amount of food you have to carry with you from home.
Don't panic if you don't have a refrigerator in your hotel room. It is a hassle, but you can keep things cold overnight using ice from the ice machine.
Be flexible with what you buy when you restock. If I have a refrigerator and a microwave, then I look for a rotisserie chicken that will be my next three meals and some frozen vegetables that I can cook at the hotel. If I don't, then I will buy canned fish and raw vegetables. Olives are a nice touch to add flavor, but I am not going for gourmet taste here and am instead focused on making sure I get a good healthy serving of protein, some good fats, and some kind of vegetable.
My symptoms so far
I'm trying to reserve judgment until the first 30 days are up, but am so far feeling quite good. My digestion has been up and down some what, depending on other factors like how much sleep I am getting or stress levels, but over all I feel really good. I still have not seen any dramatic changes either positive or negative since I eliminated eggs and nightshades, so I am hopeful that reintroducing them be easy. I am in no hurry to reintroduce dairy, nuts, or legumes though since I saw the most dramatic improvement when I cut those out of my diet a little more than a month ago. If this trend continues, then I think I will be able to happily settle into a standard paleo diet eventually.
The week ahead
No travel! I'm looking forward to being home and relatively stress free, which will give me a good chance to see what my baseline digestion and health is without added stress and disruption.