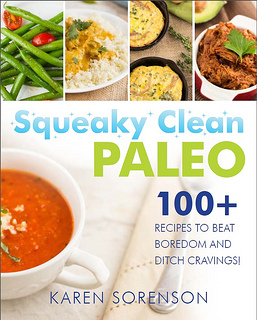 Are you new to paleo or doing a Whole30? Do you want to cut sugar cravings? Get your nutrition on track? Perhaps you are like me and have been doing paleo for a while but need a nutritional reset after indulging in treats more than you should have over the holidays. If so, I recommend you check out Squeaky Clean Paleo, the latest ebook from Karen Sorenson of the popular blog Living Low Carb…One Day at a Time.
This ebook features 100+ easy to follow recipes, all of which are grain free and dairy free. Each recipe has a beautiful full color photograph too, which is nice for people who eat with their eyes first (uh, that would be ALL of us!). She also includes recipes for some paleo basics, like cauliflower rice and bone broth, and a guide for stocking the pantry so it is an excellent resource for people who are new to the paleo way of eating.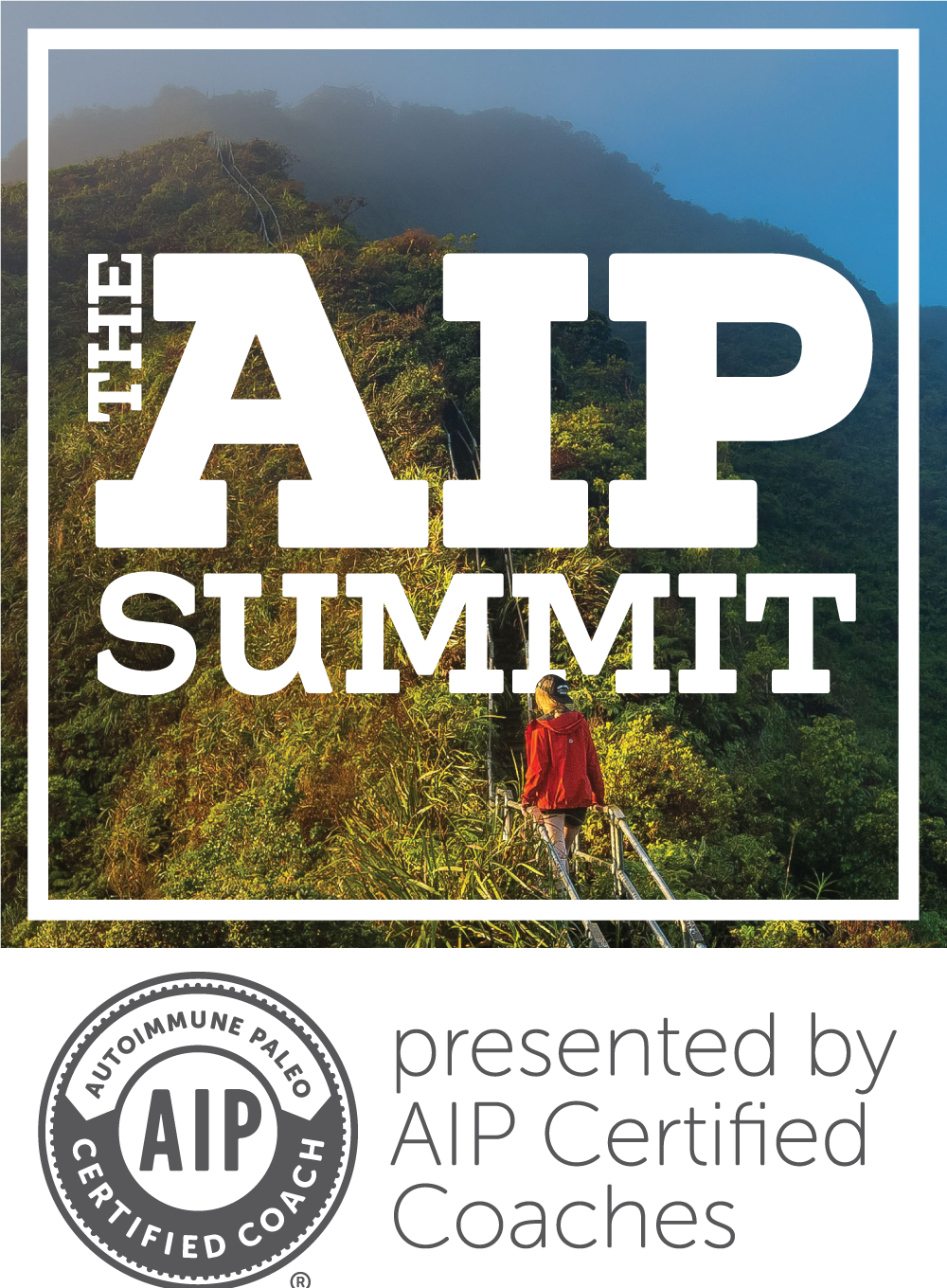 Notes for healing diets
All of the recipes in Squeaky Clean Paleo are Whole30 friendly.
Squeaky Clean Paleo is not a strictly AIP cookbook, but includes many recipes that are already AIP compliant or could easily be modified to be so. For example, two-thirds of the recipes in the breakfast section are egg free (for even more egg free breakfasts, check out Karen's first ebook Awaken: 30+ Egg Free and Grain Free Breakfasts). Many of the meat recipes do not contain nightshades and are not a major ingredient in most of the recipes that do use them.
The best part? All but a handful of the recipes are nut free! Since following the autoimmune protocol for a couple months, I've now been able to add back in seed based spices, eggs, and most nightshades but I still can't handle nuts. As I meet more and more people who have used AIP to address inflammatory bowel diseases such as Crohn's disease and ulcerative colitis, I'm finding this seems to be a common concern for us.
My favorite nut free recipe so far is definitely the coconut chicken bites, pictured below next to the zucchini noodle salad (omit the tomatoes for AIP).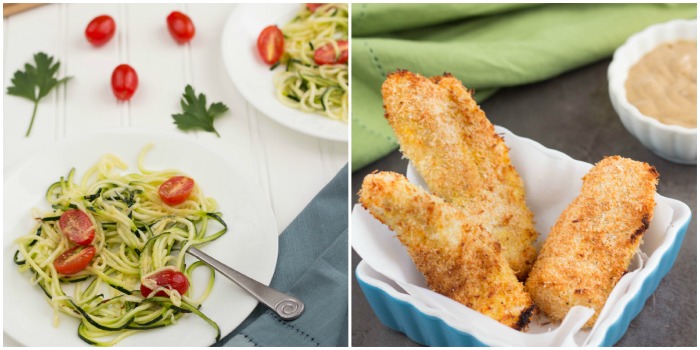 Similarly, this is not a strictly SCD cookbook, but there is a lot here for SCD-ers. You'll only need to avoid a few recipes in the vegetable section that use vegetables that are illegal (jicama, turnip, etc.).
Since Karen's orientation is toward the lower carbohydrate style of eating, you'll find that many of the recipes in Squeaky Clean Paleo are naturally low in FODMAPs – especially in the meat sections. Unfortunately, she doesn't indicate which recipes are higher in FODMAPs, but if you know what you tolerate you should have no problem determining which recipes are appropriate for you and which ones you can modify.
How to get it:
Click here to visit Living Low Carb…One Day at a Time. and learn more about Squeaky Clean Paleo.. For a limited time you can get 27% off using the coupon code SQUEAKYCLEAN.