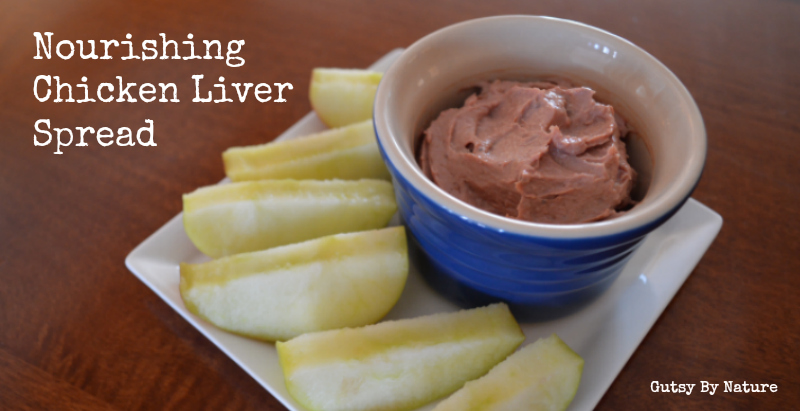 Yes, it's chicken liver "spread." It isn't pate or mousse or even pretending to be, just its less fancy country cousin. But it is super nourishing and my recipe is even casein free (and can be made completely dairy free if you don't want to use ghee).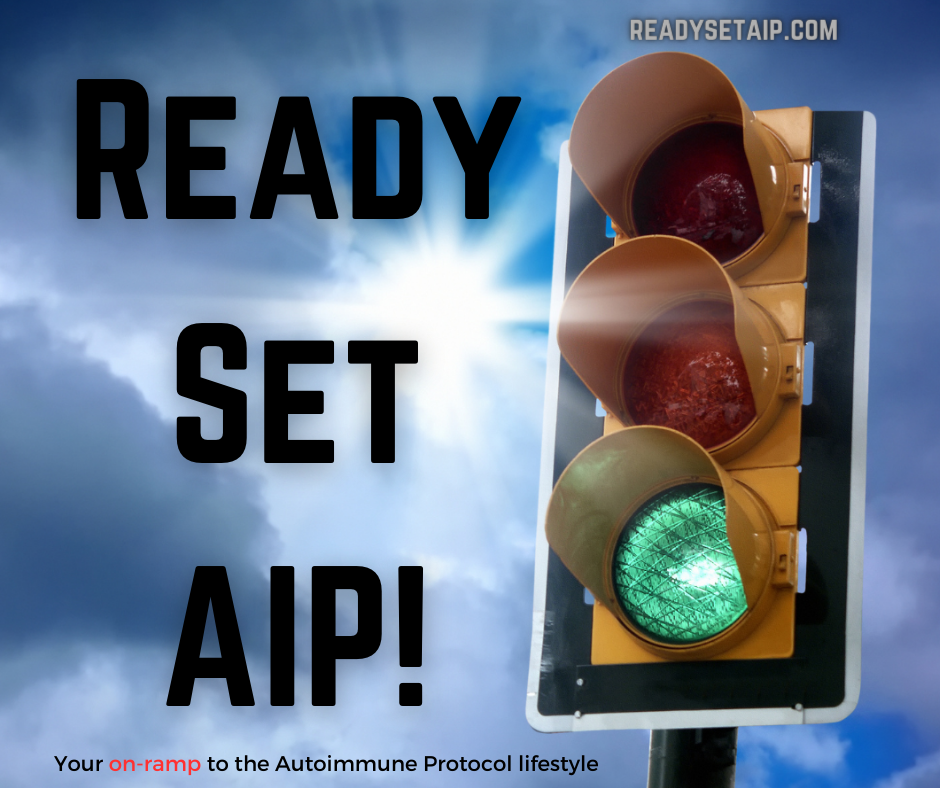 Why eat liver?
Perhaps you've heard that liver is full of toxins because it is part of the system in the body that eliminates them. Chris Kresser refutes that idea in this post, pointing out that liver filters toxins but does not store them. Rather, any toxins the body can't eliminate end up accumulating in fat, which most people don't think twice about consuming. What liver does store is a whole mess of important nutrients, including vitamins A, D, E, K, B12 and folic acid, and minerals such as copper and iron.
Although studies have not been done comparing the levels of these nutrients in the liver from pasture raised animals to the liver from animals raised in factory farms, we do know that eggs from pasture raised chickens have up to 5 times more omega 3 as well as more vitamin A and E. It stands to reason then that similar profiles are likely found in liver from healthy, pasture raised animals. If your goal is to eat super-nourishing food, then try to get the best possible liver you can to make this recipe. If you are not able to get pasture raised, then at least get organic.
What else makes this chicken liver spread super-nourishing?
Traditionally, chicken liver mousse or pate is made with alcohol like cognac or brandy. While that results in a delicious taste, I decided not to use it in my recipe. Alcohol in small quantities may have some health benefits or at least be a neutral factor in a healthy person's diet, but for people who are on a healing diet like the paleo autoimmune diet or doing a clean-eating nutritional reset program like the Whole30, alcohol is on the list of things to avoid. Instead, I used homemade bone broth. Mine happened to be beef because that is what I had in the refrigerator, but I think any flavor would do!
Bone broth is rich in vitamins and minerals, including calcium, magnesium and phosphorous. It is also a great source of two amino acids, glycine and proline, which help our bodies heal and regulate digestion. Read more about the benefits of bone broth in this post from Sarah Ballantyne, (a.k.a. The Paleo Mom and author of the eagerly anticipated book The Paleo Approach).
I also used grass fed ghee (this is the brand I buy), which is high in vitamin A (that's what makes real grass fed butter and ghee yellow in color) and high in vitamin K2. If you do not tolerate ghee, then substitute melted bacon fat or lard (again, making sure it is from a healthy pasture raised animal, if at all possible). That will give it a slightly different, but still delicious flavor.
Finally, instead of the traditional cream, I used full fat coconut milk (this is the brand I buy). Coconut milk is high in medium chain triglycerides (MCTs), which are easily digested and provide a quick source of energy for a healing body.
So, are you keeping score? My homely version of chicken liver pate contains the following:
Vitamin A
Vitamin D
Vitamin E
Vitamin K
Vitamin B12
Vitamin K2
Folic acid
Copper
Iron
Glycine
Proline
MCTs
It's a regular multi-vitamin powerhouse!
But how does it taste?
I'll confess… liver is not a food I naturally want to eat. I really dislike the metallic taste and texture of straight up liver, but I'm a believer in the health benefits of organ meat, so I wanted to come up with a way to eat it that maximized the nutritional value but minimized the taste I'm not so fond of. I'm proud to say that this recipe does just that. I have found that the key is to just sear the outside of the liver, letting the inside stay very pink. I'm not sure why, but it seems that the metallic taste comes in once the liver is fully cooked. By keeping it closer to the raw side the flavor stays nice and mellow once pureed and the pretty pinkish color of the finished spread is nice too.
I also played around with the seasoning, eventually settling on pepper corns, allspice and nutmeg as my favorite flavor enhancers. If you don't like or don't tolerate those spices, then thyme is a traditional seasoning and would be delicious alternative.
Notes for healing diets
Print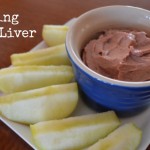 Nourishing Chicken Liver Spread (Dairy Free)
---
Author:

Total Time:

15 mins

Yield:

many
Description
I won't call this chicken liver pate or mousse because that sounds too fancy! But it is delicious, super nourishing, and dairy free.
---
2 tablespoons

grass-fed ghee (or other fat if ghee is not tolerated)

1

pound chicken livers, rinsed and drained

1

shallot or small onion, chopped

1/2 cup

homemade bone broth

3 tablespoons

full fat coconut milk

1 teaspoon

salt

1/8 teaspoon

ground nutmeg (omit for AIP)

1/4 teaspoon

freshly ground pepper (omit for AIP)

1/2 teaspoon

ground allspice (omit for AIP)

1/3 cup

melted grass-fed ghee (substitute coconut oil or lard for AIP)
---
Instructions
In a medium or large skillet over medium heat, melt the two tablespoons ghee.
Sautee the livers for about 60-90 seconds per side. You may need to work in batches. Do not overcook!
Set the livers aside and do not clean the pan. Cook the shallots in the drippings and remaining ghee.
Transfer both shallots and livers to a food processor or blender (I've tried both, the high powered blender works the best). Add the broth, coconut milk, salt, nutmeg, pepper, and allspice.
Process or blend on high until completely smooth.
Add the melted ghee and pulse to combine.
Pour into small mason jars (should fit nicely in either 2 pint jars or 4 1/2 pint jelly jars… I prefer the smaller jars because they are easier to scoop from) and refrigerate until cold and firm (about 2 hours).
Serve with veggie slices for a purely savory dish or with apple slices for a sweet-savory treat.
Notes
Keeps in the refrigerator for up to 2 weeks.
Cook Time:

15 mins

Category:

appetizer

Cuisine:

French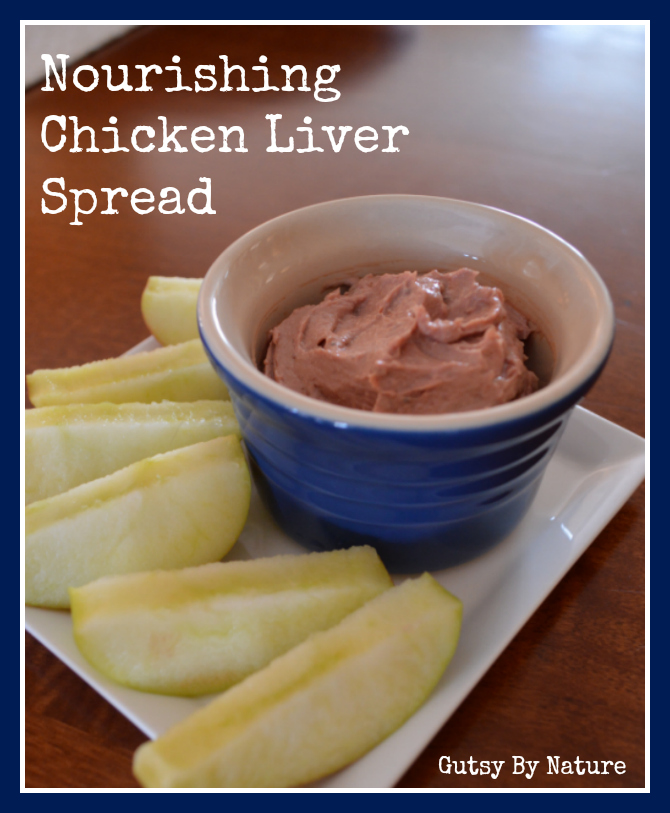 Shared on Paleo AIP Recipe Roundtable.