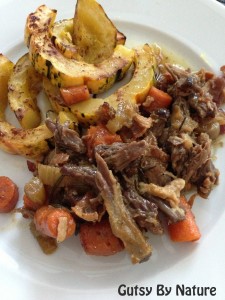 Why oxtail? It is becoming easier to find humanely raised, healthy, grassfed meats these days; but paying for them on a tight budget is tough. Filet mignon from my local farmer costs $27 a pound and even the more economical cuts like brisket and sirloin are nearing the double figures.
This is especially hard for someone like me to stomach because I used to make getting the most food for the least amount of money my number one goal when I went to the grocery store. I shopped the sales, I used coupons, I even scoped out the little section in the meat department where they mark down the cuts that are just one day away from the end of their "sell by" window. I got a little rush every time I snagged a great deal, patting myself on the back for being such a good little shopper.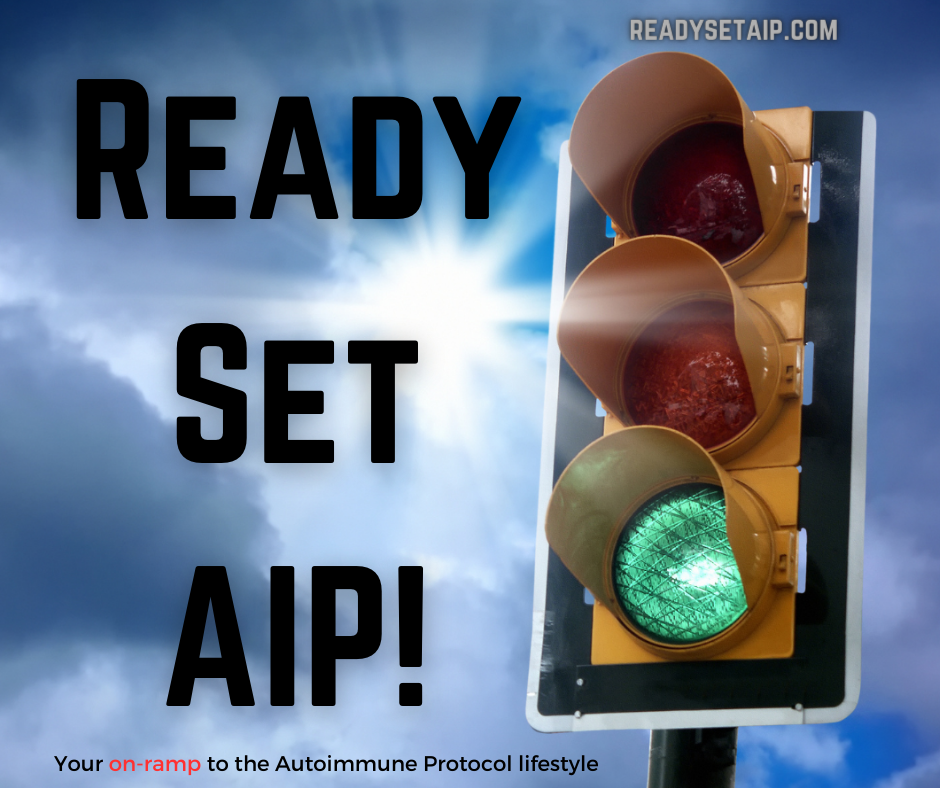 But that changed when I started learning more about the quality of what I was buying. I was originally most concerned about the overuse of antibiotics in conventional meat and concerns that it leads to antibiotic resistant bacteria strains. Then I began to wake up to how badly the animals were treated when they are fattened up in concentrated animal feeding operations (CAFOs) and my conscience began to bother me.
Finally, I became concerned about the negative environmental impact of conventional CAFO-fed meat. I firmly believe that the human body is designed to be an omnivore and needs the complete protein found in animal products (particularly for me due to my Crohn's disease and surgically shortened small intestine), so just cutting out meat entirely was not a solution. Right about then I read the eye-opening book by Michael Pollan, The Omnivore's Dilemma: A Natural History of Four Meals
, and made the decision to stop eating conventional CAFO-fed meat entirely and begin purchasing our meat from a local farmer. For the well-being of the planet and for ourselves, and because we truly care about the welfare of the animals that eventually become our food, we had no choice but to readjust our budget priorities.
We now buy almost all of our beef, pork, and chicken from a local source that raises these animals as they should be. Because we live in northern Virginia, we are fortunate to have access to Polyface Farms, which is featured in Pollan's book. A great resource for finding healthy animals raised on pasture  in your area is the website Eat Wild. If you aren't able to find a farmer you trust in your local area, you can always order from US Wellness Meats.
Yes, eating grassfed beef costs more, but we make room in our budget by cutting back elsewhere. Of course, that doesn't mean that I no longer want that rush I got from getting a good deal! Though we still treat ourselves to the premium cuts from time to time (and are happy to get them as part of our 1/4 cow share of course!), I am looking for that rush now in developing recipes and techniques that make the most of the cheaper cuts of meat. That is the genesis for this braised oxtail recipe (just $2.50 a pound!). Until I ordered it as part of our last buy club delivery, I had never eaten or even seen the cut before so it was a little shocking to me that it arrived not looking like this: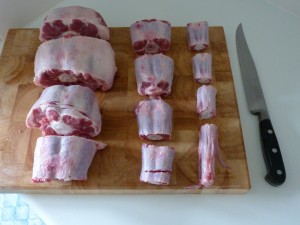 But more like this, only curled up and sealed in a plastic pouch: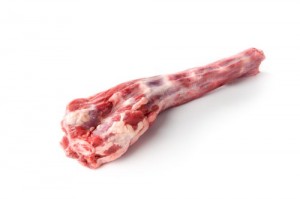 A little daunted, I shoved it into the freezer and procrastinated on it for a few weeks. Finally I put it on my menu plan for this week and made it a Sunday afternoon project. First I had to cut it up. I tried to follow the above picture as a guide, but my knife just wasn't figuring out where the joints were. If you look closely, you'll see places where I tried to cut and then gave up as it seemed I was just dulling my knife trying to slice through bone.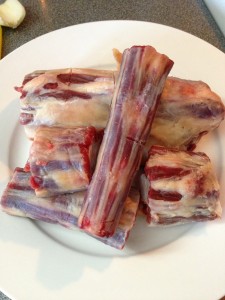 Then I did a little research and determined that as with other cheaper cuts, a slow braise was likely the best method. For flavor, I started with a base of the culinary "trinity" of onions, carrots, and celery cooked in bacon fat, added some white wine for braising, a whole head of garlic, and a couple sprigs of rosemary. Drawing upon previous experience, I also knew that the meat needed to get a bit of a sear before going into the oven. This is what the whole thing looked like, assembled and ready to go in the oven: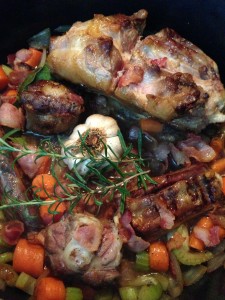 After it braised for about 3 hours, I let it cool a bit, then picked the meat off the bones (which I saved for future broth making). The yield is fairly small, but it was plenty for two hearty servings and the dish was so tasty that you didn't need a lot of volume to feel satisfied. Estimated cost of the whole meal: $3.50 per serving. Now that is a number that makes this bargain hunter's heart rejoice!
Print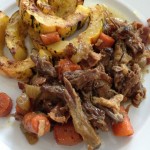 Rosemary and Garlic Braised Oxtail
---
Author:

Total Time:

3 hours 20 mins

Yield:

2

-4

1

x
Description
Turn this cheaper cut of meat into a delicious and hearty meal.
---
1 tablespoon

coconut oil, ghee, or grassfed butter

4 ounces

bacon, cut into

2

inch pieces

1

–

2

pounds beef oxtail, cut up

2

–

3

carrots, cut into

1

inch pieces

2

celery stalks, chopped roughly

1

medium yellow onion, chopped roughly

1

head garlic, outer paper layer removed and top cut off to expose garlic cloves

1 cup

dry white wine

1

–

2

sprigs fresh rosemary

2

bay leaves

1/2 cup

beef or pork bone broth
sea salt to taste
---
Instructions
Preheat oven to 300 degrees F.
In an oven safe dutch oven or braising dish with lid, melt oil or butter. Add bacon and cook until fat is rendered and bacon is crisp but not burnt. With a slotted spoon, remove bacon and set aside.
Salt the oxtail, and sear it in the bacon fat, turning frequently, until crisp on all sides (about 10 minutes). Remove oxtail and set aside.
Add carrots, celery, onion and cook until softened. Add garlic and cook for about a minute, then add white wine and let it bubble for another minute or so.
Return oxtail and bacon to the pan and toss in rosemary and bay leaves.
Cover and place in oven to braise slowly.
After about an hour of braising, check the pan and add broth if it has started to become dry. Braise for another 1-2 hours, or until the meat is falling off the bone. Check every 30 minutes or so and add more liquid if necessary.
Remove the oxtail and let it cool so that you can easily handle it. Pull the meat off the bone and return to the dutch oven and reheat on the stovetop if necessary.
Serve with a starchy vegetable, such as squash, potatoes, or sweet potatoes.
Notes
This recipe is autoimmune paleo protocol friendly (AIP) and complies with the Specific Carbohydrate Diet (SCD). It can also be made low-FODMAP if you eliminate the onions and garlic.
Prep Time:

20 mins

Cook Time:

3 hours

Category:

Entree

Cuisine:

American
This post linked to Real Food Forager's Fat Tuesday, Kelly The Kitchen Kop's Real Food Wednesday Blog Carnival, Holistic Squid's Party Wave Wednesday, The Tasty Alternative's Allergy Free Wednesdays, The Humble Kitchen's Simple Lives Thursday, The Nourishing Gourmet's Pennywise Platter Thursday, Peeling Back the Onion Layers' Healing with Food Friday, Food Renegade's Fight Back Friday.