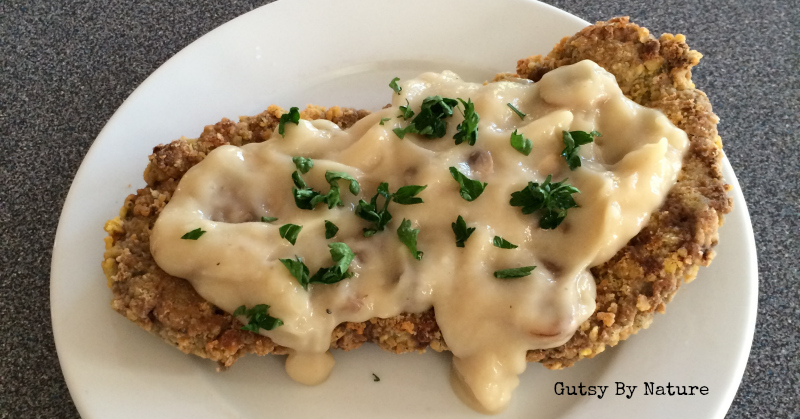 Three packages of "cube steak" were included in our recent grass fed beef share and I was a bit stymied by them. The frozen hunks looked a bit like ground beef, but once I defrosted them I realized that they were actually four solid masses. I consulted the great google machine and the wizard within told me that cube steak is a cut of beef, usually top round or top sirloin, tenderized by fierce pounding with a meat tenderizer, leaving cube shaped indentations – hence the name. It is also called "minute steak" by some because it cooks very quickly.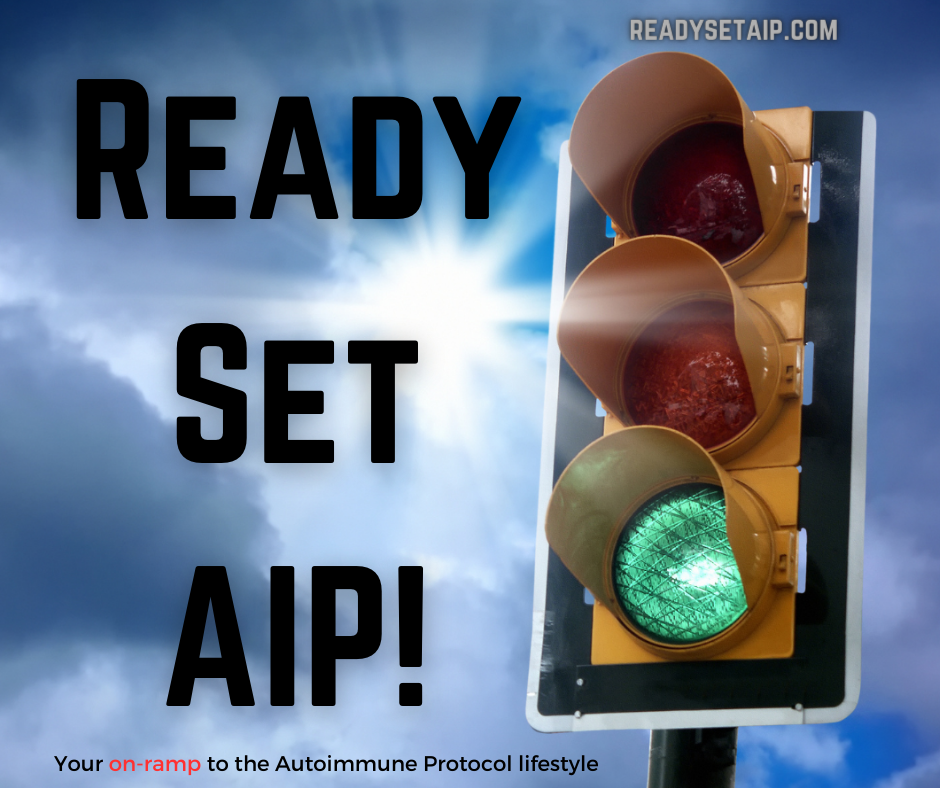 By either name, it is still not a cut with which I am familiar. (What can I say? I guess my tastes run toward the finer end!) But didn't take me long before I realized that it would probably be best pan fried and my husband gave me the idea to try to paleo-ify the "chicken fried steak" served at the fine restaurants found along interstate highway throughout the country.
The "paleo-ifying" process begins…
I had several challenges here. Of course, grains are out, so clearly the copycat recipe linked above was not much help. I found a few paleo recipes for chicken or "country" fried steak in books and on the internet, but they relied on nut flours, which I don't currently eat. Then I remembered some delicious chicken tenders I recently made from a recipe by Allison Nicols of the Frisky Lemon that use ground up plantain chips as a major component of the breading and decided to apply that same principle here.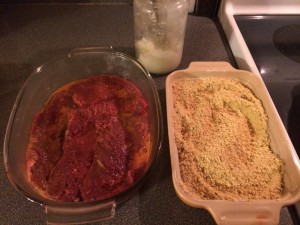 The other challenge was to make a tasty gravy that didn't include either grains or dairy. For that I turned to a technique for simmering vegetables in stock and then blending them together in a high powered mixer from Elana's Pantry. My version for this dish omitted the garlic though and added in some sliced mushrooms.
Unfortunately for my friends on healing diets, this dish is probably not going to work for most of you. While the breading is nut free and I didn't include any nightshades in the seasoning, it does rely on eggs to bind it, making it a no-go for strict AIP. The starchy plantains and tapioca flour are both forbidden on SCD and GAPS. And onions are a major high FODMAP offender, so the gravy would not be suitable for anyone following a low-FODMAP diet. Additionally, the breading is pretty high in carbs so folks following low carb or ketogenic diets are not going to be able to embrace this dish either.
Notes on ingredients and where to get them
This is the brand of plantain chips and this is the tapioca flour I use.
For frying, you definitely want to use coconut oil due to its high smoke point and other health benefits.
Print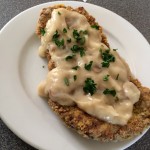 Chicken Fried Steak and Mushroom Gravy (Grain Free, Dairy Free, Nut Free)
---
Author:

Total Time:

1 hour 30 mins

Yield:

4

1

x
Description
Some surprise ingredients combine to make a breading for paleo chicken fried steak that tastes even better than the gluten-ific original!
---
FOR THE STEAK

2

–

3

pounds of grass fed cube steak (if you can't find cube steak, buy top round or top sirloin and tenderize it yourself with a spiked mallet)

2

eggs

1 tablespoon

gluten-free dijon mustard
salt and pepper, to taste

1

7 ounce bag of plantain chips

1/2 cup

tapioca flour

1 teaspoon

garlic powder

1 teaspoon

dried herbs of your choice (I used sage and rosemary)

4

–

5

tablespoons of coconut oil
FOR THE GRAVY

1 quart

bone broth (I used pork broth because its what I had on hand, but any kind will work)

1

large onion, cut into chunks
salt and pepper to taste

5

white button mushrooms, sliced
fresh parsley for garnish
---
Instructions
Lightly salt and pepper steaks on both sides (do not oversalt – remember that the plantain chips are salted as well).
Whisk eggs and mustard together, then pour into a baking dish large enough to hold all of the steaks. Place the steaks in the baking dish, turning to coat completely. Refrigerate for an hour, allowing the steaks to marinate and further tenderize.
Start making the gravy while the steaks are marinating in the the refrigerator. Place broth and onion in a medium skillet and bring to a boil, then reduce to simmer and let cook, uncovered for about an hour or until onion is very soft and broth has reduced.
Meanwhile, prepare the breading. Use a food processor to grind the plantain chips until they look coarse sand.
Mix in the tapioca flour, garlic powder, and herbs and place the breading in a large shallow dish.
Remove the steaks from the refrigerator. Melt 2-3 tablespoons of coconut oil in a large skillet over medium heat.
Working in batches so as not to overcrowd the skillet, let the excess egg drip off of the steak, then dredge it in the breading mixture.
When the oil is hot, shake off the excess breading and gently place in the pan. Fry on each side 4-5 minutes, then remove steaks to a wire rack placed over a cookie sheet and repeat with remaining steaks.
While the last batch is cooking, finish the gravy by pureeing in a blender. Return to saucepan and add in mushrooms, salt and pepper to taste. Bring back to low simmer.
Serve each steak with some of the mushroom gravy.
Prep Time:

1 hour

Cook Time:

30 mins

Category:

Main

Cuisine:

comfort food
Other posts in the Grassfed on a Budget series:
Rosemary Garlic Braised Oxtail
Cinnamon Beef Stew with Butternut Squash
Ropa Vieja: Cuban Shredded Beef with Peppers
Other ways to prepare cube steak
Shared on Gluten Free Friday, Healing with Food Friday.