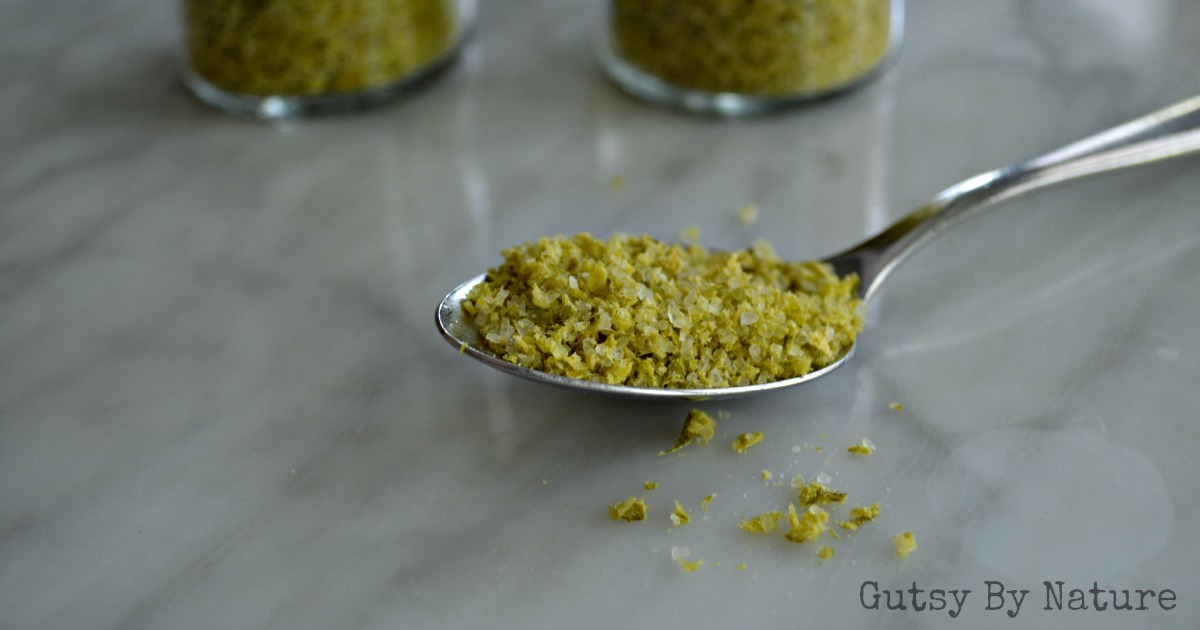 Garlic scapes taste just like garlic cloves, but are low-FODMAP! That's right! Just like the green parts of green onions, these curiosities don't contain the pesky fructans that give so many people digestive difficulties when they eat regular garlic and onions. They are extremely seasonal, with the entire harvest happening at once in early summer, so I decided to create this garlic scape salt, which you can use throughout the year wherever you want a garlic flavor.
What are garlic scapes?
"Scapes" are the immature flower bud of the garlic plant and are removed by garlic growers in June to encourage the bulbs that are growing under ground to thicken up. They can be eaten raw or cooked, but you have to act fast because they don't keep. Some people pickle them to make them last a bit longer, and I've heard of people making them into a garlic scape pesto and freezing that.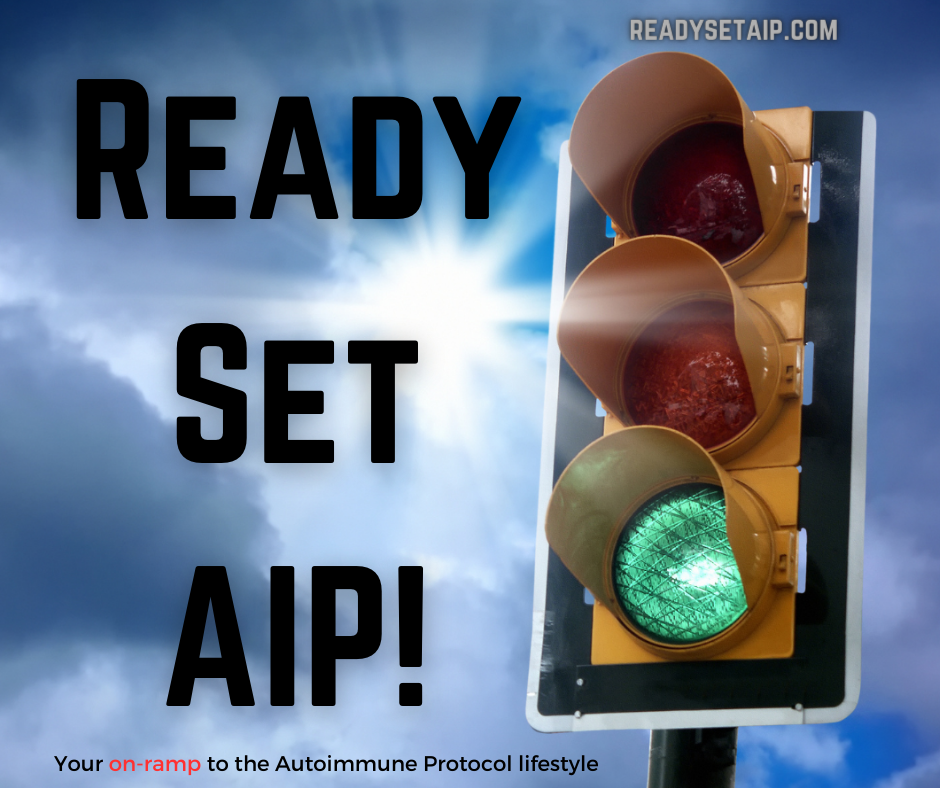 What are FODMAPs and why do they matter?
The acronym FODMAP stands for "Fermentable Oligo-, Di-, Mono-saccharides And Polyols." These carbohydrates are poorly absorbed in the digestive tract by all, but only cause problems for some people as they are fermented by bacteria and cause bloating and discomfort. One particular type of these are "fructans" and are found in garlic bulb and in the white parts of onions and leeks.
You can learn more about the low-FODMAP diet and how to combine it with the Paleo Autoimmune Protocol (AIP) here in this post from my archives.
Many people are advised to follow a low-FODMAP diet temporarily, to get IBS or even IBD symptoms under control. The goal is to eventually reintroduce foods, though some people find there are still some categories of FODMAPs that are always troublesome for them.
NOTE: Staying on a strictly low-FODMAP diet indefinitely is not advised. These carbohydrates feed bacteria in the large intestine and while avoiding them will provide short-term relief, in the long term this could cause the beneficial bacteria within your intestine to be suppressed. Always consult with your own medical care provider before making major changes to your diet.
Ingredients and equipment notes
Garlic scapes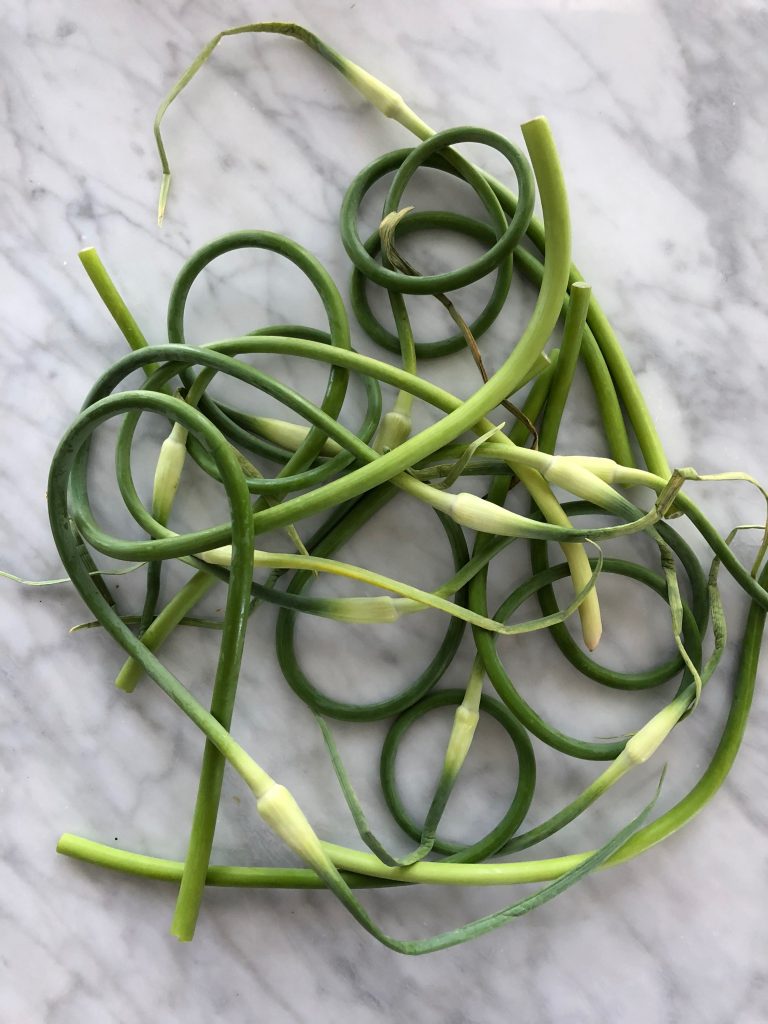 If you are a CSA member they may come to you without you even searching (that's how they ended up in my refrigerator!) Otherwise, look for garlic scapes at your farmer's market or in the produce section of a high end grocery store. The amount is flexible – my recipe uses a dozen, but if you only had five or six, you can just scale back the salt and make less.
Salt
Use an additive-free white or gray sea salt, such as this one, for this recipe. It would work just fine with a Himalayan pink salt, but the color would be strange. I used a coarse salt because I was aiming for that in the final texture, but that is just personal preference. If you would rather have a fine salt, that would work as well.
Food processor
There is no getting around it – a food processor or a high speed blender is necessary for this recipe. If you are thinking about investing in one, I recommend the Cuisinart brand. I bought my first one when I was setting up my first apartment kitchen after college in 1997. Funds were tight, so I got the smaller size, figuring that it was just a starter anyway and I'd eventually replace it with a better one. But they make those puppies to last and it never wore out! 20 years later, one day after cursing that I couldn't make what I really wanted because it was too small, my husband suggested I just bite the bullet and get the 11 cup one I had my eye on. I'm glad I finally did! When you are cooking real food every day for your health, you deserve to have the best tools.
Low-FODMAP Garlic Scape Salt Recipe
Print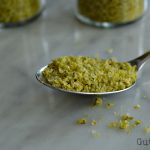 Garlic Scape Salt (Low-FODMAP, AIP, SCD)
---
Author:

Total Time:

1 hour 10 mins

Yield:

1 cup

1

x
Description
A low-FODMAP garlic salt? Is it possible?! Yes! Use those spring garlic scapes and make a seasoning you can enjoy all year round, even if you are sensitive to regular garlic.
---
12

fresh garlic scapes

1/2 cup

coarse sea salt
---
Instructions
Preheat oven to 250° F.
Roughly chop garlic scapes, then place in bowl of food processor along with sea salt and process until it becomes an even paste.
Spread the paste in an even layer on a small baking sheet. Place in oven and allow to bake for 1 hour, stirring and re-spreading in an even layer every 15 minutes, until the paste is uniformly dried.
Remove from oven and allow to cool enough to handle.
Using your hands, crumble the dried salt and garlic scape mixture into fine pieces. If you find you have very hard and large clumps, you may wish to return this dried mixture to your food processor (making sure you have cleaned and dried it first) and pulverize it even further.
Transfer the resulting garlic scape salt into jars for storage.
Prep Time:

10 mins

Cook Time:

1 hour

Category:

Condiment
---
Please sign up for my weekly email newsletter to be the first to know about all my latest offerings and news!
Processing…
Success! You're on the list.
Whoops! There was an error and we couldn't process your subscription. Please reload the page and try again.
---