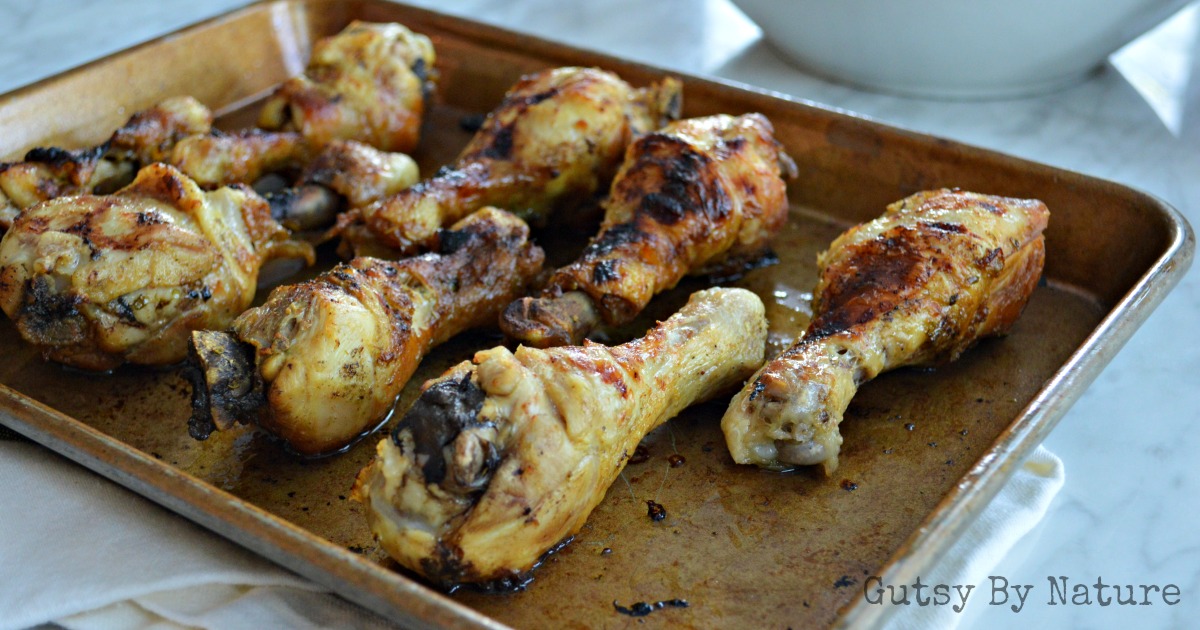 Think you can't have great barbecue chicken if you don't have your own smoker? Think again! If you have a pressure cooker or multi-cooker like an Instant Pot, you can! And it will be ready in a matter of minutes, with a deep smoky flavor and fall-off-the-bone tender meat you'd imagine enjoying after hours of waiting.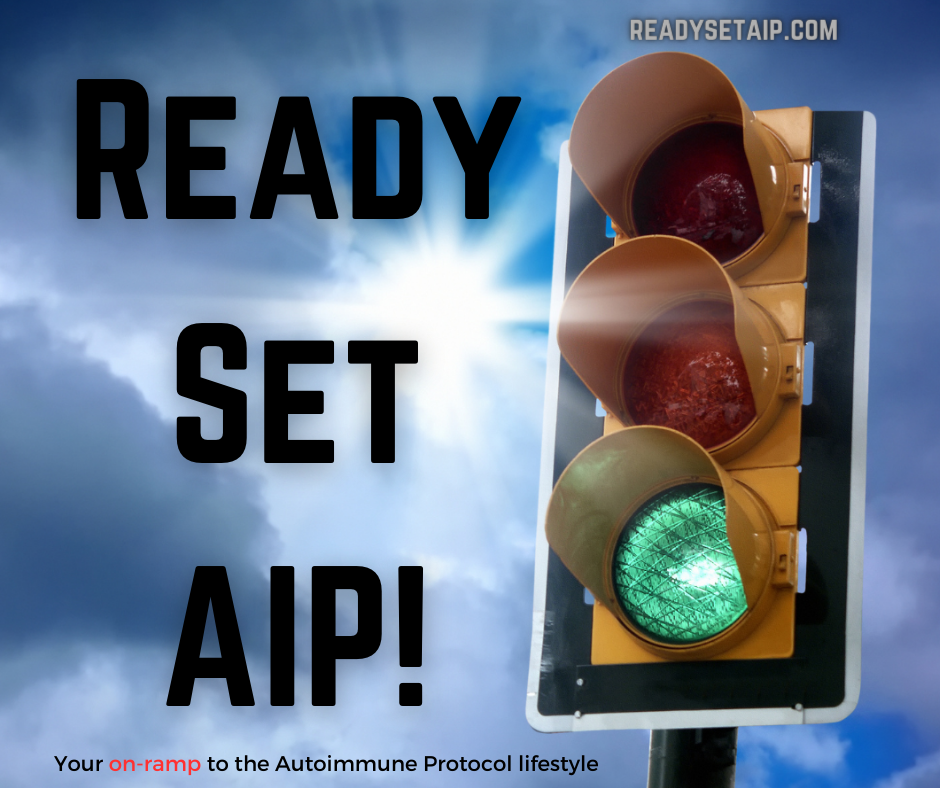 Garden Update
Before I get to the recipe, I want to share my July garden update with you! As regular readers know, I live in a townhouse in the heavily populated Virginia suburbs of Washington, DC. Our property is an "end unit," so we do have a tiny strip of land along side the house and a backyard that is just slightly bigger than our neighbors, but most of it is completely shaded by a second floor deck or the fence that goes all the way around it. So, needless to say, gardening is a bit of a challenge… but we are determined! If you want to see the whole story in context so far, click here to see the freshly planted side yard in April, the beginning of some greenery and very early spring harvests in May, and last month's update featuring bok choy here.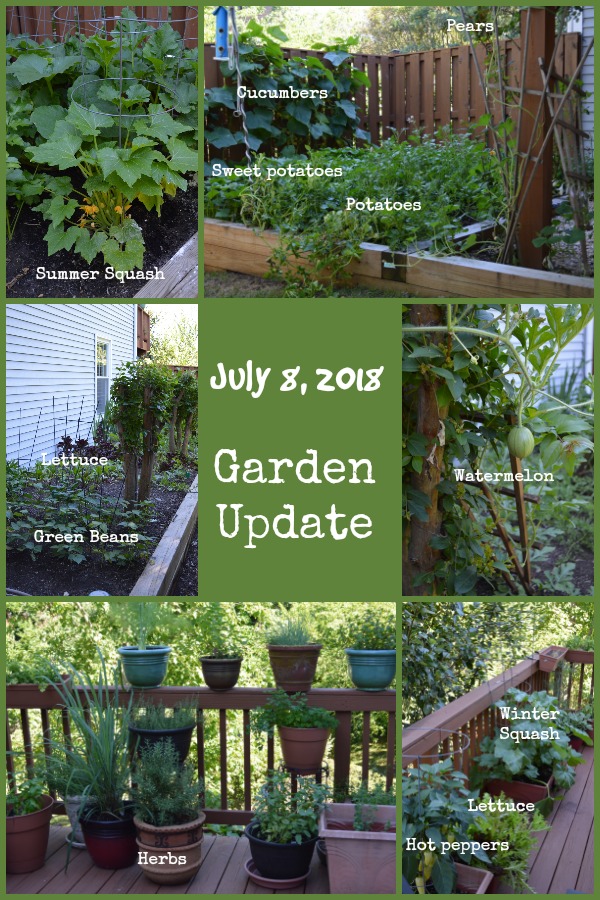 It amazes me to compare these pictures from one month to the next! The back yard portion of the garden is now a moderately controlled tangle of sweet potato and red skinned regular potatoes (yes, the nightshade variety – it is a successful reintroduction for me). I pulled out a handful of "new" potatoes for one meal last week, but am letting the rest continue to grow for a few more weeks. Along the fence line I planted cucumbers and they are growing marvelously and I'm picking about 5-7 good sized cukes every day. Most of them are getting fermented as pickles, but we've been eating them in salads as well. I joke that if we could just live off cucumbers, we'd not need to buy any groceries at all!
In the side yard we've been harvesting green beans (another AIP reintroduction) for about three weeks and are still getting lettuce. They aren't shown in any of the pictures, but we also have carrots, green onions, and parsnips growing and being harvested selectively. The yellow summer squash and zucchini plants are flowering, but I'm still waiting for some actual production. I saw a video that showed how you could squeeze more plants into a small space by using tomato cages and forcing them to grow more up than out, so that is an ongoing experiment. We are also experimenting with three "sugar baby" watermelon plants. Again, because space is limited, I'm training the vines to grow up trellises and those pesky trees we aren't allowed to cut down. So far, it seems to be working, as you can see by the photo of the baby baby watermelon hanging in a tree!
On the deck I have a huge variety of herbs (they make cooking so much more fun… and they are extremely easy to grow in containers) plus a convenient planter of lettuce, a delicata squash plant in another planter that I'm hopeful will actually be able to produce eventually, and for Mr. Gutsy, some hot peppers (not for me – though I can eat potatoes, the rest of the nightshades are still not part of my regular diet).
If you find this interesting, be sure to follow me on Instagram where I do more in depth tours of the garden and of the harvest from time to time. And check back here in early August when I give you another update!
Now, let's get back to those smoky chicken drumsticks!
Sweet and Smoky BBQ Rub
The flavor of these drumsticks comes from the kitchen of the ever creative Chef Ann of Paleo On the Go. You probably already know that Paleo On the Go is a frozen meal delivery service that especially caters to the needs of people who are following special diets like AIP and Keto, or who have food allergies. But you may not have known that they are also branching out into the world of pre-made seasoning mixes. So far, Chef Ann has created two – "enlightened curry powder" and "sweet and smoky BBQ rub" (and I sure hope more are on the way, because these are delicious!
Of course, because the folks at Paleo On the Go are completely committed to transparency in their ingredients, you can actually go find the spice rub ingredients here on their website and approximate your own rub. But why go through all that work when they have already figured it out for you? You'll find lots of uses for this mix, I promise! Order yours today through this link (Disclosure: That is an affiliate link. That simply means that if you purchase through it, I get a small commission for referring you.)
First time ordering from Paleo On the Go? Use coupon code GUTSY and get 10% off
Notes on ingredients and equipment
Feel free to omit the honey if you are trying to reduce consumption of sweeteners, but I think this is a worthwhile indulgence. Don't skip the molasses however – it is a key flavor complement to the rub. Plus, it actually has some useful nutrients!
Obviously, the key piece of equipment here is the Instant Pot. Any model will do – I have had this one for more than 4 years old now and no fancy extra features and love it today as much as I did when I got it!
Sweet & Smoky BBQ Chicken Drumsticks Recipe
Print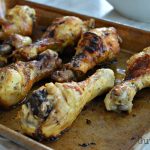 Sweet & Smoky BBQ Chicken Drumsticks (Instant Pot, AIP)
---
Author:

Total Time:

35 mins

Yield:

4

servings

1

x
Description
You can get incredible tender smoky chicken from the Instant Pot… you'll swear these drumsticks spent hours in a smoker! This recipe is nightshade free and appropriate for people on AIP.
---
---
Instructions
In a small bowl, whisk together the broth, honey, molasses, Sweet & Smoky BBQ Rub, and apple cider vinegar.
Put drumsticks in Instant Pot in a single layer. Pour sauce over drumsticks and lock lid in place.
Set to cook on high pressure for 15 minutes.
Allow pot to release pressure naturally for about 10 minutes. Meanwhile, preheat the broiler element in your oven.
Release rest of pressure and remove lid. Carefully remove chicken and place on a sheet pan, trying to arrange chicken so the sides with most of the skin are facing up. Put under broiler for 5 minutes to crisp the skin (watch carefully so it doesn't burn).
Meanwhile, turn Instant Pot to sauté so sauce can boil and thicken slightly.
Remove chicken from oven and transfer to a serving platter. Either pour sauce over, or pour into a bowl and pass at the table.
Prep Time:

5 mins

Cook Time:

30 mins

Category:

Entree

Cuisine:

Barbecue
Did you enjoy this recipe? Want to be the first to hear about new AIP-friendly, gluten-free, Paleo recipes? Please sign up for my weekly email newsletter to stay in the loop!