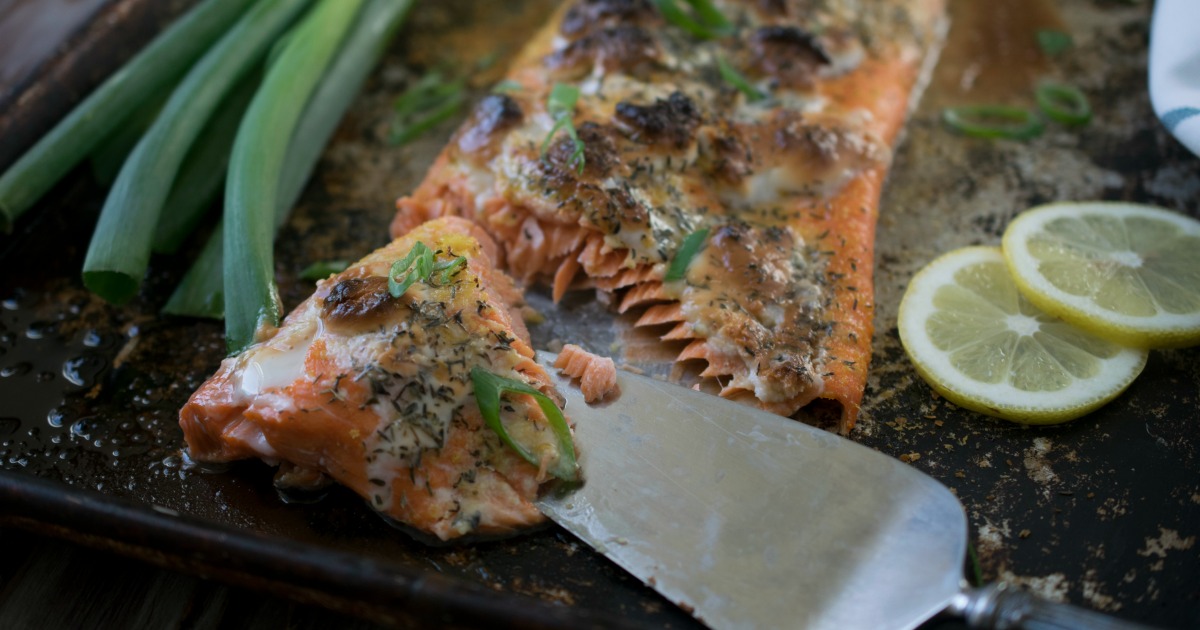 Wild-caught salmon is one of the most nutrient dense proteins you can choose and this recipe is fast to make and has a rich and savory topping that is turns it into a perfect meal for entertaining, or just indulging yourself on a typical week day. This AIP-compliant dish is from a brand new cookbook called Made Whole, by Cristina Curp of the blog The Castaway Kitchen.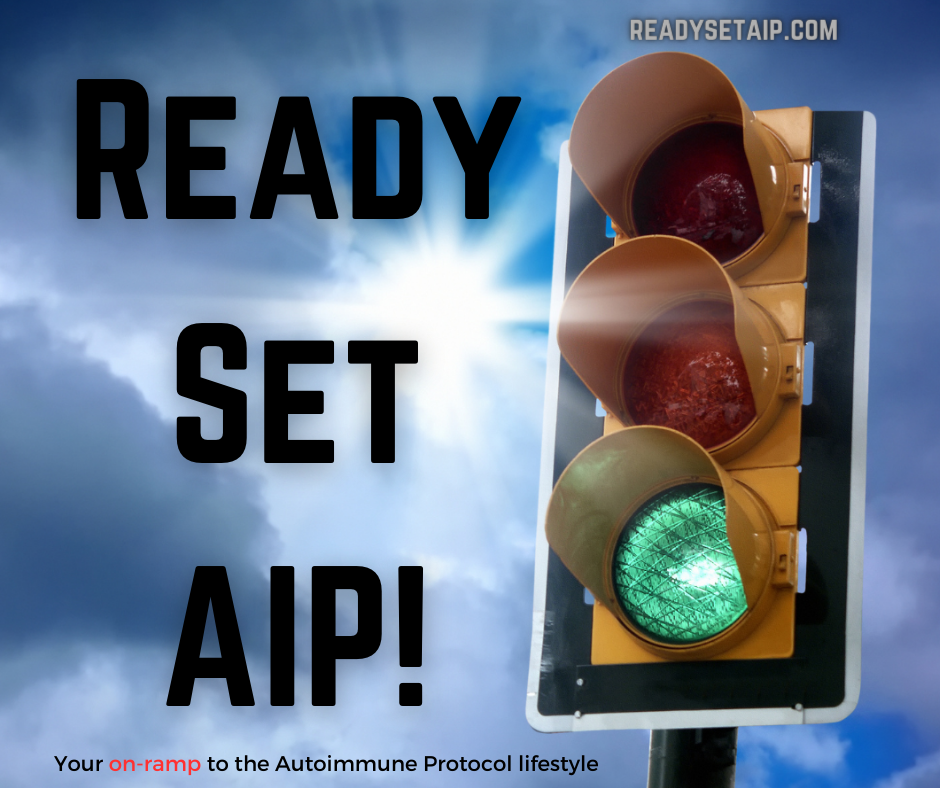 I'll share the recipe at the bottom of this post, but first let me tell you a little more about the cookbook.
What makes Made Whole so great?
First of all, it's in the clever title! These are the recipes that helped Cristina find healing, that "made her whole" and can help you too, whether your diet is focused around just eating whole foods, the Paleo autoimmune protocol (AIP), a ketogenic approach, or some combination of all three of these. The recipes also teach you how to use "whole" food ingredients and make incredibly delicious and interesting home "made" meals for your whole family.
Cristina writes in the introduction how she found the "sweet spot" between three popular gut-healing and anti-inflammatory approaches to food: Paleo, AIP, and keto. If you are a regular reader of this blog, you already know what Paleo and AIP are, but "keto" might be new to you. It isn't an approach that I have personally used and definitely don't recommend it to everyone, but in particular instances it can be a game changer. That was definitely the case for Cristina, as she outlines in this book and talks about frequently on her blog and in social media.
Made Whole includes more than 145 recipes, all of them with full page pictures to get your mouth watering and inspire you! Every recipe includes the per serving macronutrient breakdowns (calories, fat, carbohydrates, fiber, and protein) to help people who are following straight-up keto, and they are also clearly marked with a symbol that indicates if it is AIP as written or can be easily modified to be AIP. Because all of Cristina's recipes are free of nightshades, nuts, and dairy, many of the recipes in the book feature that symbol. She also clearly indicates which recipes are coconut-free, egg-free, and seed-free and includes an allergen index so you can see all of these at a quick glance.
But what really separates this book a part from the crowd is the flavor and the ease of the recipes. Cristina was born in Miami to Cuban immigrants and has experience working along side multi-national chefs in a professional kitchen, and today cooks for her family every single day. The result is a book full of ordinary food with extraordinary taste that will guarantee you don't get bored with the same old food. You'll be traveling around the world without leaving your kitchen as you enjoy chicken kofta kebabs one day and crispy kalua pork and korean vegetable salad another!
Have picky eaters at your house? You'll find recipes in this book for a dairy-free cheesy yellow sauce to dress up whatever they don't think they like (broccoli, anyone?). Need something fast? Cristina has you covered with a grain-free low-carb lazy moco, inspired by the Hawaiian dish loco moco. Miss eating Latin food because you can't have nightshades? You are going to love the churrasco and chimichurri and the beef carnitas.
Every page I flip to features something else mouth-watering! I could go on and on about my favorites, but I'll have to let you discover yours for yourself.
Made Whole released for sale TODAY – July 17, 2018 – so you can get your copy now in bookstores or by clicking here!
But what about my healing diet?
You should know that not every recipe in this book will work for every single person. But if you need grain-free recipes due to a gluten sensitivity or celiac disease and are also looking for recipes that don't use nuts, nightshades, and/or dairy – this book will serve you well! If you are on the AIP elimination phase, there are plenty of recipes that work for you right now and others to look forward to if you are ultimately able to reintroduce eggs and seed-based spices.
Special note to my readers with digestive issues: This book doesn't mark recipes for FODMAP content or for SCD. But I still think this book could be a good addition to your cookbook library because the bulk of the recipes suit your needs too or need only very simple tweaking to make that happen.
Notes for ingredients – Toasted Coconut Salmon
The combination of coconut butter and nutritional yeast is what really makes this salmon recipe so delicious. If you are new to dairy free healing diets, they might be unfamiliar to you but I know you will find them a worthwhile investment as they have many applications.
Coconut butter is also often known as coconut manna or coconut cream concentrate. It is the ground up flesh of a coconut and comes in a jar. If your climate is cool, it may be solid when you get it and have a layer of oil on top that has separated out and solidified. Simply warm up the whole jar and stir it all together. This is my favorite brand of coconut butter.
Nutritional yeast is not the same thing as baker's or brewer's yeast. It is deactivated and provides B vitamins, as well as a cheese-like flavor. This is my favorite brand because it doesn't have synthetic ingredients added to it.
Now, on to the recipe!
Toasted Coconut Salmon Recipe (AIP, Keto)
Print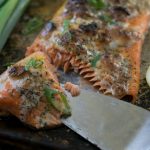 Toasted Coconut Salmon from Made Whole
---
Author:

Total Time:

30 mins

Yield:

4

1

x
Description
Choosing the right salmon is paramount for maximum flavor and high omega-3 content. Always buy wild-caught salmon. King salmon is available in early summer, then, in late summer, you'll find sockeye and then Coho salmon. Purchasing fish in its peak season is a good way to get it for an affordable price. Look for fillets that are uniform in thickness, this will ensure even cooking. Bright and tight flesh without gapping is a good sign of freshness.
---
---
Instructions
Preheat the oven to 400°F.
Lay the salmon skin side down on a sheet pan. Run your fingers along the length of the fish to check for pin bones. They will be difficult to see but easy to feel. If they are present use kitchen tweezers or plyers to pull them out.
Sprinkle the fillet evenly with salt. Let it sit at room temperature while the oven preheats.
When the oven is ready to go, sprinkle the nutritional yeast evenly over the filet, then spread the coconut butter over it, leaving clumps of it here and there.
Next add the lemon rind, and then the thyme, sprinkling each over the fillet as evenly as possible.
Place the salmon in the oven on the middle rack. Roast for 5 minutes, and then set the oven to broil (500°F). Broil for 2 to 3 minutes, until the clusters of coconut butter are browned and the fish is cooked through. If you're making a king salmon, which tends to be much larger, cooking time may vary. A good indicator that the salmon is ready is when the meat easily flakes. Test this in 1-minute intervals until the thickest part of the fish easily flakes when pierced with a fork.
Remove from the oven. Let the salmon rest for a few minutes. Thinly slice the green onion on the bias, then garnish the fillet with the green onion slices. Use a knife to slice the filet into as many portions as you need and lift the pieces of off of the skin with a spatula to serve.
Prep Time:

10 mins

Cook Time:

20 mins

Category:

Entree
Nutrition
Calories:

348

Fat:

22.7 g

Carbohydrates:

6.7 g

Fiber:

1.6 g

Protein:

27.4 g
Like this recipe? Then be sure to check out Made Whole – available now! Click here to learn all about it.