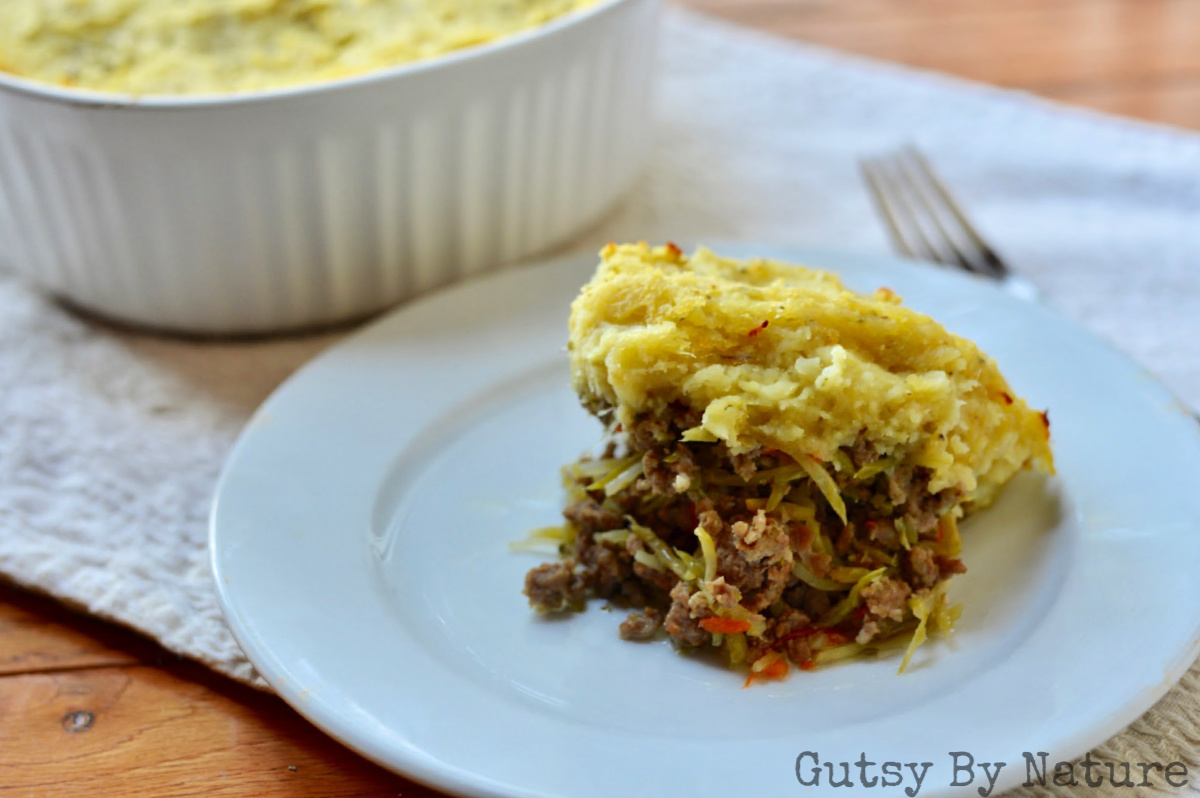 As the days get shorter and colder, I find myself turning to AIP comfort food recipes like this Greek shepherd's pie. This is also the short season when my local Trader Joe's stocks the purple skinned, white fleshed murasaki sweet potatoes, which make a perfect shepherd's pie topping when you can't eat nightshades.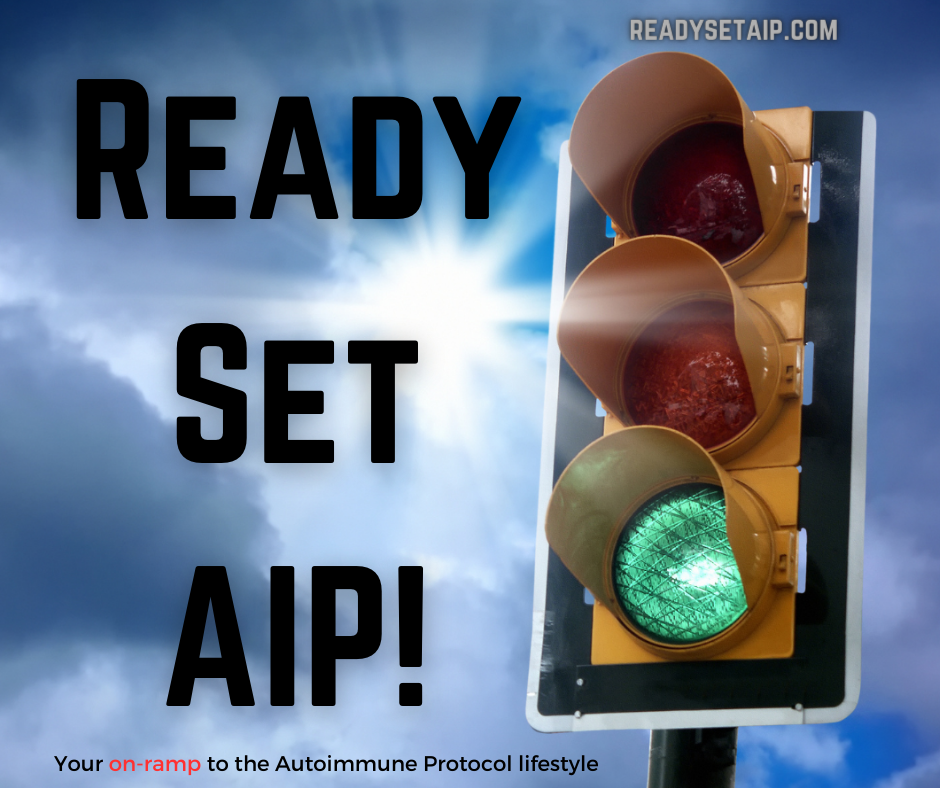 All about white sweet potatoes
Did you know that there are dozens of varieties of sweet potatoes, with many different colored skins and hues of flesh ranging from practically pure white to vibrant purple? It's a shame that the realities of our modern produce production and distribution system means that people mostly only have access to one variety of sweet potato – which if you ask me, is not even close to being the tastiest.
For this recipe, you can use any type of sweet potato you can get your hands on, even that means only the usual orange fleshed variety. But some white sweet potatoes have a starchier texture and slightly less sweet taste, and of course they have the visual appeal of a traditional potato topping. If you don't see anything in our grocery store labeled as a "white" sweet potato, try looking for and asking for them by one of the variety names below. Click the name to get more information and see a picture.
Murasaki (also known as Japanese or "oriental") – these have a purple skin and a white flesh and taste most like a russet potato. My favorite for this recipe.
Hannah – these have a tan skin and an off white, yellowish flesh. Also good for this recipe.
Jersey – these have a tan skin and a creamy white flesh. Also good for this recipe.
O'Henry – these have a tan skin and white flesh but taste much like an orange sweet potato. My least favorite choice for this recipe.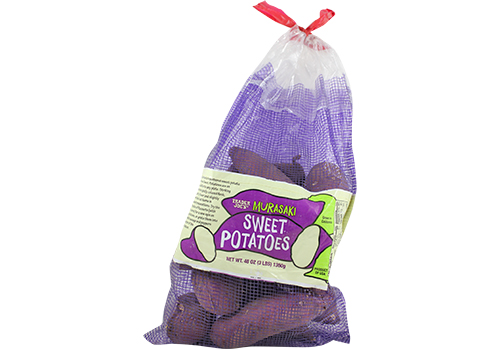 About the flavors in this recipe
I'll be honest, even the least sweet of the sweet potatoes still is going to taste sweet. But rather than fight it, for this shepherd's pie iteration, I decided to embrace it and added lemon juice and lemon zest directly to the mashed potato topping along with herbs in order to create something reminiscent of Greek potatoes.
Options for the filling
Traditional shepherd's pie is going to feature lamb as the meat, but you can use ground beef if you prefer. I wanted some extra richness and to de-emphasize the lamb flavor in this version, so I used a combination of lamb and pork but I'm certain it would be tasty made with all lamb.
You can use any combination of shredded vegetables, totally about 3 cups in volume, that you'd like. I've made variations with shredded parsnips, carrots, cabbage, and more. But since I was already at Trader Joe's to pick up the bag of murasaki sweet potatoes, I decided to make life easy on myself and also grabbed a 12 ounce bag of their organic broccoli slaw, which is merely shredded broccoli stalks and carrots. If you don't have a Trader Joe's store near you or want to make your own, just shred 3 or 4 carrots and the stalks from 2 or 3 heads of broccoli (saving the florets to eat in another dish).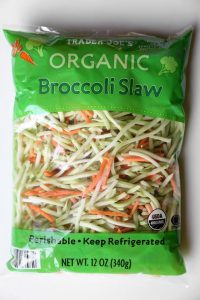 Tips for freezing
This dish freezes very well. Make it as described in the recipe below but do not bake. Cover with an airtight seal and transfer to refrigerator. I like this casserole dish set, because it includes plastic lids that I can snap on and then place directly in the freezer without worry but also includes oven safe glass lids which are useful for some recipes..
To reheat, allow the dish to completely thaw first and then heat in a 425°F oven for 25 minutes. Or, if taking directly from the freezer, remove the plastic lid and put the glass lid on and place in a cold oven (this will prevent the dish from cracking because it can slowly heat as the oven temperature goes up). Turn oven temperature to 425°F and set a timer for 45 minutes. Use a knife or fork to check the middle and make sure it is hot all the way through.
AIP Shepherd's Pie Recipe
Print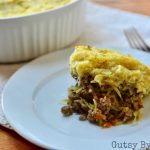 Greek Shepherd's Pie (AIP)
---
Author:

Total Time:

1 hour 15 mins

Yield:

6

servings

1

x
Description
The nightshade-free topping for this shepherd's pie is enhanced with Greek flavors for a unique variation on the comfort food favorite!
---
Topping
3

pounds white sweet potatoes
juice and zest from 1 lemon

1 teaspoon

dried oregano, plus more to garnish

1 teaspoon

dried marjoram, plus more to garnish

1/2 teaspoon

salt

2 tablespoons

coconut oil or lard
Filling
1

pound ground lamb

1

pound ground pork

2 teaspoons

dried oregano

2 teaspoons

dried marjoram

1 teaspoon

garlic powder

1 teaspoon

salt

1

12-ounce bag of shredded broccoli and carrots
---
Instructions
Topping
Peel and cut sweet potatoes into chunks, each about 3-4 inches square. Place directly into a pot of water to minimize any browning.
Place pot over high heat and bring to a boil. Reduce to medium heat, just high enough to maintain a strong simmer without boiling over and cook for 20 minutes. Drain and add lemon juice and zest, oregano, marjoram, salt, and coconut oil or lard. Use a potato masher to mash and combine. Set aside.
Filling
In a large skillet over medium heat, cook the ground lamb and pork until no longer pink, using a wooden spoon to break up meat and combine thoroughly. Add oregano, marjoram, garlic powder, and salt and cook until fragrant.
Add shredded vegetables and stir. Cook until vegetables have become soft and some of the liquid has been released so that they have shrunk (about 5 minutes).
Transfer filling to a 2-3 quart casserole dish and then spread topping evenly on top. Press down with a wooden spoon to compact it slightly and then sprinkle with additional oregano and marjoram as desired.
Baking
If baking immediately, preheat oven to 425°F and bake for 25 minutes.
If baking from frozen, do not preheat oven first and increase bake time to 45 minutes.
Prep Time:

15 mins

Cook Time:

1 hour

Category:

Entree

Cuisine:

Greek
Did you enjoy this recipe? Want to be the first to hear about new AIP-friendly, gluten-free, Paleo recipes? Please sign up for my weekly email newsletter to stay in the loop!