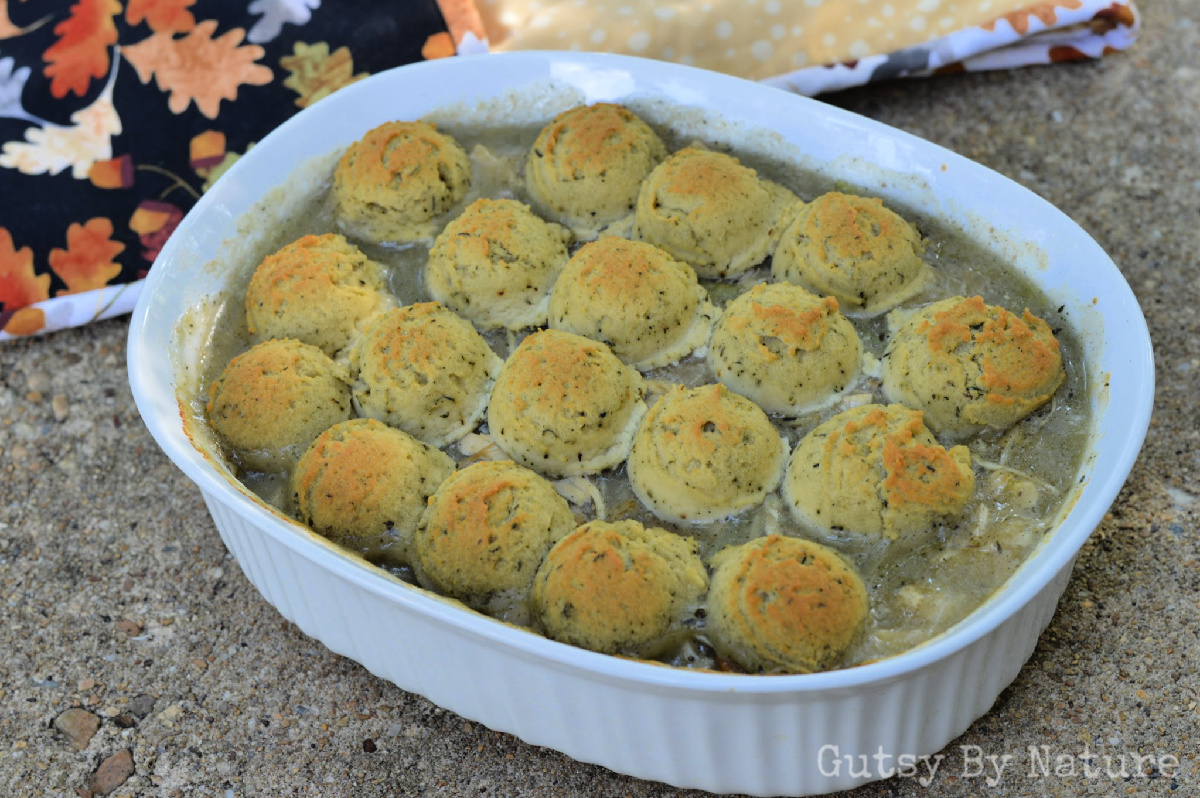 Comfort food, plain and simple. This variation on chicken and dumplings is an AIP-friendly version of a dish that I grew up eating throughout my childhood in Wisconsin, especially during the busy school year. It was usually made from scratch, always with homemade dumplings and usually a creamy dairy-based sauce, though sometimes a can of "cream of something" soup was used to streamline preparation a bit.
AIP cooking shortcuts
Ah, that soup can! Such a wonderful shortcut for moms in the era of my childhood! We never ate it as soup, but yet it was a pantry staple and could be used in so many different ways to pull a meal of humble ingredients together into something we kids would happily eat.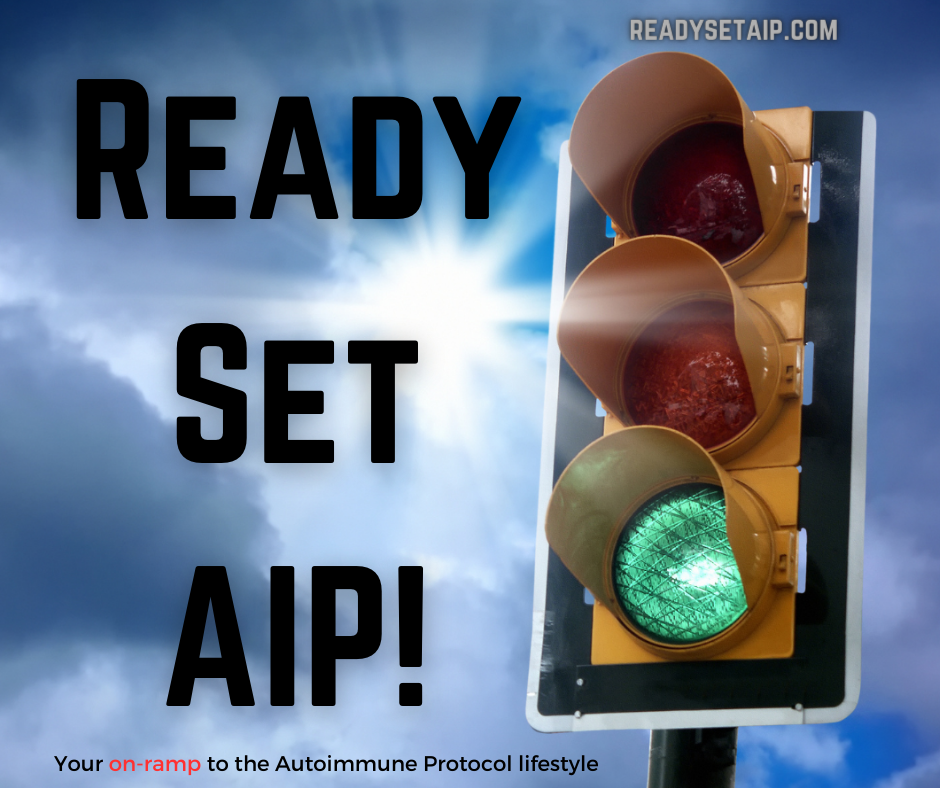 Unfortunately, no canned soup shortcuts are available if you are gluten intolerant and also need to avoid dairy and other processed ingredients as we do on the autoimmune protocol (AIP). But there are other ways you can make meal time easier, especially if you plan ahead and utilize your freezer and/or break your preparation steps up into separate days.
I frequently work with my individual nutritional therapy and coaching clients to brainstorm ways they can simplify their mealtimes, sometimes focusing on a specific recipe such as this one to provide the basis of our conversation. First, I ask them them to read the whole recipe (a good habit to have no matter what), noticing all the steps and which ones will end up being hands-off so you can be taking a break or doing something else.
Then, I have them identify the places where they could stop completely in the recipe and refrigerate or freeze what you've done as part of an advance meal prep day and then finish on serving day.
Finally, I ask them to notice where they could substitute ingredients for something already prepped in order to make the entire process faster and easier.
The result? With this chicken and dumplings recipe, we might end up with a list of possibilities that includes:
While the chicken is simmering in step 2, I'll have 90 minutes to do something else and then again in step 14 when the casserole goes in the oven, I'll have 40 minutes free. If I make this on my weekend meal prep day, I could be working on some other dish during that time. Or, if my energy is low, I can take long breaks.
I could cook the chicken one day (steps 1-3) and make the casserole the day I want to serve it. Or I could even make the entire base of the casserole through step 10, stick that in the refrigerator or freezer to add the dumplings and bake it on serving day.
I could skip cooking the chicken entirely and instead use a compliant grocery store rotisserie chicken and some store bought bone broth in place of the cooking liquid in step 7.
I could use pre-diced onions and baby carrots to save chopping time, or I could use frozen vegetables.
I hope that gives you some ideas for making a complex dish such as this one less daunting. If you don't want to go through all that effort with every recipe you make, may I suggest letting the AIP coaches and bloggers do some of the work for you by downloading one or both of our timesaving collaborative ebooks!
Make your purchase this month (August 2019) and you'll get BOTH books for the price of one! Learn more about each book by clicking on the name or image below.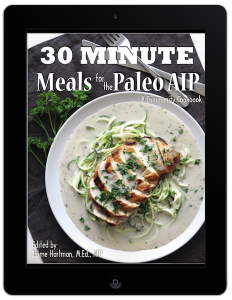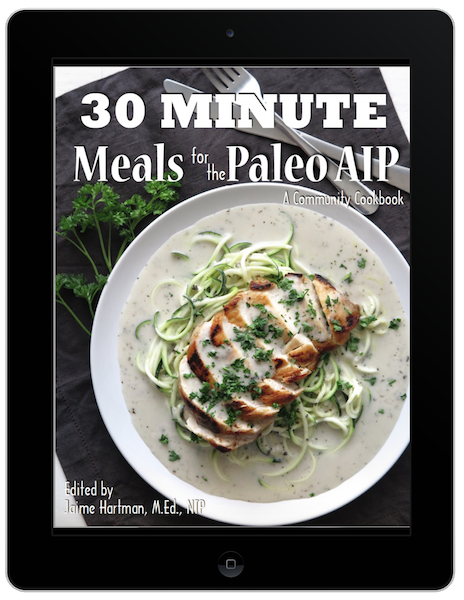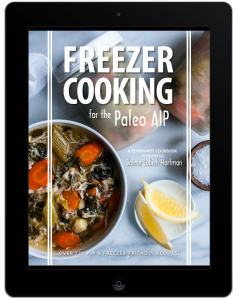 You may also like my ebook, The Meal Prep Method, which includes more meal planning instruction and a detailed done-for-you meal plan, with shopping lists and recipes.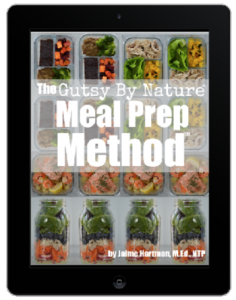 Notes on AIP ingredients
You should be able to find most of these ingredients in a well-stocked grocery store, but if not, consider purchasing from ShopAIP. It's an online store run by a fellow AIPer who understands exactly what we need and studies the ingredients and contacts manufacturers to make sure everything she stocks is 100% compliant with the elimination phase of the protocol, which means you save time by not having to worry about that yourself!
AIP Chicken and Dumplings Recipe
Print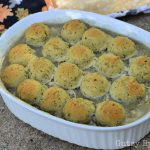 Chicken and Herb Dumpling Hot Dish (AIP)
---
Author:

Total Time:

3 hours 10 mins

Yield:

6

–

8

servings

1

x
Description
You might call it a casserole, but it's "hot dish" where I grew up! No matter what you call it, these chicken and dumplings are pure comfort food, made AIP-compliant!
---
1

whole chicken
salt

2

bay leaves
water

2 tablespoons

coconut oil

1

medium onion, diced

4

medium carrots, cut into

1/4

inch coins

2

celery ribs, diced

1/4 cup

cassava flour

2 teaspoons

dried thyme (divided)

2 teaspoons

dried sage (divided)

1/2 cup

coconut flour

1/2 cup

arrowroot starch

1/2 teaspoon

baking soda

1/3 cup

lard or palm shortening

1 cup

warm water

1/2 teaspoon

garlic powder
---
Instructions
In large pot or Dutch oven, place chicken, 1 tablespoon salt, 1 tablespoon apple cider vinegar, bay leaves, and enough water to cover the chicken completely.
Bring to low boil, then reduce to simmer and cover. Cook for 90 minutes.
Remove chicken and allow it to cool enough that you can easily handle it.
Discard the bay leaves and reserve 4 cups of the cooking water for this recipe. Save the remaining cooking water to be used as a broth in other recipes.
Remove meat from the chicken carcass and chop or shred into bite sized pieces.
Heat coconut oil in now empty pot over medium heat. Add onions, carrots, and celery and cook for about 5 minutes, or until onions have become translucent and carrots are beginning to soften. Add cassava flour and cook until it has browned slightly, another 2-3 minutes, stirring the whole time.
Add 4 cups of reserved cooking liquid and cook until sauce is thick and slightly reduced and carrots are quite soft, about 5 minutes.
Add 1 teaspoon thyme and 1 teaspoon sage. Add cooked chicken.
Taste and salt as desired.
Pour into a 2-3 quart casserole dish.
Preheat oven to 375° F.
In a medium bowl, mix coconut flour, arrowroot starch, baking soda, 1/2 teaspoon salt, lard or palm shortening, water, and 1 teaspoon thyme, 1 teaspoon sage, garlic powder, and 1/2 teaspoon apple cider vinegar. Use your hands to need into a thick batter.
Form batter into 15-18 small dumplings, dropping them onto the top of the hot chicken mixture as you go. A scoop like the kind you would use for cookie making works well, or just use a tablespoon.
Place in oven and bake for 40 minutes, or until filling is bubbling and dumplings are cooked through and slightly browned on top.
Serve hot.
Prep Time:

2 hours 30 mins

Cook Time:

40 mins

Category:

Entree

Cuisine:

American
A version of this recipe, with freezer-friendly modifications, first appeared in Freezer Cooking for the Paleo AIP in October 2017.
---
Please sign up for my weekly email newsletter to be the first to know about all my latest offerings and news!
Processing…
Success! You're on the list.
Whoops! There was an error and we couldn't process your subscription. Please reload the page and try again.
---