Store bought bone broth? Just a couple of years ago the only way to consume the nourishing concoction some call the "elixir of life" was to make it yourself. Today there is a dizzying array of options, both in stores and by mail order, making it easy for anyone to add this healing food to their diet.
This post is my attempt to organize and review many of the bone broths currently available for purchase in the United States – I know this list is not comprehensive because new companies seem to pop up every day! For length's sake, I also limited it to just broths that are distributed nationally, omitting the many small companies distribute in limited areas. If there is a small brothery in your local area that you want to sing the praises of, please feel free to add a comment at the end of this post!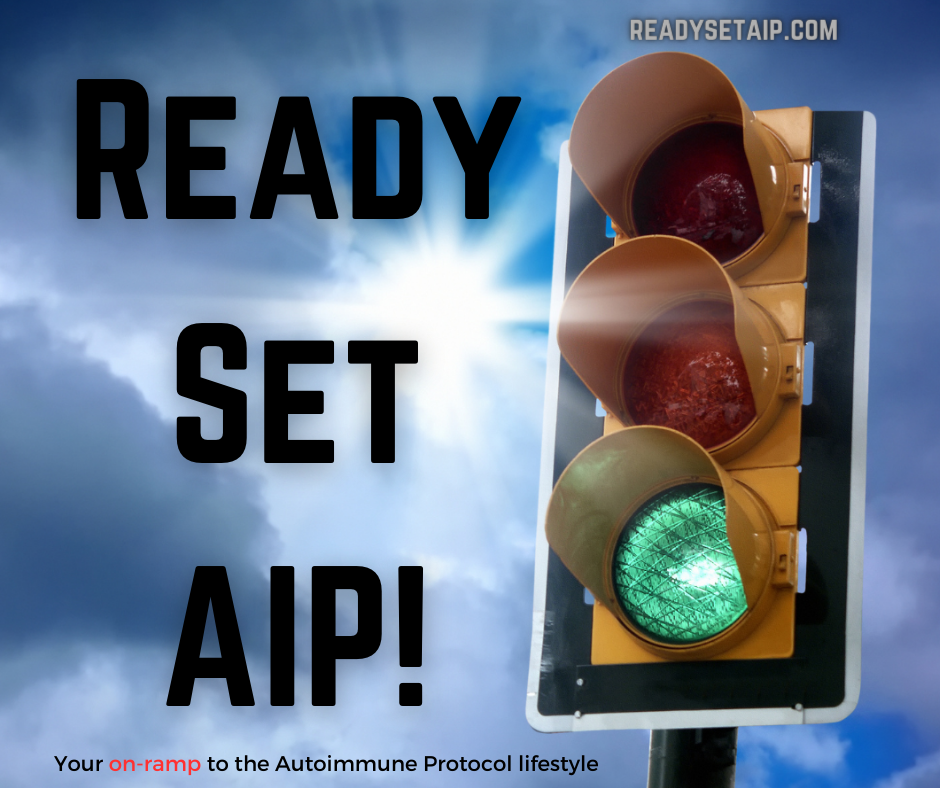 Note: I received free samples of some of the broths reviewed in this post.
Bone broth on your grocery store shelf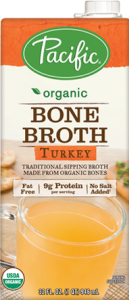 You can now find actual bone broth on the shelves of many regular grocery stores in the United States, thanks to the product line from Pacific Foods. It is shelf stable, organic, and comes in both chicken and turkey flavors. At my local grocery store a 32 fluid ounce container retails for $4.99 and an 8 fluid ounce container is just $1.99 – making it the cheapest bone broth option, other than making it yourself from bones you would otherwise throw away. You can also purchase it from many online retailers, including Amazon and Thrive Market.
The taste is about what you would expect from mass produced broth – it isn't offensive, but it isn't what I would call delicious either. Fine as an ingredient in dishes, but would not be my first choice for sipping.
[IMPORTANT UPDATE: The recipe for the chicken broth seems to have changed recently and now contains tomato, making it no longer suitable for the paleo autoimmune protocol (AIP). The turkey continues to be compliant, but be sure to read ingredient labels carefully as manufacturers can and do change formulations!]
Check out the freezer section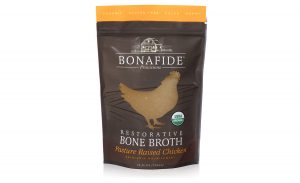 Don't forget to look for bone broth in the freezer section of your grocery store too. Bonafide Provisions is now carried in over 1000 grocery stores, including Whole Foods and many independent markets. I was excited to find it in a tiny health food store in Mississippi on my recent travels! They are also certified organic, and are a family owned company started by two nutritionists and a professional chef. I have tried the chicken so far and loved it, and they also make a grassfed beef bone broth. Both varieties have a simple set of ingredients, all of which are AIP-friendly. Visit their website to find retailers near you.
No freezer necessary, another shelf stable option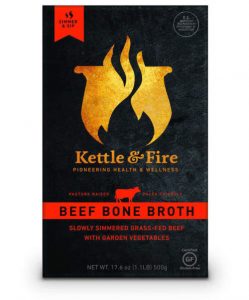 I haven't tasted Kettle & Fire yet because their recipe is not AIP-compliant as it includes black pepper, but I have heard from many people who say it is delicious, and look forward to trying the sample they sent me once I reintroduce pepper. They make a beef bone broth following traditional slow cooking techniques and then put it in packaging that the company claims is environmentally friendly and gives it a shelf life of two years. You can purchase directly from the company at $11.99 for a 16.9 ounce package (25% discount if you get a monthly subscription) or on Amazon, but the best price I've found is currently at Thrive Market for just $9.55.
Shelf stable bone broth in a jar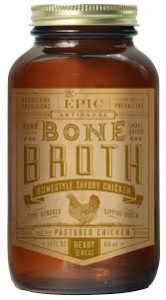 If you are looking for something that is shelf stable, but don't like the environmental impact of a tetra pack, then ask your grocer to stock Epic Artisanal Bone Broth or look for it online. I've found it on Thrive Market (currently priced at $6.95 for a 14 ounce jar) as well as Amazon. Epic makes four different flavors, but only the Homestyle Savory Chicken is AIP-friendly so it is the only one I have tried (and it had a delicious flavor for sipping straight, with a slightly acidic finish that I really liked). As always, be sure to read labels carefully if you have any food sensitivities or are on an elimination diet because formulations can change.
If you need a low-FODMAP bone broth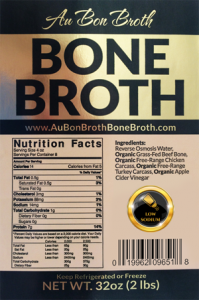 This whole project started when the folks at Au Bon Broth contacted me and asked if I would be willing to accept a sample of their broths as well as their innovative bone broth pills. The pills intrigued me right away because I travel so much and thought this would be a way to take the healing benefits with me easily. Unfortunately, the pills contain rice starch so they are not AIP compliant [UPDATE 11/17/2016: The bone broth pills have been reformulated and no longer contain rice starch and are now AIP compliant!] But I was very pleased to discover that they make a broth that is pure bones without any vegetables, so people who need to follow a low-FODMAP diet can consume it without worry. They also offer a "gourmet" variety, but that one includes several non-AIP ingredients so I haven't tried it yet. You can purchase directly from their website, or on Amazon.
If you like a flavorful bone broth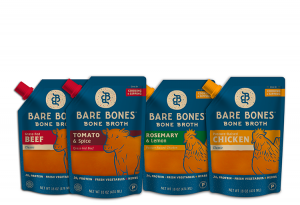 Throughout this research I didn't taste a single broth that I disliked, but I really loved the flavor of Bare Bones Bone Broth. In fact, I had to have a colonoscopy last month and actually enjoyed my liquid diet since it was mostly comprised of these broths… my absolute favorite was the AIP-friendly Rosemary and Lemon Chicken Broth and I was really happy the samples happened to arrive in time for that! The classic chicken broth is also AIP-friendly but the two beef flavors are not. You can purchase 6 packs of single flavors or a variety pack directly from their website and they are also in the freezer or refrigerated section of some stores, mostly on the west and east coasts.
If you want bone broth that is as fresh as homemade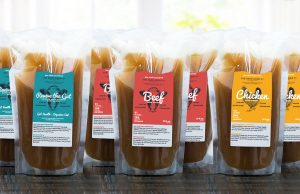 I found out about Osso Good Bone Broth from readers after I started this research and was grateful the company was willing to send me samples so I could include them, however I neglected to indicate that I needed the AIP variety of the beef and chicken broth, so I still haven't tried them personally but my designated tasters said they were excellent! The unique model of Osso Good is that they only make a limited supply each week and only ship them frozen on Monday or Tuesday so that you get the freshest possible product. They have a range of flavors, sure to make everyone happy, including the expected (chicken, beef) and the unexpected (bison, spicy pork). They also have several varieties infused with medicinal herbs, and all of those are AIP compliant as well. If you happen to live in California or Washington state you may be able to find them in stores, otherwise a $50 minimum order is required for delivery from the website.
But what if I don't want store bought bone broth?
Here is my original post on making nourishing bone broth the easy way and another reviewing the Brodo cookbook. Another excellent resource is the latest book from Jennifer McGruther called Broth & Stock from the Nourished Kitchen.
I received this book from Blogging for Books to review earlier this year but I confess that it didn't draw me in when the weather was still hot and muggy. Now that autumn is upon us and winter is knocking at the door, it is incredibly appealing. McGruther is dedicated to traditional foods and was one of the first bloggers who inspired me to adopt a real foods diet and eventually start my own blog. This book features 14 different master broths and stocks, including several vegetable based stocks and then recipes for turning these into delicious meals. My favorite recipes so far include the Thai-style chicken soup with lemongrass and coconut milk (omit the Thai chiles to make it AIP) and the roasted allium soup with fried leeks. Even though a lot of the recipes are off limits for people on AIP, I still recommend this book for the tutorial on different master broths and the inspiration in the beautiful photography.
---
Please sign up for my weekly email newsletter to be the first to know about all my latest offerings and news!
Processing…
Success! You're on the list.
Whoops! There was an error and we couldn't process your subscription. Please reload the page and try again.
---
Click to Pin It!