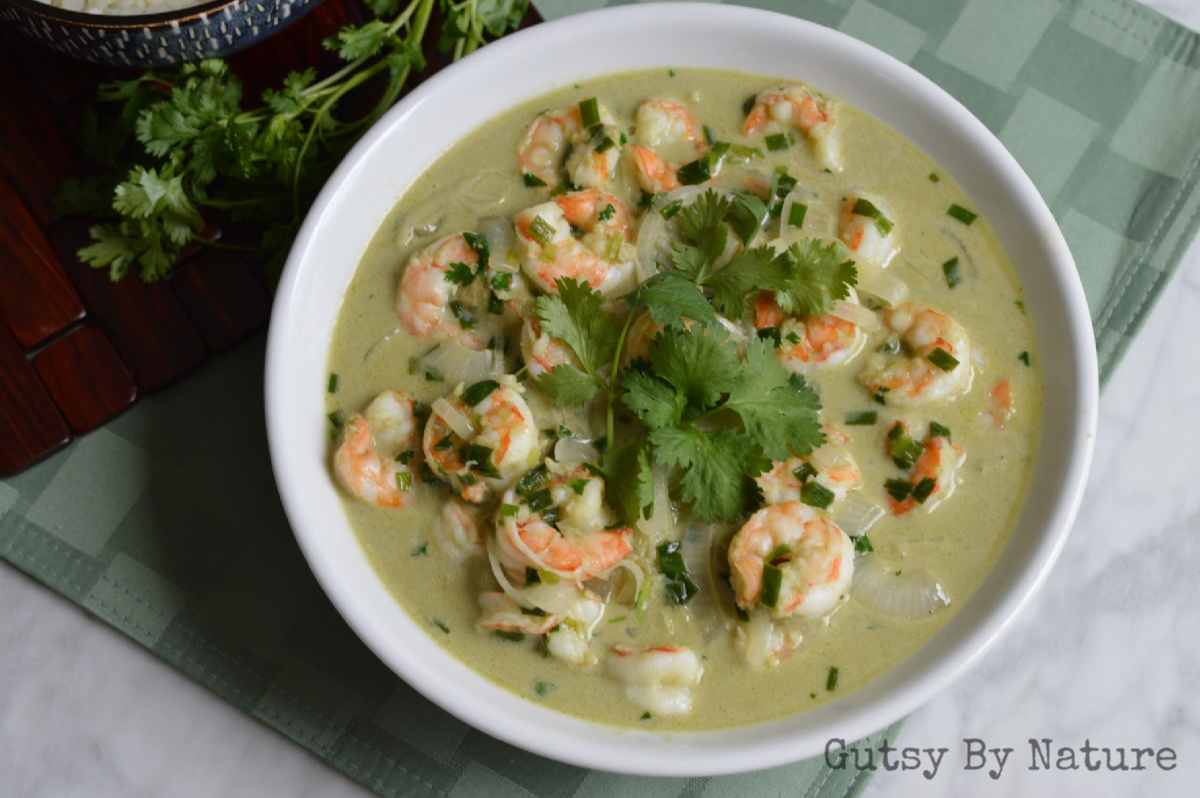 Believe it or not, the exotic and infiniting interesting flavors of Thai green curry adapt extremely well to the requirements of the autoimmune protocol (AIP) because the dishes are mostly dairy and gluten-free already. If you don't need to avoid nightshades or other spices, you can use a pre-made green curry paste in this and other dishes but honestly, making your own is quite easy and lets you capture an even fresher "clean" flavor than you'd normally find.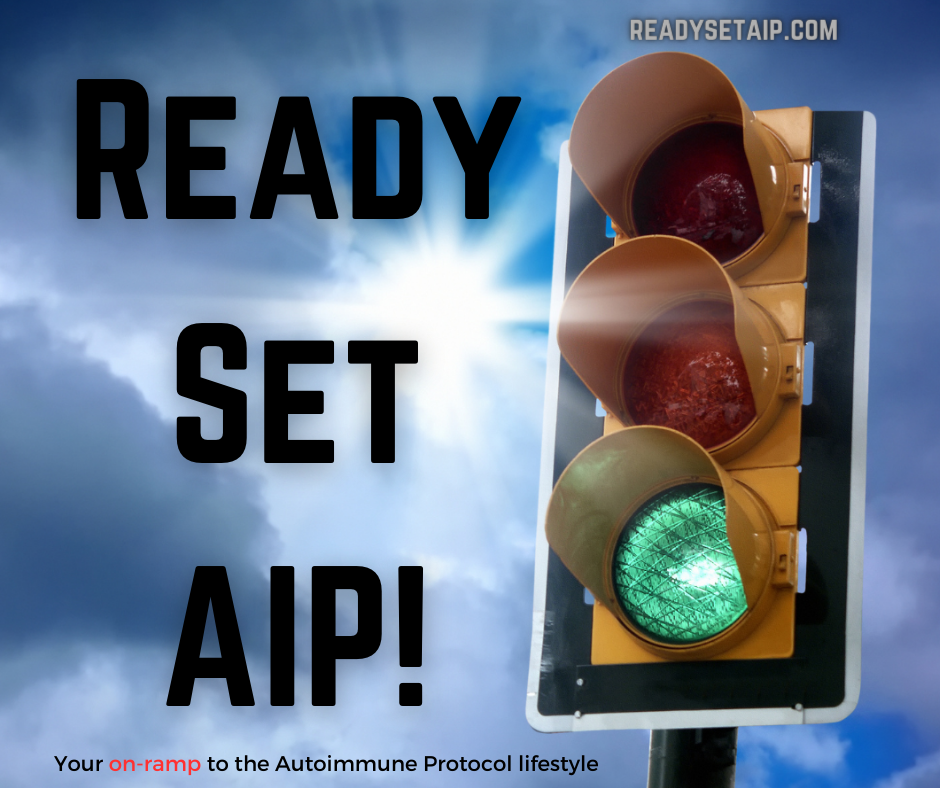 After cracking the code on AIP-friendly green curry paste last year to make this chicken curry with mushrooms and carrots, I've been mixing up batches of it on the regular and keeping it stashed in the refrigerator so I can quickly make a Thai-inspired dish such as this shrimp curry whenever the urge strikes. I'm not sure how long it would keep because we go through it fairly quickly, but I've gone at least two weeks without any noticeable change in taste. I just give it a quick stir, because the liquid does tend to separate out to the bottom a bit, and then throw it in a skillet with some hot oil and build the dish from there.
AIP-friendly Thai flavor builders
Fresh herbs are the key to the paste recipe but they do get expensive if you are buying them in the grocery store, so consider growing your own! You don't even need a proper garden space; herbs grow beautifully in pots on a sunny balcony or patio. The only one I struggle with is the cilantro/coriander as my climate is a bit too hot and it tends to bolt and go to seed right at the time the others get into full swing. But lemongrass and Thai basil seem perfectly suited to muggy Virginia summers, and their growth outpaces my creative ambitions to use them in new and novel ways!
Once the paste is made and in the refrigerator (recipe here!), you just need to keep your pantry stocked with a few basic ingredients. At the top of that list is a bottle of high quality fish sauce. Don't let that scare you! I promise you that it isn't "fishy" tasting at all, but adds depth and umami you'll love. Check labels to make sure the fish sauce you buy is free of any preservatives or other additives. This is my favorite brand and has become much easier to find in recent years, so look for it in your local store.
If you are going to cook Thai food, you'll also want to keep your pantry stocked with coconut milk. Again, for AIP compliance, make sure you double check the ingredient labels and verify it contains no gums or other fillers. Only water and coconut should be listed. Just as with the fish sauce, this has become an easier task in recent years. This is my favorite brand.
Finally, Thai food does tend to use a lot of sugar, which you will see in this recipe in the form of coconut sugar. I prefer less sweetness so I have a fairly light hand with it, but you could increase it to a full tablespoon if you wish.
Where to buy AIP ingredients?
I recommend ShopAIP! It's a small business owned by someone who has used the protocol herself to improve her health, so she knows exactly what we need and stocks it all.
AIP Reintroduction ALERT!
In my years of having to avoid nightshade spices, I've actually grown to appreciate the fact that my taste buds get to enjoy the other flavors in a dish without being blown out by heat. But at the same time, I do understand the need many people have to kick dishes like this up a bit and have an easy solution… simply serve with a bottle of sriracha sauce on the side and your dining companions can season the curry to their liking. Need a brand recommendation? I haven't had it myself because I don't tolerate the tomatoes or peppers, but I'm told that this "paleo" take on the classic Thai hot sauce is a good one. Another option, and a fun kitchen project for the DIYers, is to make your own sriracha sauce. This recipe from Nom Nom Paleo gets rave reviews!
Now… let's get to that recipe!
Nightshade-Free Thai Green Curry Shrimp Recipe
Print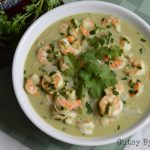 Thai Green Curry Shrimp (AIP)
---
Author:

Total Time:

30 mins

Yield:

4

servings

1

x
Description
Feel free to use a store-bought green curry paste in this shrimp curry, but if you need to avoid nightshades or just want the challenge, try making it from scratch!
---
2 tablespoons

coconut oil

1

large yellow onion, sliced

3/4 cup

thinly sliced scallions (green onions)

2 tablespoons

homemade green curry paste

1

can (15.5 ounces) coconut milk

1/2 tablespoon

coconut sugar

3 tablespoons

fish sauce

3

dried kaffir lime leaves or

1 teaspoon

lime zest

2

pounds raw shrimp, peeled and deveined

1 tablespoon

chopped cilantro leaves, plus more to garnish
---
Instructions
In a large skillet or wok, heat coconut oil over medium high heat. Add onion slices and cook, stirring frequently, just until soft but not browned (about 3 minutes).
Add scallions and paste. Stir and cook until fragrant (only about 30 seconds).
Add coconut milk, coconut sugar, fish sauce, and kaffir lime leaves or lime zest. Bring to a boil and then add shrimp. Cook, stirring frequently, just until shrimp are cooked through (about 3-5 minutes).
Off heat, remove and discard kaffir lime leaves and stir in chopped cilantro leaves.
Serve, garnished with cilantro, alone or over cauli-rice.
Prep Time:

10 mins

Cook Time:

20 mins

Category:

Entree

Cuisine:

Thai
Did you enjoy this recipe? Want to be the first to hear about new AIP-friendly, gluten-free, Paleo recipes? Please sign up for my weekly email newsletter to stay in the loop!