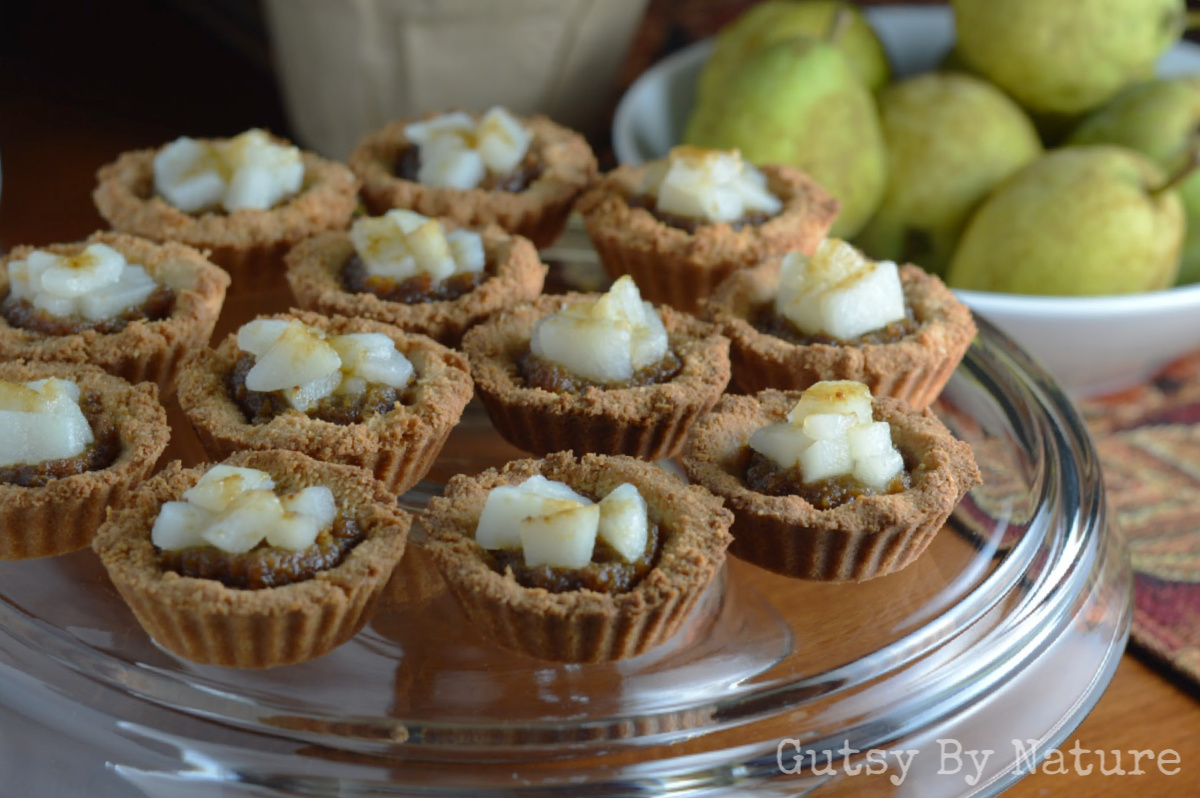 These miniature pear tarts are like the dessert equivalent of a Mini Cooper* — adorably cute and sophisticated, all in one elegant package! Plus, they are a perfect dessert for people on a healing diet like AIP or SCD, not only because they meet all the requirements for compliance, but because they offer built-in portion control so you are less likely to exceed the level of "moderate" intake of sweets.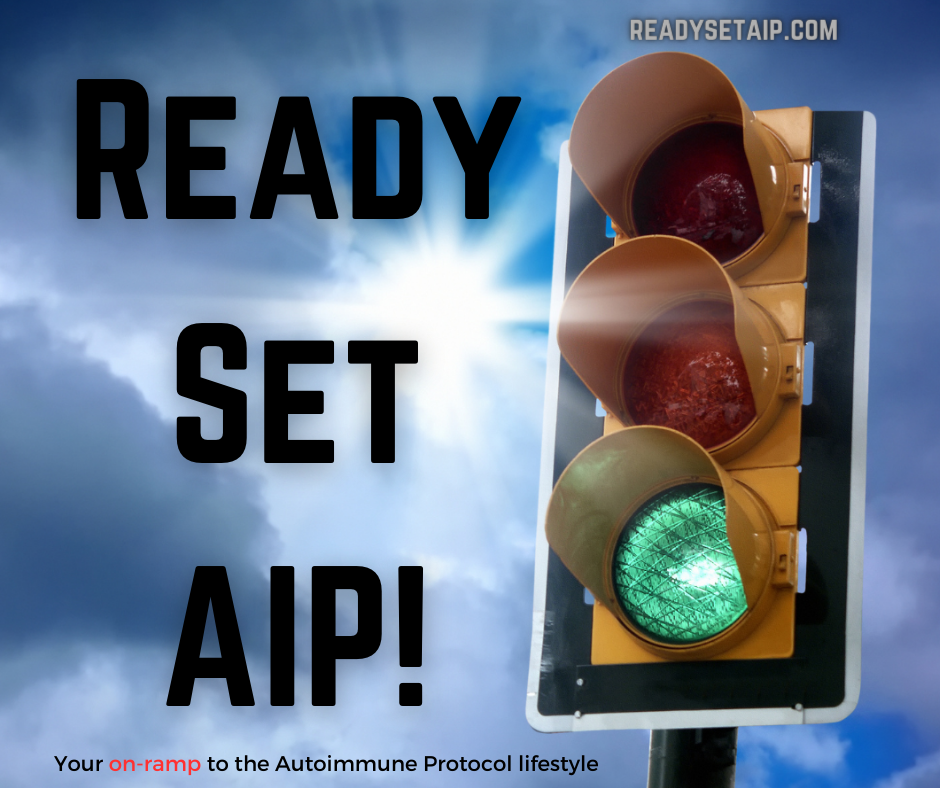 *Why the car reference? I'm really not a "car person" but I recently became a car owner again after over 10 years of driving whatever vehicle my corporate job provided me with (first a series of practical mid-size sedans and then later utilitarian minivans). I test drove a few cars that I thought would be right for me, then on a whim my husband suggested we pop into the Mini Cooper dealership… just for fun. And the rest is history!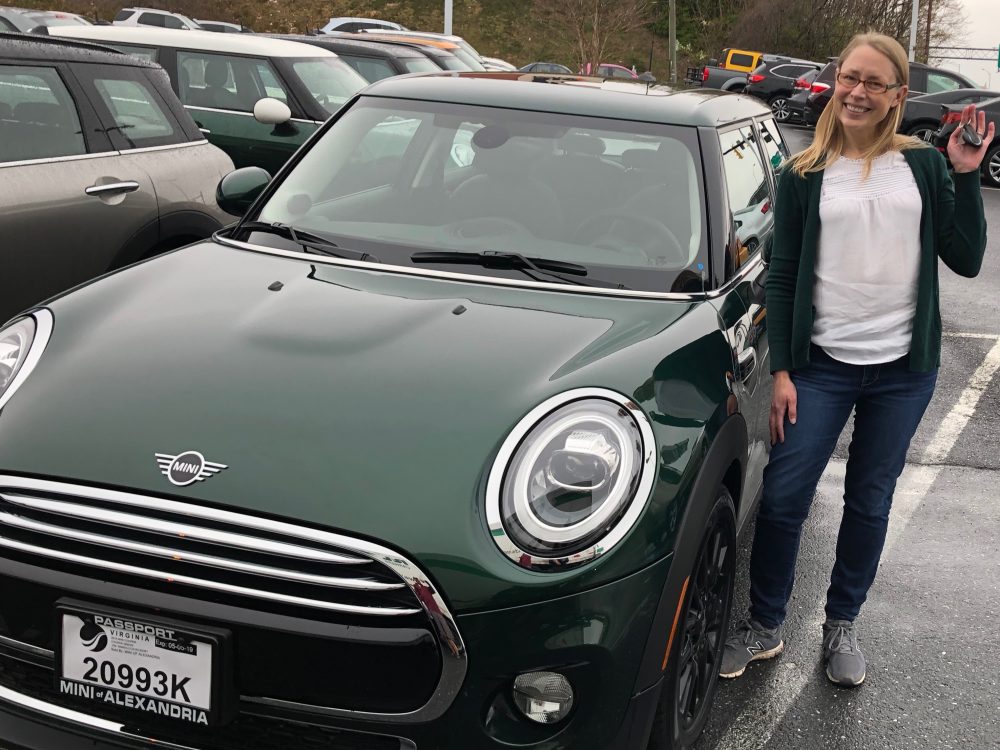 As usual, his instincts were spot-on and almost 6 months later I'm still at least a wee bit giddy whenever I grab my keys to head out, even for boring errands! I may still not be a true "car person" but I'm definitely THIS car's person!
OK…. so enough about the car and back to those tarts! These lovely little bites use pears in two different ways – as a base for a caramel-like spread that becomes the filling and lightly poached as a topping. Shredded coconut makes up the bulk of the tart shell, which means that this dessert also offers some healthy fats and fiber along with the sweetness, making it a better option for those who need to be mindful of their blood sugar levels.
Modifications for healing diets
If you are in the elimination phase of the Paleo Autoimmune Protocol (AIP), omit the optional cardamom. It adds a lovely complexity to the caramel filling, but is not necessary.
If you are following the Specific Carbohydrate Diet (SCD), use honey where indicated. Your caramelized filling will not be as dark in color as if you were to use coconut sugar, but will still taste delicious.
Ingredient & equipment notes
If you use a smooth-skinned pear like a Bartlett or Bosc, you should not need to peel the pears for the caramel filling, but you may find you need to use an immersion blender rather than a potato masher to get a smooth sauce.
This is the tart pan that I have and used in this recipe. You could make these in bigger individual tins if you wanted to, but you will need to adjust the proportions and may need to bake the shells longer.
Looking for AIP friendly baking ingredients? As always, I recommend ShopAIP!
Caramelized Pear Tarts Recipe
Print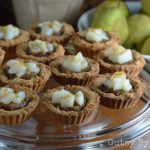 Caramelized Pear Tarts (AIP, SCD)
---
Author:

Total Time:

1 hour

Yield:

1

2

1

x
Description
Individual pear tarts are cute and sophisticated! The caramel-like filling is made entirely from fruit and natural sweeteners and this is sweet can be made compliant with both AIP and SCD.
---
---
Instructions
Set aside one of the pears for the topping. Peel, core, and roughly chop the other three pears. Place in a medium saucepan along with 1/2 cup coconut sugar or honey and cardamom. Stir and set aside while you make the tart shells. The pears will start to release their juices and the sugar will dissolve.
Preheat oven to 350° F.
Use a food processor or mixer to combine shredded coconut, coconut flour, honey, coconut oil, and pinch of salt to make a thick dough. NOTE – If you are not using a food processor, you will find it easier to mix if you melt the coconut oil first.
Press the dough into the individual compartments of a 12 mini-tart pan or individual mini tart shells placed on a baking sheet.
Bake in oven for 10-12 minutes, or until lightly browned and set. Watch closely as oven temperatures may vary and they can burn easily.
Remove from oven and let shells cool while you finish making the filling and topping.
Place the pear and sugar combination you created in step 1 over high heat. Bring to a boil and then lower to medium and cook 15-18 minutes, or until fruit can be easily smashed. Use a potato masher or immersion blender to turn into a smooth sauce. Cook for another 10 minutes, or until thick. Set aside to let cool slightly.
Peel the remaining pear and cut into small cubes. Place in small saucepan with lemon juice and just enough water to cover. Bring to simmer and cook about 5 minutes, or just until the pear pieces are soft.
Assemble tarts by dividing the caramelized filling evenly among them, then topping each with a spoonful of lightly cooked pears (discard the liquid). If desired, sprinkle each tart with coconut sugar.
Best eaten the same day they are made.
Prep Time:

30 mins

Cook Time:

30 mins

Category:

Dessert
Did you enjoy this recipe? Want to be the first to hear about new AIP-friendly, gluten-free, Paleo recipes? Please sign up for my weekly email newsletter to stay in the loop!