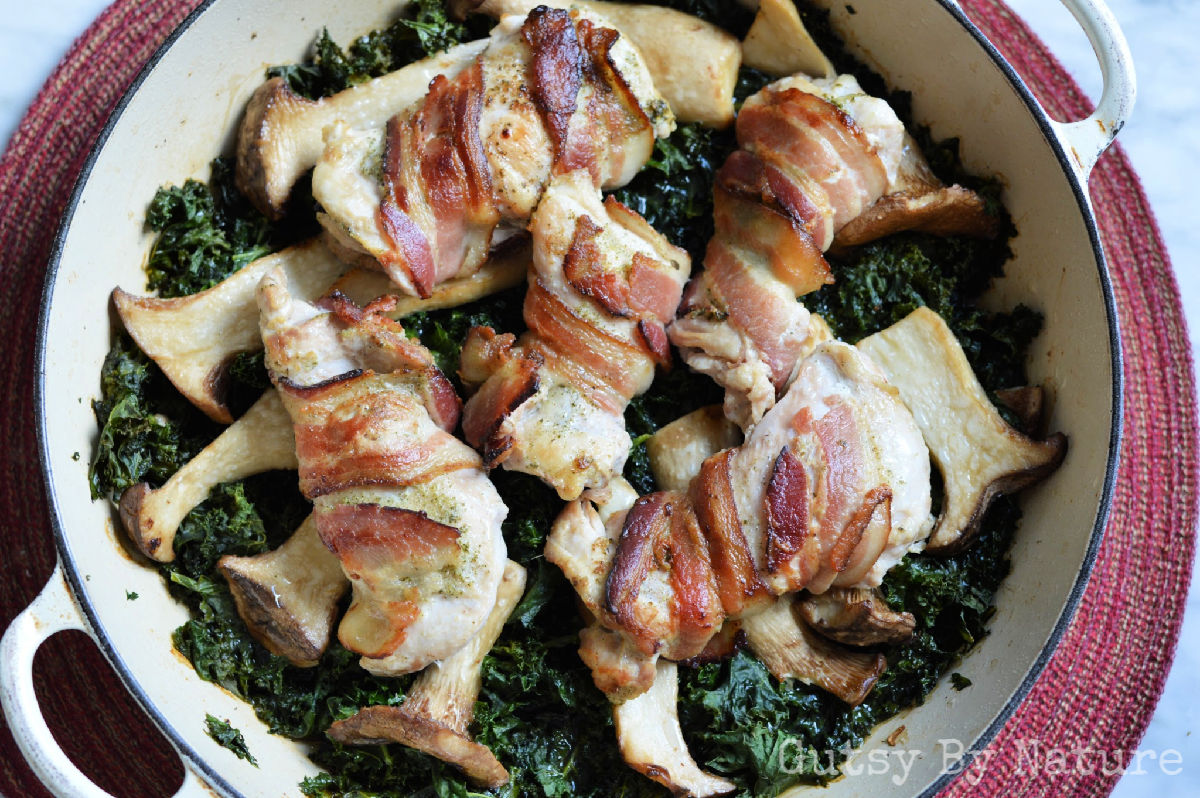 I didn't set out to create this recipe; it created itself! Boneless chicken thighs, a few pieces of bacon, a bunch of kale, and some gorgeous king trumpet oyster mushrooms were all rolling around my refrigerator one day and I decided to see what turned out when I threw them all in my favorite pan, a Le Creuset cast iron braiser (also known as the "everyday" pan… which it essentially is in my kitchen!).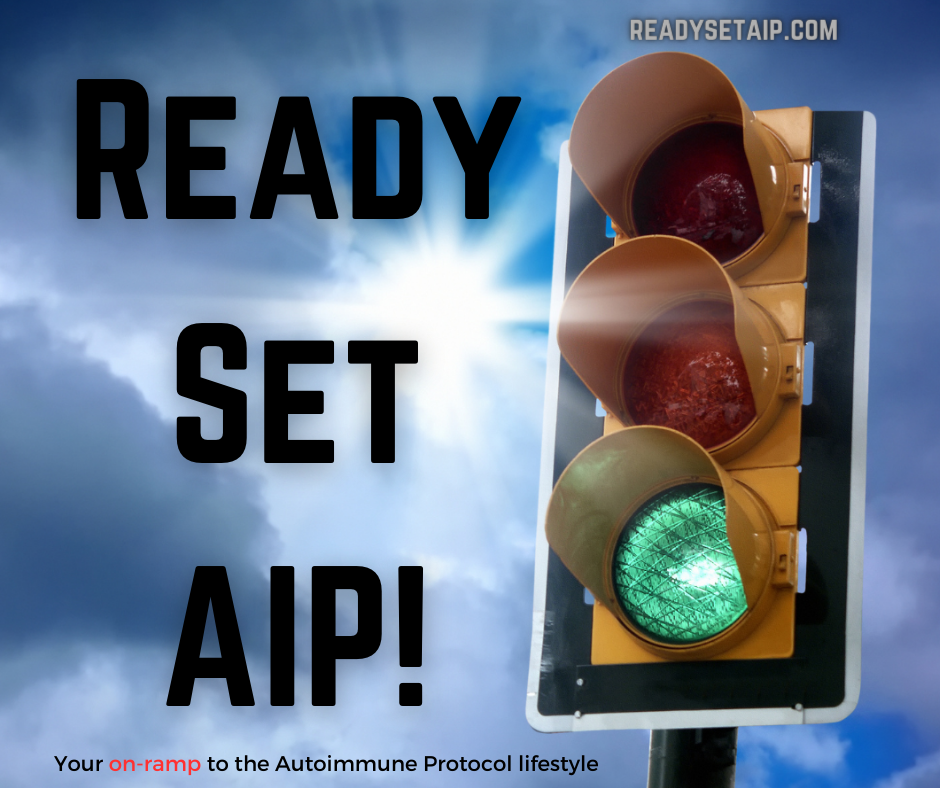 A word on nutrient density… and king trumpet oyster mushrooms!
This dish is compliant with the elimination requirements of all the healing protocols you'll likely encounter, including the paleo autoimmune protocol (AIP). But don't forget that the success on AIP depends not just on what you don't eat, but on what you do! That means eating quality meats and fish, healthy fats, lots of vegetables and MUSHROOMS! Yes, mushrooms have super-star status within the AIP framework, and I try to eat them at least three times a week, if not more often, to get all that gut bacteria feeding fiber, the B vitamins and essential minerals, and phytochemicals.
All mushrooms are good, but as with anything, a variety is ideal. I'm fortunate to have access to a wide array of fresh mushrooms at my local farmer's market (shout out to King Mushrooms Farm and the Old Town Alexandria Farmer's Market) and pick up one or two varieties every weekend there. Don't fret if you can't get the king trumpet oyster mushrooms (I just love the name of them!) I used in this recipe… any variety, sliced to lay flat underneath the chicken thighs will work just fine.
About that pan…
If you follow my new recipes every week, you see that same pan showing up all the time (most recently, here in another recipe that happens to feature chicken and mushrooms!), so it is probably worth mentioning. I don't quite use it every day (that honor is reserved for the simple cast iron skillet I inherited from my grandmother) but it does come out of the cupboard at least once a week. I love that it can be used on the cooktop and go into the oven and has a lid, which makes it functional for many different things and perfect for one-pot wonders like this dish. It was not cheap, but is an investment that I would gladly make all over again as it has paid for itself many times over!
Wondering where to get AIP friendly herbs and spices?
It can be overwhelming to figure out which spices you can and cannot have on AIP and then you have to make sure the dried herbs and other seasonings you do use only come from safe, gluten-free providers. An easy way to make sure you are covered is to buy them from ShopAIP!
Now, without further ado… here is the recipe!
Print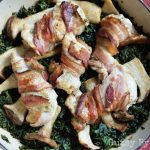 Bacon Wrapped Chicken Thighs with Braised Kale and King Trumpet Mushrooms (AIP, SCD)
---
Author:

Total Time:

40 mins

Yield:

4

servings

1

x
Description
It's a one-pot wonder that is packed with both flavor and nutrients! If you don't have king trumpet oyster mushrooms available, use whatever you do have.
---
1/2 teaspoon

granulated garlic powder

1/2 teaspoon

dried sage leaf

1/2 teaspoon

fine sea salt

1

pound boneless skinless chicken thighs

6

slices of bacon

8 ounces

king trumpet oyster mushrooms, sliced about

1/4

inch thick

1/2 cup

bone broth

1

large bunch kale, ribs removed, chopped
---
Instructions
Preheat oven to 400° F.
Combine garlic powder, sage, and salt in a small bowl, then sprinkle this seasoning mixture over chicken thighs and wrap each one in a bacon slice.
Heat a large oven-safe skillet or braiser over medium high heat. When hot, gently place chicken thighs and cook just until the bacon is crispy and the fat has started to render (about 3-4 minutes each side).
Remove chicken and set aside. Reduce heat to medium-low.
Add mushroom pieces to pan and gently toss in bacon fat and cook just until they start to release their juices (about 3 minutes). Remove mushrooms and set aside.
Pour broth into pan and use wooden spoon to dislodge any brown bits. Turn heat to high and bring to a boil. Add kale and cook, stirring to wilt and slightly cook (about 3 minutes). Remove pan from heat.
Leave kale in an even layer at the bottom of the pan, then place semi-cooked mushroom pieces in a single layer on top, then the chicken on top of the mushrooms.
Place in preheated oven and cook for 20 minutes or until chicken is cooked through.
Prep Time:

15 mins

Cook Time:

25 mins

Category:

Entree
Did you enjoy this recipe? Want to be the first to hear about new AIP-friendly, gluten-free, Paleo recipes? Please sign up for my weekly email newsletter to stay in the loop!