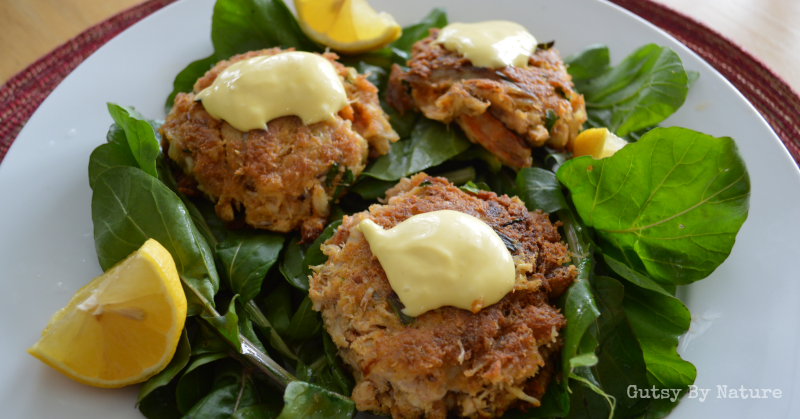 Every now and then, a cookbook comes along that changes everything you think you know about its particular niche. It presents something in a totally new way or it opens doors of a cuisine to a new audience. Mediterranean Paleo Cooking by popular blogger Caitlin Weeks, her chef husband Nabil Boumrar, and Diane Sanfilippo does both. Think you know what "Paleo" food tastes like? Think the healthy "mediterranean diet" is heavy on the grains and light on protein? Wait until you see this book!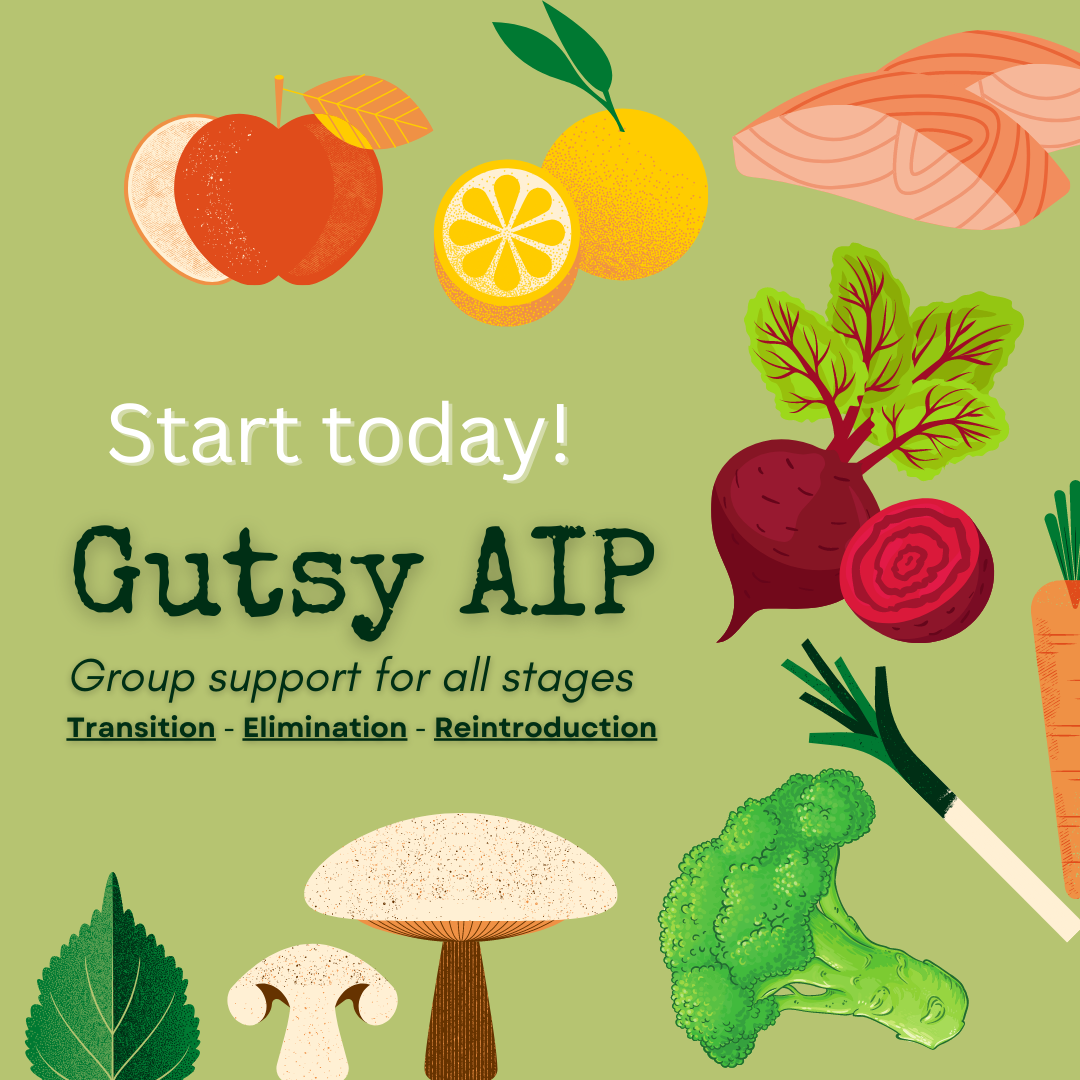 Let's cut to the chase… You need to add this cookbook to your bookshelf, especially if you follow this blog because you use diet to manage a digestive or autoimmune condition like I do. But really, this cookbook is great for anyone who likes tasty food! Read on for my highlights, a sneak preview recipe for paleo crab cakes (visit:https://ilovecrabs.com for delicious varieties in crab food), and a chance for you to win your own copy after it releases (it will come direct from Amazon because I'm not parting with mine!).
It makes you want to eat paleo. Gorgeous photography and the recipes are absolutely delicious. I've had my review copy for two weeks and it is already stained with food drippings from use! In addition to the Zesty Paleo Crab Cakes I'm sharing in this post, I've made the accompanying Garlic Aioli, the Mediterranean Chicken Liver Pâté, and Nacera's Lemon Ginger Chicken Tagine. Every single one is a winner and I have a bunch more marked to try.
112 of the recipes are paleo autoimmune protocol (AIP) – friendly as is or with provided modifications. An even larger number (159) are GAPS and SCD legal! FODMAPs are also clearly labeled and modifications are indicated. What I love best is that all of this is provided on the recipe page – you don't have to flip to an appendix in the back or in some outside source.
[Important: I advise people with autoimmune conditions follow Sarah Ballantyne's recommendations as laid out in The Paleo Approach, which includes eliminating even spices derived from berries and seeds at first. The authors of Mediterranean Paleo Cooking have elected to follow a more liberal template and therefore some of the recipes marked "AIP-friendly" do include spices such as black pepper and cardamom. If you are following The Paleo Approach and have not reintroduced these foods, simply omit them.]
Mediterranean Paleo Cooking is a great cookbook for people who are new to paleo because it provides an overview and meal plans, and also for long time paleo eaters who are looking for variety in their daily meals. It is tempting to skip the front matter and just jump right into the recipes but it is worth your time to go back and read the tips for stocking your kitchen, including best, better, and good options for ingredients. I also really appreciate that the recipes include both chef's tips and nutritionist's notes – again, on the recipe page itself.
A Sneak Preview…
The book releases on October 28, but you don't have to wait because the authors graciously agreed to let me share this recipe for Zesty Crab Cakes with you now!
Notes for healing diets:
Mediterranean Paleo Crab Cakes Recipe
Print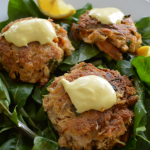 Zesty Crabcakes from Mediterranean Paleo Cooking (modifications for AIP, low-FODMAPs, SCD)
---
Author:

Total Time:

16 mins

Yield:

4

1

x
Description
This recipe for "zesty" crab cakes lives up to its name! It is totally paleo-friendly – no breadcrumbs or gluten. From Mediterranean Paleo Cooking – shared with permission.
---
1 pound cooked crabmeat
2 tablespoons coconut flour
2 large eggs, beaten
¼ cup chopped scallions
2 teaspoons garlic powder
1 teaspoon cayenne powder
1 teaspoon paprika
fine sea salt and ground black pepper
¼ cup coconut oil or sustainable palm shortening
½ cup Aioli
1 cup arugala, for serving (optional)
2 lemons, cut into wedges for serving.
---
Instructions
In a large bowl, combine the crabmeat, coconut flour, eggs, scallions, garlic powder, cayenne, paprika, and a pinch of salt and pepper. Use a fork to thoroughly mix the ingredients together.
Heat the oil in a large skillet over medium high heat. While the oil is heating up, form the crab mixture into 3-inch patties and place them on a plate.
To check the temperature of the oil, insert the end of a wooden spoon handle into the oil; if bubbles form around the handle, it is ready to use. Carefully place the crab cakes into the pan with a slotted spatula. Do not overcrowd them. Cook the crab cakes for about 3 minutes on the first side, or until golden brown. Flip and cook on the other side until slightly browned about 3 minutes.
Remove the cakes from the pan and put them on a serving plate. Cover the cakes with a towel to keep warm.
Repeat until all the crab cakes are cooked.
Drizzle the crab cakes with the aioli and plate on a small bed of arugula, if using. Serve with the lemon wedges.
Prep Time:

10 mins

Cook Time:

6 mins

Category:

Appetizer

Cuisine:

Mediterranean