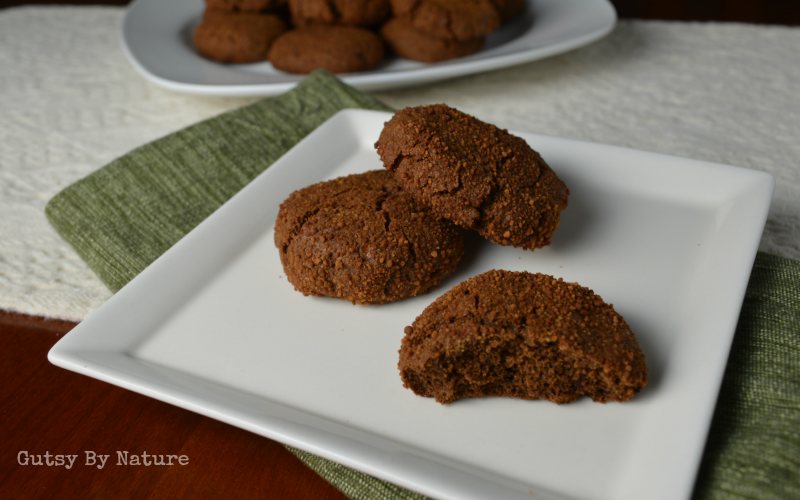 Gingersnaps made with cassava flour? What's that, you ask? It's sweeping the world of gluten-free and paleo-friendly baking! You can use it as a one-to-one substitute for wheat flour in most conventional recipes without the need to add any extra ingredients and it has a completely neutral flavor, so it works well in both savory and sweet recipes. The best news of all… it is one of the few grain-free flour options that is acceptable on the paleo autoimmune protocol (AIP)!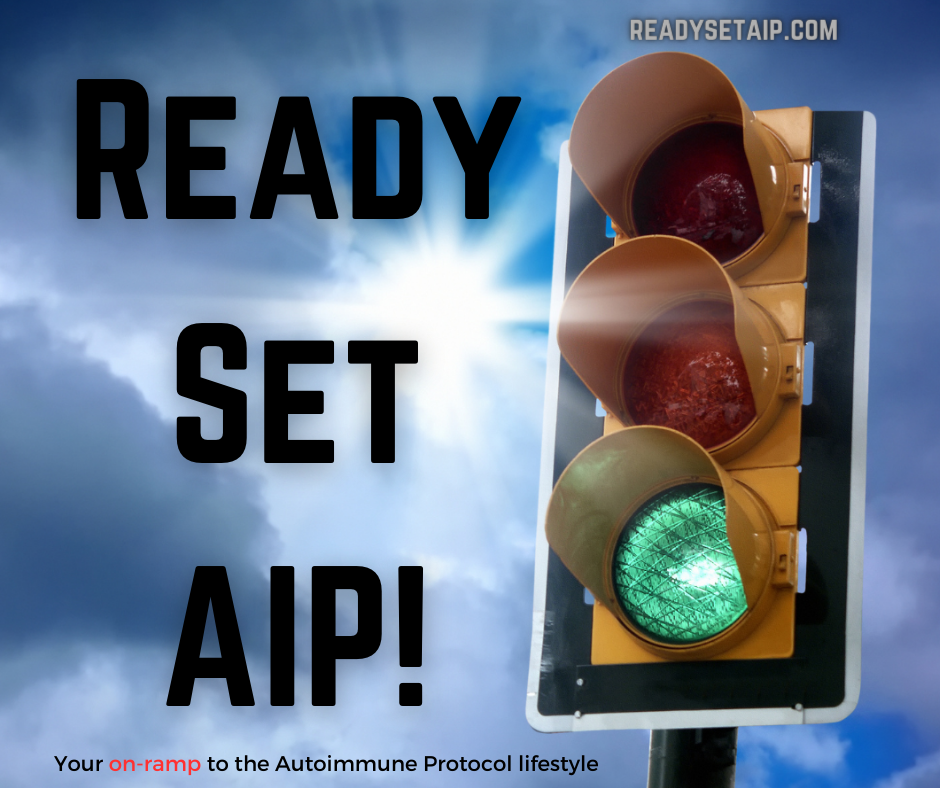 What is cassava flour?
Cassava is another name for yuca, which is a root vegetable grown in over 90 countries and is a staple food for half a billion people across Africa, Asia, and Latin America, though mostly unknown to most of North America and Europe. That is beginning to change as creative paleo folks discover the many ways it can be used to recreate comforting dishes (see my post on paleo recipes using fresh whole yuca root here).
Cassava flour is simply the whole peeled root, dried and ground up. According to Otto's Naturals (the good people who sent me the sample of the cassava flour I used to develop this recipe), it is not the same thing as tapioca flour or starch. Tapioca flour is is the bleached and extracted starch of the cassava root; cassava flour is the whole root. Do not attempt to substitute one for the other in a recipe as they have very different actions in baking and on your digestive system.
Where do I get cassava flour?
You may be able to get it locally if you live in a city with significant populations from African countries, where it may be labeled as "fufu," or Brazilian populations. More likely, you'll need to order it online. Amazon carries a few different products they label as cassava flour (linked here for your convenience) but please be aware that I can't vouch for their quality – the only product I've used is from Otto's Naturals and is what I used to develop and test this recipe.
One word of warning from the folks at Otto's… other cassava flours often have a fermented sour flavor that can adversely affect the flavor of your final product. Additionally, you should know that Otto's cassava flour has a much higher fiber content than others on the market, which can affect both glucose absorption rates and baking results.
Note on palm shortening… Palm shortening is a great dairy free and healthy alternative to butter, but you should be aware that most palm oil is NOT sustainably harvested. One exception is the palm shortening from Tropical Traditions, which is now the only brand I trust.
Notes for healing diets
AIP Gingersnap Cookie Recipe
Print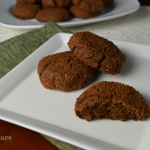 Paleo Gingersnaps… made with cassava flour!
---
Author:

Total Time:

20 mins

Yield:

24

small cookies

1

x
Description
These paleo gingersnaps are nut, seed, dairy, egg, and grain free so they are perfect for folks on the paleo autoimmune protocol (AIP).
---
1 cup

cassava flour

1/2 teaspoon

ginger

1/2 teaspoon

cinnamon

1/4 teaspoon

cloves

1/4 teaspoon

salt

1 teaspoon

baking soda

1/3 cup

palm shortening

1 tablespoon

gelatin, dissolved in 3 tablespoons hot water

1/3 cup

coconut sugar

1/4 cup

molasses

1/4 cup

coconut sugar

1 teaspoon

cinnamon
---
Instructions
Preheat oven to 375 degrees. Line two baking sheets with parchment paper or a silicone pan liner.
Whisk together the flour, spices, salt and baking soda in a small bowl.
By hand in a larger bowl or using a stand mixer, beat the shortening, 1/3 cup coconut sugar, and gelatin/water mixture until light and fluffy.
Beat in the molasses and stir in the dry ingredients to make a soft, smooth dough.
In a small bowl, mix the 1/4 cup coconut sugar and 1 teaspoon cinnamon together.
Shape dough into small balls (slightly rounded teaspoon) and roll each in the cinnamon-sugar.
Place the cookies about 2 inches apart on the cookie sheets and lightly press them down with your hand (they will not spread while baking like conventional recipes).
Bake for 10-13 minutes, or until they are firm.
Transfer the cookies to cool on a wire rack. They will get crisp as they cool, but may lose some of that crispness if you are in a humid climate.
Prep Time:

10 mins

Cook Time:

10 mins

Category:

Dessert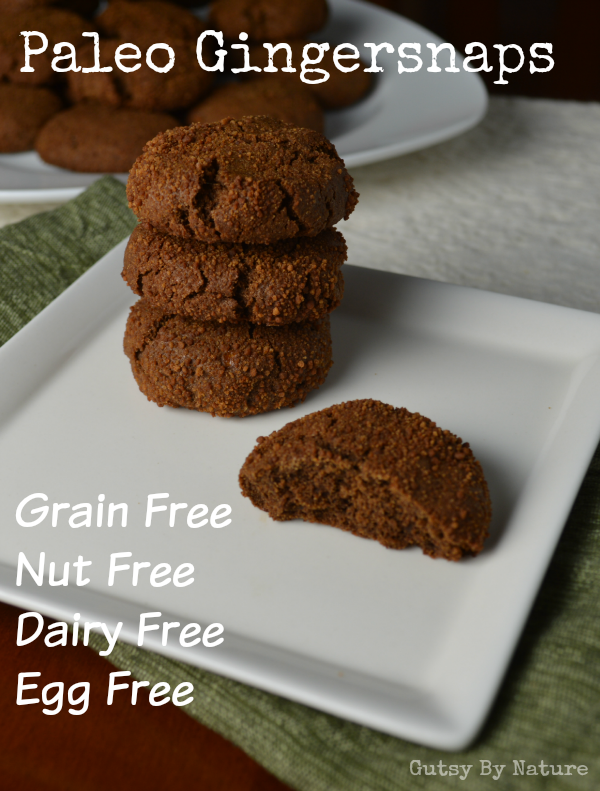 Shared on Paleo AIP Recipe Roundtable.