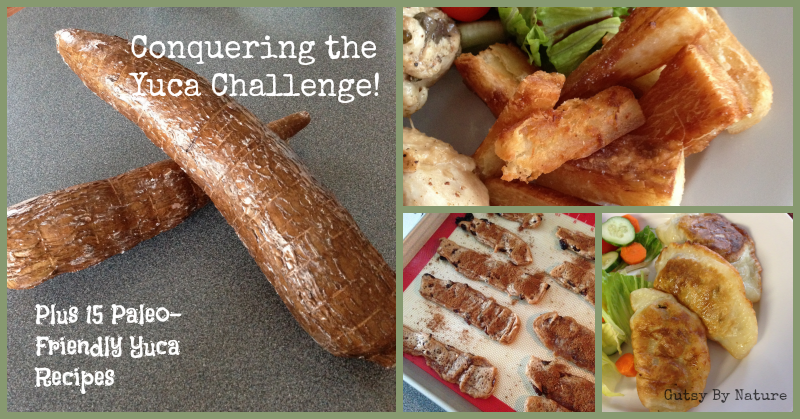 Yuca. (Or is it "yucca"?) Also known as manioc, cassava, or tapioca. This root vegetable is a major staple food for more than half a billion people in the developing world – yet it was completely foreign to me until I began seeing paleo yuca recipes that used it for miraculous things like  crisp flatbreads and egg rolls and doughy breads. Many of those recipes even lack the need for eggs so they are appropriate for people on the paleo autoimmune protocol (AIP). Not wanting to miss out on this exciting trend, I bought a couple of the crazy looking roots at my local grocery store.
And then I forgot about them. Sort of. I think really I was just intimidated and pushed them back to my subconscious until they started to rot and I threw them in the compost.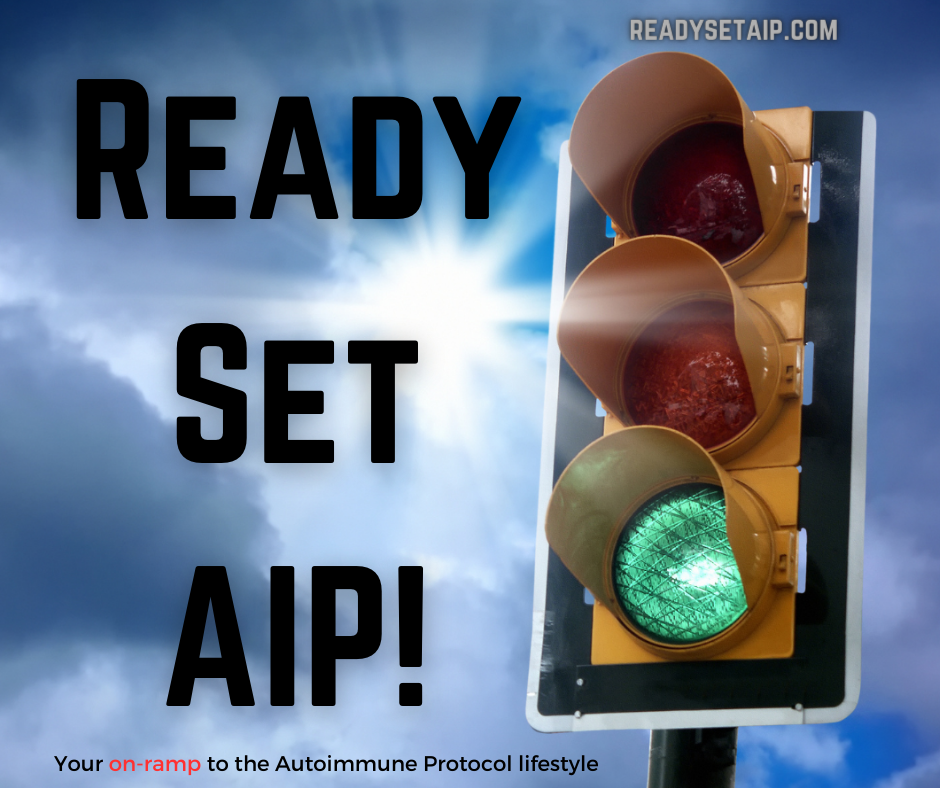 What finally inspired me to try again was the discovery of yuca fries from our neighborhood Peruvian chicken place. Delicious and addictive, but knowing that they are cooked in far less than ideal processed seed oils, I try to limit them to an occasional indulgence. So I bought another couple roots and then boldly posted this picture on Instagram and proclaimed that I was challenging myself to make something delicious from this unfamiliar ingredient!
Here are the recipes I tried and my thoughts on them…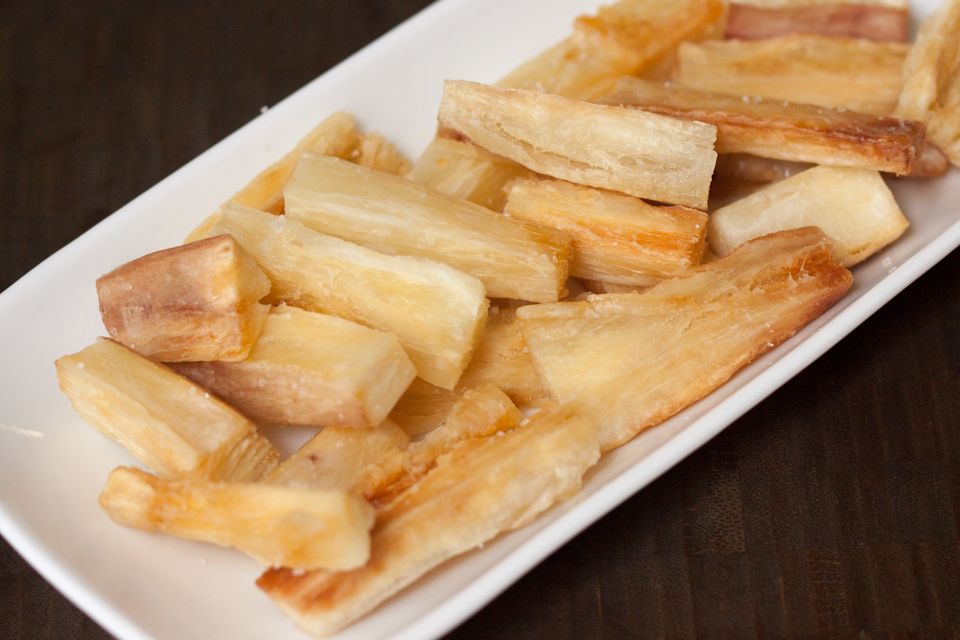 OMG. These were incredible. I'm so glad I started with The Domestic Man's Yuca Fries. I thought the yuca fries at the Peruvian place down the road were good, but these blow them away. Super easy and incredibly delicious.
I used yuca from the produce section like he did, but a friend who has lived in South America says that our imported "fresh yuca" isn't actually very fresh and that frozen is better. I think she may be on to something because the second batch of this didn't turn out quite as good and I suspect that it was an older root. Frozen yuca is also a good choice if you don't live in an area where fresh yuca is available or doesn't turn over very often.
This recipe for paleo empanadas from Predominantly Paleo is the recipe that started it all. I saw this back when Jennifer posted it April and wanted to try it then. Who doesn't love dough stuffed with meat and fried? Hands down, this is delicious. The only tweak I might make next time is to bake them longer before the pan frying because mine were still a bit doughy on the inside. We actually had a few leftover and to reheat them I put them in the oven for about 20 minutes and they turned out perfectly.
Jennifer has done a masterful job of using the concept for yuca dough to make both savory and sweet dishes, including perogies,  calzones, and even paleo pop tarts! Most exciting is that all of these are egg, nut, and nightshade free so they fit perfectly into a strict paleo autoimmune protocol (AIP)!
Jennifer also has a nice video demonstrating how to turn the yuca root into yuca dough, so there is no need to be intimidated like I was!
Next I wanted to try something sweet, so I turned to Canada Girl Eats Paleo's Cinnamon Raisin Toast Sticks. Like Sam, I used to looooooooove cinnamon raisin toast. I was excited to recreate that yummy taste sensation and this recipe didn't disappoint. The only negative is that my husband liked them too, so we ate the whole batch right away and I didn't have any leftover for breakfast the next morning!
Sam has also created a recipe for what she calls paleo kale-o-kapita that sounds delicious and is on my "to try" list! Both of these recipes are also AIP-friendly.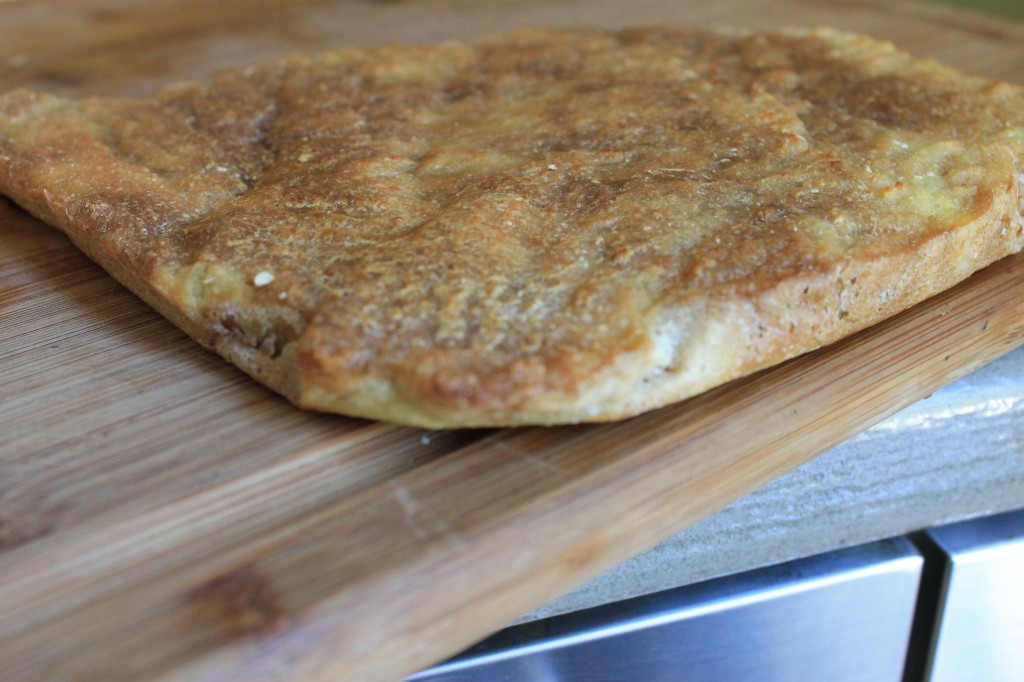 Finally, I tried my hand at making Paleo Kitchen Lab's Paleo Focaccia. I was skeptical as I was mixing the dough together because it looked and felt nothing like a bread dough, but was pleasantly surprised when it came out of the oven and I broke off a piece to taste test. So much like "real bread" I almost couldn't believe it! I kept it simple, but next time I will try sprinkling with rosemary and sea salt, or even topping with tomatoes. It would also make a killer pizza crust base! NOTE: This one uses eggs, so it is not appropriate for strict AIP.
Angela has also created a couple other yuca recipes, including one for oxtail empanadas and a sweet breakfast-style bread.
Other recipes on my list to try…
In no particular order, here are some other recipes I found online that I want to try in the near future.