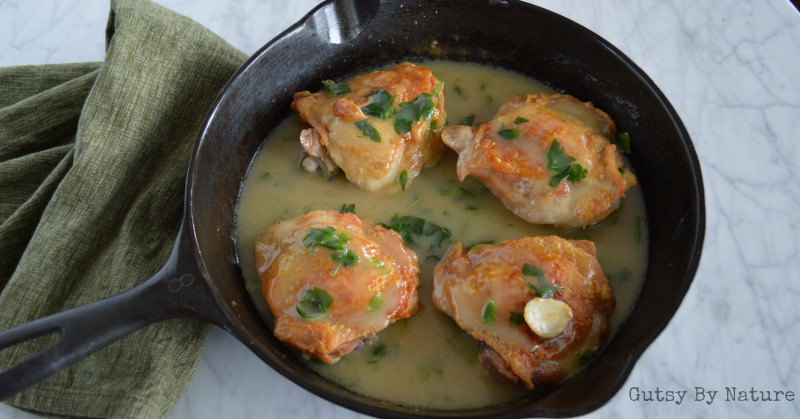 The story behind this easy paleo and AIP-friendly recipe for roasted chicken thighs begins with my love-hate relationship with restaurant chef's cookbooks. On the love side of the relationship is the usually beautiful photography and the chance to get into the mind of some of the greatest in the culinary world. But on the hate side is that the vast majority of the recipes in them are fussy and time consuming at best or completely impractical in the home kitchen at worst. The cookbook in question here falls more on the love end of the spectrum, but even the recipe with "simply" in its title required multiple steps, beginning with making a garlic confit in the oven and ended with a pan sauce, requiring multiple pans and cooking vessels in between.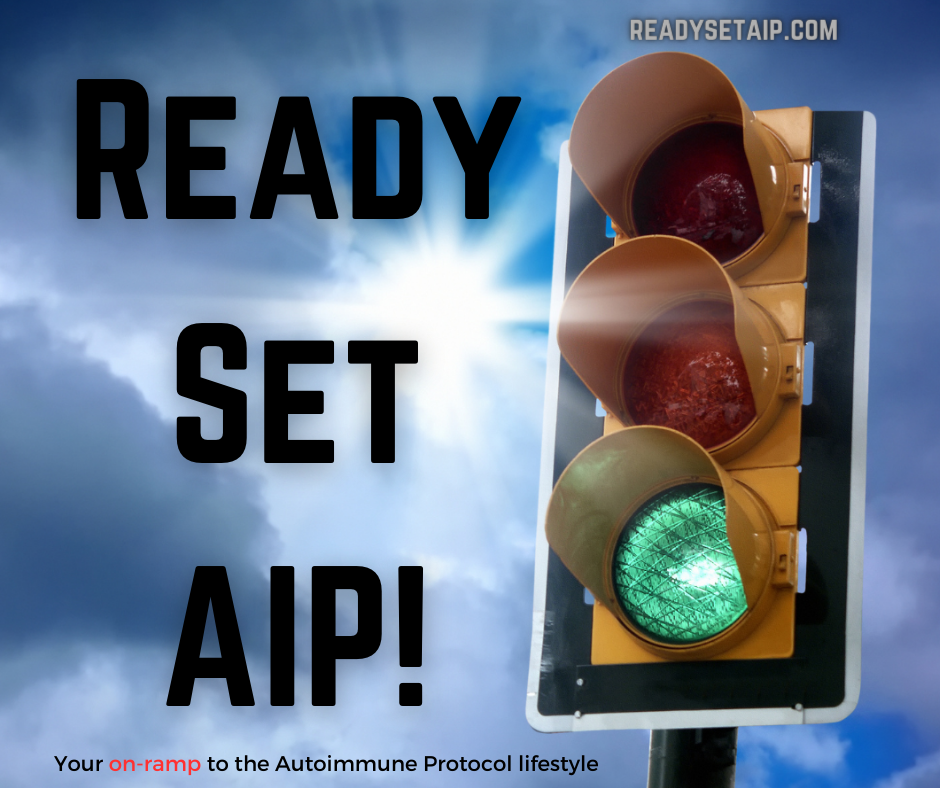 But I loved the flavors so much that I was determined to simplify the process, while at the same time making the dish more paleo friendly by swapping out the oil and using a grain-free thickener in the sauce. The result was so delicious, somebody might have even licked their plate. I'm getting ahead of myself though, so let me back up and tell you about the cookbook and the recipe that inspired this dish.
Like most of us outside of Charleston, South Carolina where he is the executive chef at Husk, I was introduced to Sean Brock via the second season (and in my humble opinion, best so far) of the PBS series The Mind of a Chef. I loved his commitment to old fashioned southern food, his obvious appreciation for the well being of the animals that become our food, and of course… the delicious sounding and looking food I saw him creating. So when I heard he was coming out with a cookbook called Heritage, it immediately went on my wish list. Never mind that I knew it would contain many recipes that don't work with my dietary needs, I was confident that it would still be fun to read and look at and would probably provide plenty of culinary inspiration.
And I was right. It is a beautiful, massive book (335 pages). It starts with a description of his childhood in southwestern Virginia – a place that is near and dear to my heart as well – and Sean's manifesto, which starts with "Cook with soul–but first get to know your soul." The recipes are interspersed with essays on topics like "how to cook grits like a southerner" (which I totally loved reading, even though I'm allergic to corn), stories about the farmers who provide food to the restaurant, and much more. If you love southern food, like getting deeper into the mind of a chef, or just want some new culinary inspiration, then you should check this book out.

My recipe
This recipe is based on Sean's recipe for "Chicken Simply Roasted in a Skillet." But I wanted to make it faster and easier, something I could even pull together on a weeknight. To do that, the first change I made was to make it with the organic bone-in skin-in chicken thighs I picked up at my local Wegman's grocery store, instead of the whole chicken cut into two pieces and cooked in two separate skillets weighted down by two more skillets in the original recipe. As much as I appreciate working with whole chickens, it's an extra step and ends up being more food than my little family needs for a single dinner. Plus, I don't have four skillets!
I also wanted to omit the first 30 minutes of cooking by skipping the garlic confit, yet still getting the roasted garlic flavor. And of course, I wanted to make my version naturally AIP-friendly so I used a different kind of fat and experimented with cassava flour (quite successfully!) for the thickener.
Not familiar with cassava flour? It is a fantastic gluten-free alternative to all purpose flour. I have used it in baking, creating this recipe for strawberry shortcake and this one for peach cobbler earlier this year, and as a breading for my fish and chips recipe, but this was the first time I used it for sauce thickening. There are several brands of cassava flour available, but I have heard they can have an inconsistent quality. The only one that I have used and therefore recommend is from Otto's Naturals.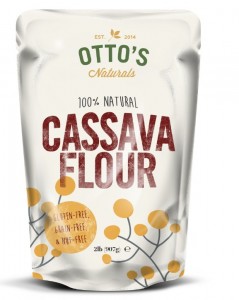 You can order it directly from the manufacturer here or from my favorite paleo-friendly online store, Barefoot Provisions.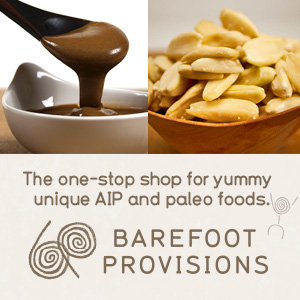 Notes for healing diets:
Paleo Roasted Chicken Thighs Recipe:
Print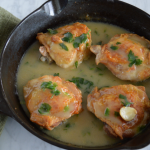 Skillet Roasted Chicken Thighs with Lemon Garlic Sauce (AIP)
---
Author:

Total Time:

40 mins

Yield:

2

-

4

servings

1

x
Description
This is an easy, one pot dish that is completely dairy free, gluten free, grain free and appropriate for people following the paleo autoimmune protocol (AIP).
---
4

bone-in, skin-on chicken thighs
salt

2 tablespoons

lard (or other paleo-friendly cooking fat, such as coconut oil)

6

garlic cloves, peeled

1 cup

chicken bone broth, at room temperature

1 tablespoon

cassava flour
zest and juice of one lemon

1/4 cup

flat leaf parsley, roughly chopped
---
Instructions
Season both sides of chicken thighs with salt and let sit at room temperature for about 10 minutes while you are preheating the oven to 400 degrees.
Place a 10-12 inch cast iron skillet over medium-high heat. When skillet is hot, add two tablespoons of your favorite paleo-friendly cooking fat (I used lard from pasture raised pigs, but you could also use coconut oil or ghee if you tolerate it).
When fat is almost smoking, place thighs in pan skin side down and weight them down with another heavy skillet or pan so the skin (I have an 8 inch skillet and that worked well, but you could use anything with the same or smaller diameter than your cooking skillet).
Cook until skin is crispy and evenly browned (should take 5-7 minutes).
Remove weight and flip chicken over. Scatter garlic cloves in skillet.
Place skillet in oven for 15-20 minutes or until temperature is 155 degrees in an instant read thermometer.
Remove skillet from oven and transfer chicken and garlic cloves to a plate to rest while you make the sauce. Leave fat in the pan.
Place pan over medium-heat on stove top. Sprinkle 1 tablespoon cassava flour over fat and whisk to make a roux. Cook for about 2 minutes, whisking constantly, until roux has darkened but not burned. Reduce heat if it starts browning too quickly.
Whisk in 1 cup chicken stock and increase heat to medium high. Cook until it has thickened and reduced so that it can coat a spoon (about 5 minutes).
Remove pan from heat and add parsley, zest, and lemon juice. Stir to combine.
Pour sauce over chicken on serving platter, or for a more rustic presentation, return chicken and cloves to the skillet and spoon a bit of sauce over each thigh.
Prep Time:

10 mins

Cook Time:

30 mins

Category:

Entree
Click to Pin It!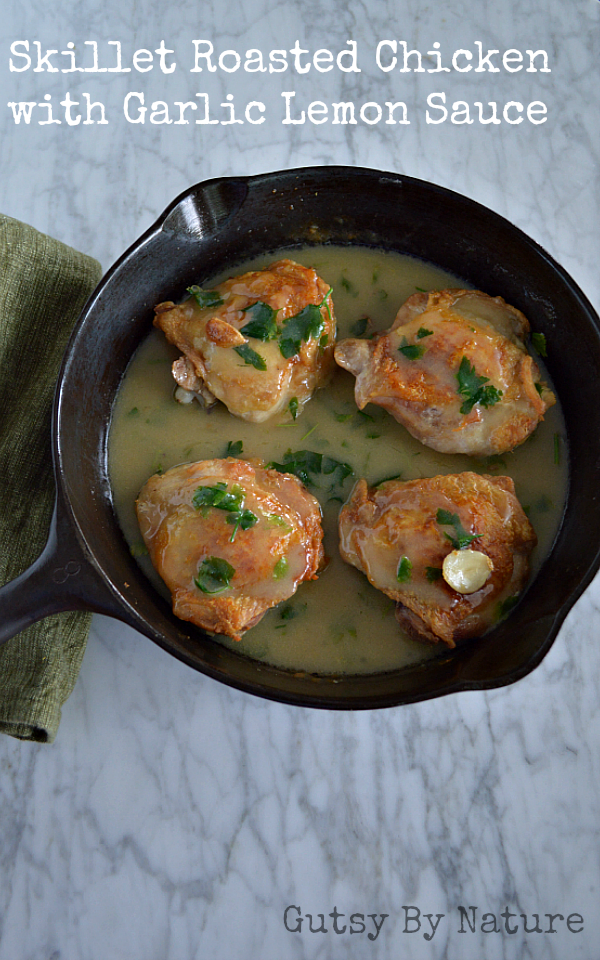 Shared on Paleo AIP Recipe Roundtable.