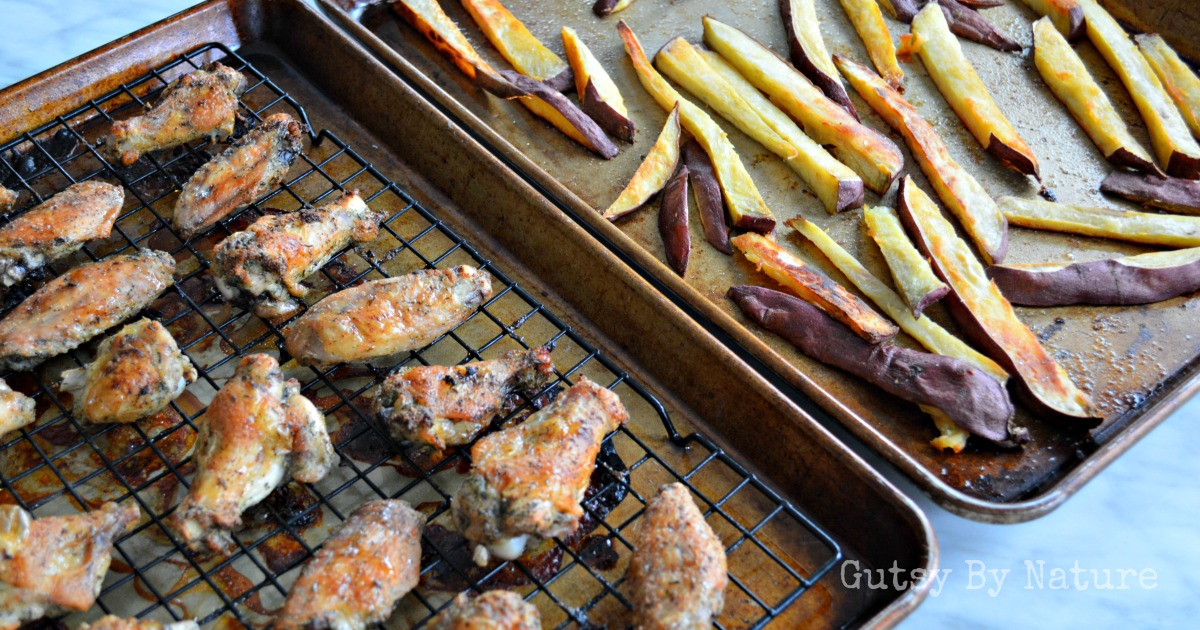 After multiple test batches (which Mr. Gutsy very much enjoyed devouring), I have perfected this technique for making chicken wings with crispy skin and great flavor along side oven sweet potato fries and can finally share it with you! Add your favorite sauce, a simple mixed greens salad or some other green vegetable, and you have a complete meal that will satisfy even your picky eaters.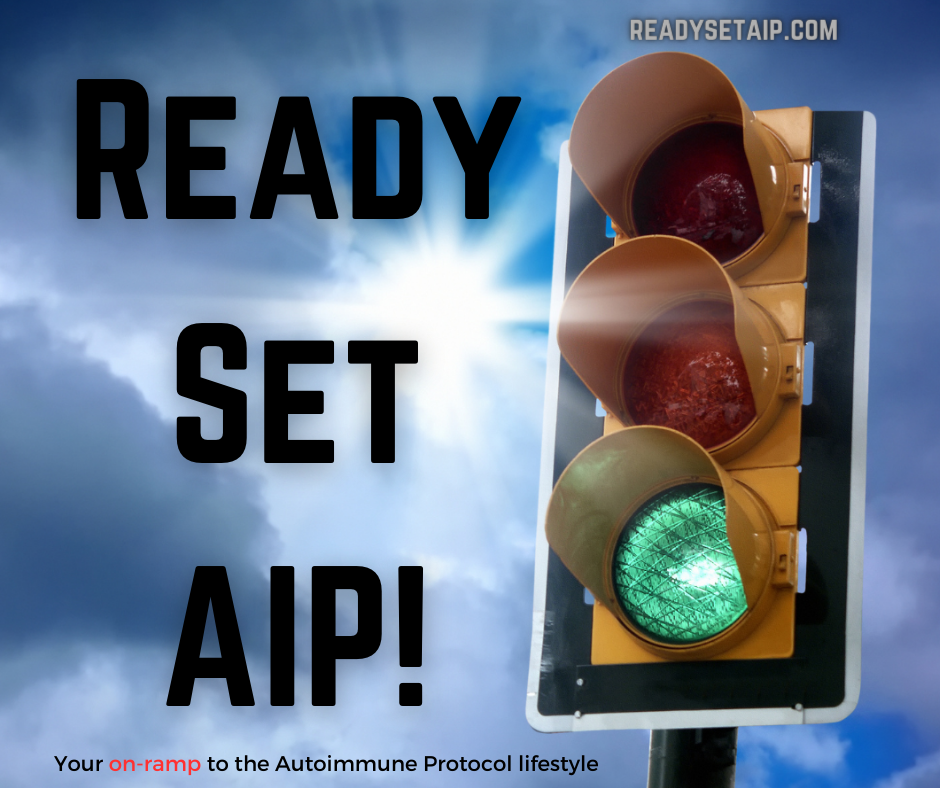 The secret to crispy wings in the oven
This recipe combines three tricks for the ultimate in crispy skin in the oven. First, you coat the wings in baking powder, which raises the skin's pH level and also increases the skin's surface area slightly (to learn more about this interesting phenomenon, see this post from Serious Eats). The challenge for people who are on the Paleo autoimmune protocol (AIP) is that no commercially available baking powder is compliant since they either use corn starch or potato starch. If that applies to you, then you'll need to mix up a batch of AIP baking powder. No need to worry… it is a easy thing to do, and a good thing to have on hand for baking recipes as well. Simply combine one part baking soda with one part starch of your choice (I use arrowroot, but tapioca would also work) and two parts cream of tartar.
Not sure where to buy these ingredients? You can use regular baking soda from your grocery store and get safe gluten-free brands of starch and cream of tartar from ShopAIP.
The second trick is to elevate the wings on a wire rack so that all sides have a chance to get crispy. This adds a little extra effort for clean up after wards, but is really worth it!
And finally, after many test batches, I realized that the crispiest skin resulted when I increased the temperature for the last 20 minutes of baking and flipped the wings once. Through trial and error, I also discovered that this amount of time and temperature adjustment allowed me to bake a pan of sweet potato fries at the same time and have them also come out relatively crispy. The pictures in this post are of fries made from white-fleshed Japanese yams, but you can make them with any variety of sweet potatoes.
What about sauce?
We have always had a mixed marriage when it comes to wing sauce! Mr. Gutsy likes his wings with crispy skin, but then tossed in copious amounts of the hottest sauce there is. Yours truly, on the other hand, has always appreciated "naked wings" and never done well with spiciness. Now that I'm mostly nightshade-free, I'm even more inclined to just go bare, but it is nice to have a little something for dipping on occasion.
So, if you are nightshade-free and want some sauce with a little bite, I recommend the "imitation mustard" from KC Natural, available at ShopAIP. I love it with my grass fed beef burgers and even stir it into tuna salad for a little extra flavor. It's a great flavor booster to keep in the fridge and a little really does go a long way.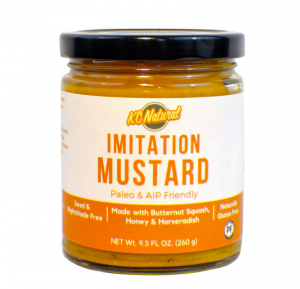 Notes for healing diets
If you want to make the wings low-FODMAP, skip the onion and garlic powder and just toss them with salt and the herbs. If you are following the Specific Carbohydrate Diet (SCD) or on a no-starch diet, you can make use a 1/4 teaspoon baking soda instead of the teaspoon of baking powder to help the skin get crispy. It isn't quite as effective, but a good option if baking powder is completely off the table for you. Unfortunately, the fries will not be an option for either people who need low-FODMAP or no starch.
AIP Chicken Wings & Fries Recipe
Print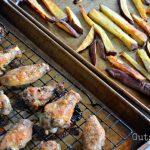 Crispy Wings & Sweet Potato Fries (AIP, Paleo)
---
Author:

Total Time:

1 hour 10 mins

Yield:

4

servings

1

x
Description
You won't believe your senses when you bite into these extra crispy chicken wings! Enjoy them with or without the fries alongside… either way, it will make a meal that everyone can love.
---
2

pounds chicken wings (cut into drummettes and flats, with wing tips removed and saved for broth making)

1 teaspoon

grain-free baking powder (see above for directions on AIP-friendly homemade baking powder)
salt

1 teaspoon

garlic powder

1 teaspoon

onion powder

1 teaspoon

dried dill

1 teaspoon

dried thyme

2

large sweet potatoes

2 tablespoons

melted coconut oil
---
Instructions
Preheat oven to 375° F.
In small bowl, combine baking powder, 1 teaspoon salt, garlic powder, onion powder, dill, and thyme.
Place wing pieces in large bowl with a lid or in a large ziplock bag. Add baking powder and seasoning mixture and shake very well so that the wings are coated evenly.
Place an oven safe stainless steel wire rack over a sheet pan. Place the wing pieces on the wire rack, spreading them out so that the wings are not touching each other.
Place in oven on a rack placed near the middle of the oven to begin baking and set a timer for 40 minutes. Meanwhile, prepare the sweet potato so that you can add the fries to the oven about 10-15 minutes later.
Peel the sweet potatoes if desired and then cut them into fry shaped pieces, making them as even in shape and size as possible. Toss them with the melted coconut oil and spread on a second baking sheet. Place this baking sheet in the oven, on rack also near the middle of the oven but below the wings.
When the 40 minutes is complete, oven the oven door and remove the pan with the sweet potato fries. Turn the oven temperature up to 425° F and set a timer for 10 minutes.
Meanwhile, use tongs or a spatula to flip each of the sweet potato fries. You may discover that some parts of the pan have fries that have already began to brown. If so, try to rotate them around on the pan so that you get a little bit more even browning. Return them to the oven.
When the 10 minutes is complete, remove the pan with the wings from the oven. Using tongs, quickly flip each of the wings and then return to the oven for another 10 minutes. This will allow the top of the wings to get crispy as well.
When you are placing the wings back in the oven, be sure to take a look at the fries and remove now if they are getting burnt. Otherwise, keep them in the oven until the wings have finished cooking.
Serve with your favorite dipping sauce.
Prep Time:

10 mins

Cook Time:

60 mins

Cuisine:

American
Did you enjoy this recipe? Want to be the first to hear about new AIP-friendly, gluten-free, Paleo recipes? Please sign up for my weekly email newsletter to stay in the loop!