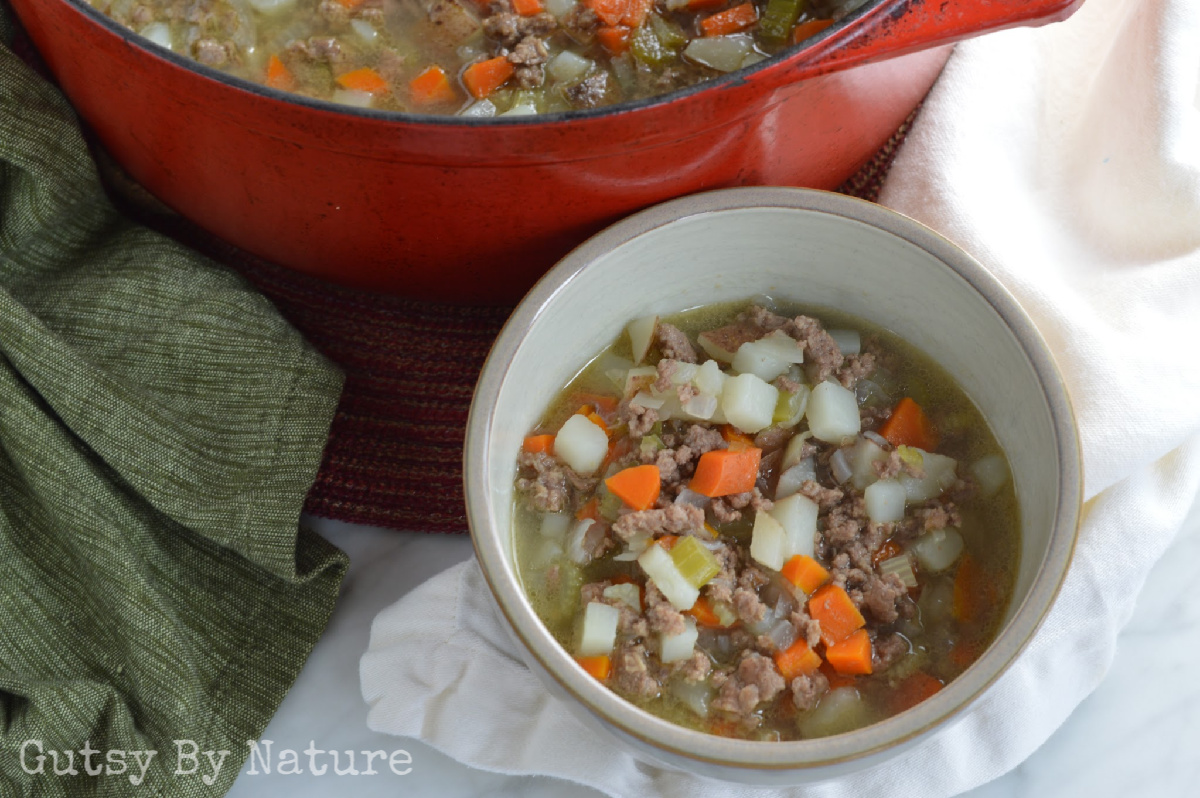 The 1950 classic edition of Betty Crocker's Picture Cookbook describes American Potage as "A quick, savory, meat-and-vegetable soup." Start to finish it takes a bit more than 1 whole hour to make and a significant investment of labor in the form of peeling and chopping vegetables, which serves as a clear reminder that "quick" meant something different 70 years ago!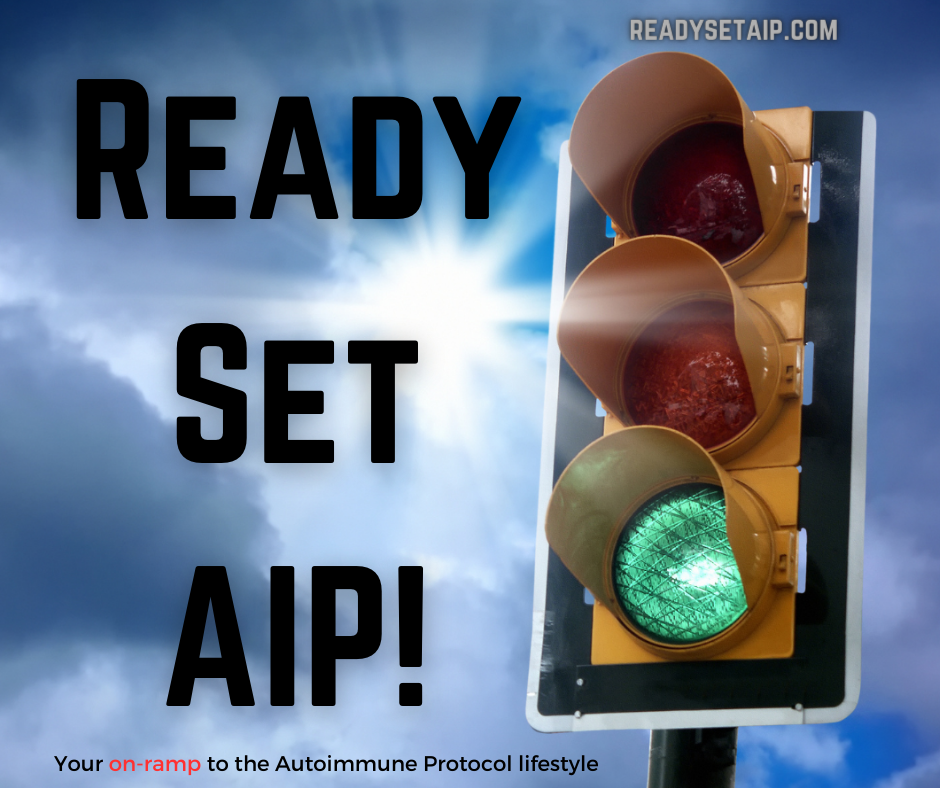 But the rest of that simple description is accurate even today and makes for a hardy and comforting meal you can easily stretch to feed 6 or even more people. I know that it was common practice in my grandmother's farm kitchens to always be prepared when additional mouths appeared at the table to add another cup of water (or 4!) to the soup simmering on the stove.
I'm dedicating this recipe to the memory of my maternal grandmother, who I had the honor of eulogizing at her funeral last month. I shared the story of my earliest childhood memory, which is of the day my little sister arrived at my house. Grandma was there, having left her own family and farm duties for a few days (not an insignificant thing as she and my grandfather were milking a herd of cows and her youngest children were teenagers still living at home who relied on her to make sure they were fed and got to school!). I was only 3 years old, so my memories are hazy, but I do remember being extremely excited about everything that was happening.
As I said to the family and friends gathered at the funeral, on that day Grandma taught me that love is not a finite resource to be divided up, but that the more people you loved, the more your love multiplied and became more powerful. There is always room for another seat at the table and another space in your heart.
The cookbook I'm referencing in this post was hers. It was published in 1950, the year that she graduated from college and married my grandfather, and she used it so heavily that the pages began falling apart and getting lost sometime in the 1990s. Fortunately, the publisher had the wisdom to print a facsimile edition in 1998 and she had the pages replaced in the original red and white binder (now faded from decades of use).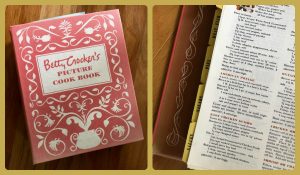 A few years ago, I asked her if she would consider giving the cookbook to me "whenever you are done using it" and she readily agreed, hopefully recognizing that I would treasure it and put it to use. I'm happy to say that she didn't get "done" using it until just last month, when she passed away at age 90 after a brief illness. When I arrived at her house the day before the funeral, the cookbook was waiting for me, right where she had promised me I'd be able to find it… her bookmarks for gravy and stuffing from the last holiday meal she cooked still in place.
I don't know if she ever made this particular recipe or not, but it is a perfect one to represent her. It's practical, warm, and comforting and full of love. And easily multiplied!
To learn more about my grandmother, see a lovely picture of her and me at her 90th birthday party, please see this post.
Did your mother or grandmother also cook from that original Betty Crocker's Picture Cookbook? Do you share my nostalgia and/or want to replace it, perhaps for an upcoming Mother's Day surprise? You can get your own facsimile edition!

American Potage Recipe
Print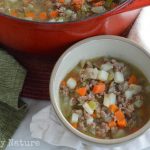 American Potage (AIP)
---
Author:

Total Time:

1 hour 35 mins

Yield:

6

servings

1

x
Description
The original 1950 Betty Crocker cookbook calls this "a quick, savory, meat-and-vegetable soup." My version is a little more nutrient dense than the original and offers an option to make it AIP-friendly.
---
1 tablespoon

lard, tallow, coconut oil or other AIP-friendly cooking fat

1

pound grassfed ground beef

4 cups

bone broth

2

–

3

carrots

2

–

3

celery ribs

1

large onion

1

medium celery root (or

4

medium red-skinned potatoes for non-AIP)

1

bay leaf
salt to taste
---
Instructions
In a large pot such as a Dutch oven or stockpot, heat cooking fat over medium heat and then add beef. Use a spoon to break it up so that it cooks evenly.
When beef is browned through, add broth and bay leaf. Bring to a simmer, then reduce heat and cover. Allow to simmer gently for 30 minutes.
Meanwhile, prepare vegetables as follows: Peel and dice carrots into small cubes, chop celery ribs, peel and mince onion, and peel celery root and cut into small cubes approximately the same size as the carrots. If you are using red-skinned potatoes instead of celery root, peeling is optional. The total quantity should end up being at least 4 cups by volume; more is fine.
Add vegetables to simmering beef and broth, cover again, and simmer for 30 more minutes.
Check consistency. If you desire a more brothy, less thick soup, add up to 4 additional cups of water and return to a simmer before serving.
Taste and salt as desired.
Prep Time:

15 mins

Cook Time:

80 mins

Category:

Soup

Cuisine:

American
Did you enjoy this recipe? Want to be the first to hear about new AIP-friendly, gluten-free, Paleo recipes? Please sign up for my weekly email newsletter to stay in the loop!

Looking for AIP-friendly cooking fats and other shelf-stable ingredients? I recommend ShopAIP!