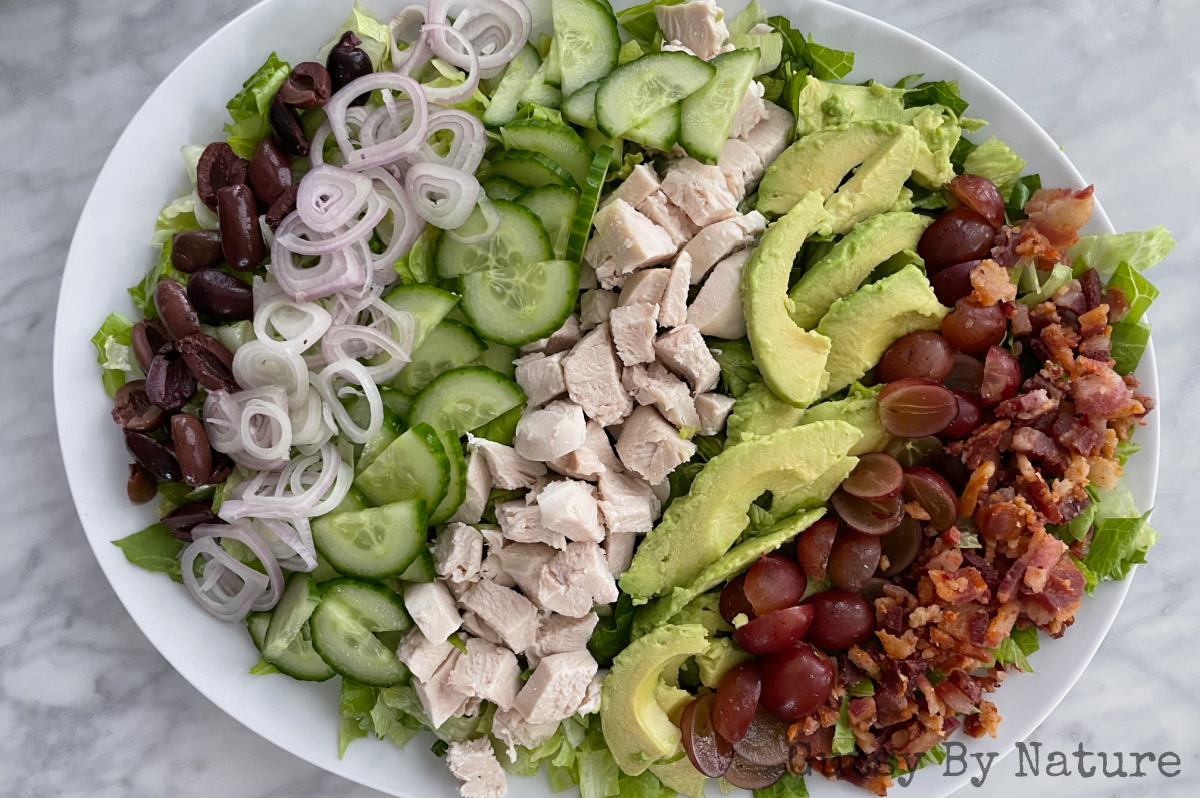 I made this gorgeous AIP-friendly version of a Cobb salad as part of our "around-the-world" culinary adventures in 2020. I've learned so much during this year long project about things that I had never even thought about before. For example, I never knew that "baked beans" are called that because they are… baked! I just thought of them as coming out of a can; but in fact, if you make them from dried beans at home they get baked in the oven. And the Cobb salad is a true American invention, the state of California to be exact. Though sources disagree on what year it first debuted and who the chef was, it is indisputable that it is named after Robert Howard Cobb, who was the owner of the Hollywood Brown Derby Restaurant in 1929 or within the decade after that.
Serving a Cobb Salad
The Cobb salad is typically arranged in an artistic fashion on a platter, but it truly is a chopped salad and should be tossed with dressing before you begin to eat it. You can serve it as a pre-meal salad or a heartier version can be a dinner meal. It should include chicken (my research says it can be broiled or grilled or poached, but not fried) and usually has some combination of crispy bacon, avocado, tomatoes, cheese (usually Roquefort), hard boiled eggs, and other vegetables. My AIP-friendly version omits the cheese but adds olives in order to get that salty bite, sliced grapes in place of the tomatoes, and double the avocado since we can't have hard boiled eggs. Of course, if you have reintroduced any of these foods you could certainly use them!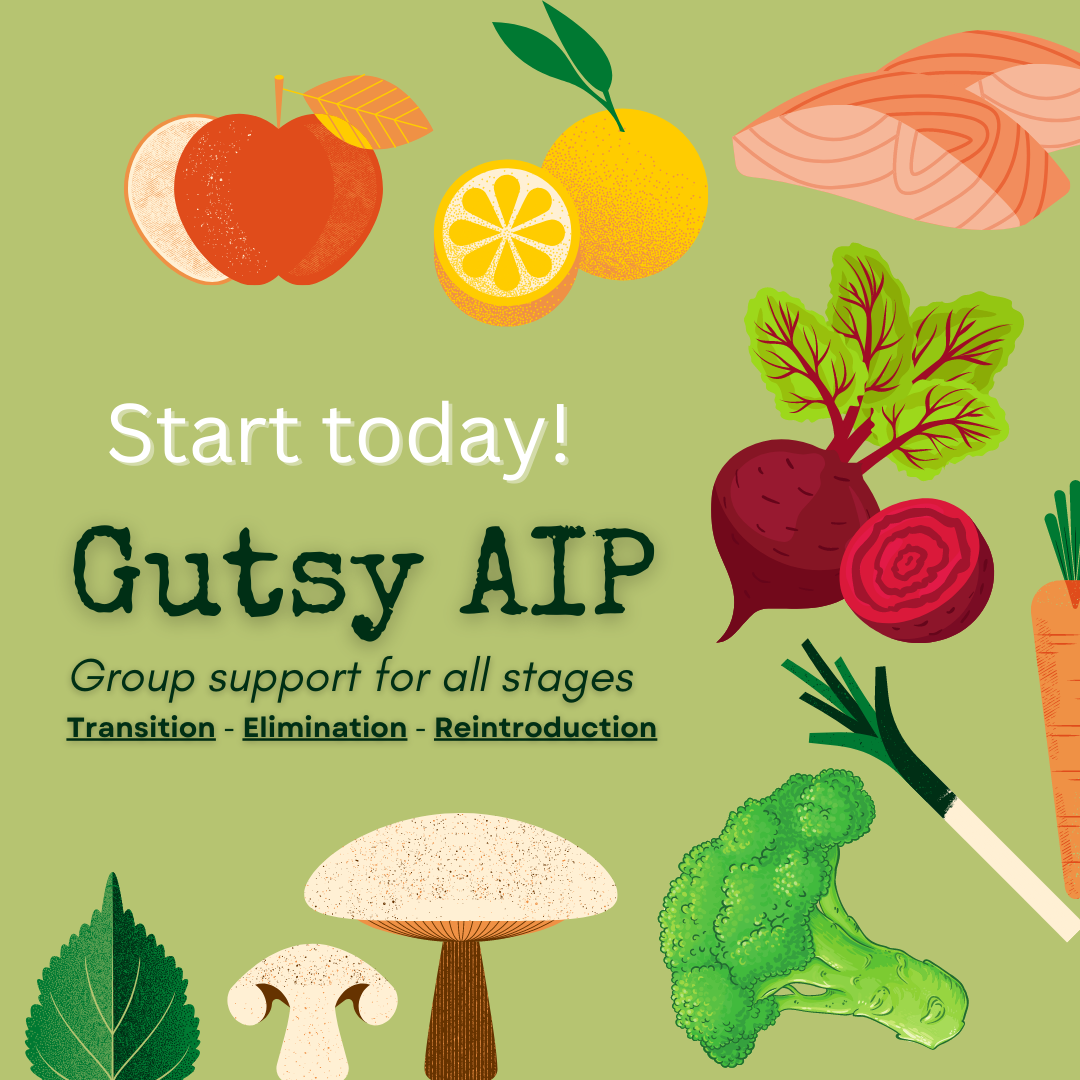 What kind of bacon is AIP-compliant?
This is one of the most frequently asked questions in the AIP world, I think! And the one that seems to generate the most amount of confusion and misconception.
When it comes to bacon, the two most critical things that make it safe for a person in the AIP elimination phase are:
Can you verify it is grain free (most critically, gluten free)?

Can you verify it is nightshade free?
The most common ingredients that would make you unable to answer yes to both of those questions are vinegar and spices. If you see either of those words and there is no additional information qualifying those ingredients, then you need to assume that one is not compliant.
Beyond that, it is up to you. Personally, I don't care if sugar was used in the curing process and I'm not a stickler about the curing agent being natural or synthetic (for more on the myth of "uncured" bacon, read this article). I prefer to consume bacon made from pasture raised pigs, so I usually buy it from a local farmer.
AIP Reintroduction Ideas
This recipe for Cobb salad as written is compliant with the elimination phase of the autoimmune protocol (AIP), but you can easily adapt if you are ready to expand your horizons. Here are a couple ideas…
Add black pepper (stage 1) to the poaching liquid in step 2 and/or the salad dressing in step 3.
Add any of the following traditional Cobb salad toppings –

Hard boiled eggs (stage 1 and 2)
Cheese (stage 3)
Tomatoes (stage 4)
Do you need a refresher on the reintroduction stages and the best way to test these foods? Check out this blog post by my friend and mentor Angie Alt – Reintroductions on AIP: The Definitive Guide.
Cobb Salad Recipe
Print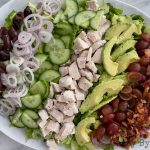 Cobb Salad (AIP, SCD)
---
Author:

Total Time:

42 mins

Yield:

4

–

6

servings

1

x
Description
Cobb Salad is a thoroughly American invention and though there are purists who insist it must have certain ingredients, it actually is quite flexible and an AIP version is still quite delicious!
---
For protein toppings
4

thick cut slices bacon

1

8 ounce chicken breast

1

bay leaf

1

garlic clove (reserve for use in dressing)

1/2 teaspoon

salt
For dressing
1/2 cup

olive oil

3 tablespoons

red wine vinegar

1 tablespoon

dried oregano

1/2 teaspoon

salt
For salad
2

medium romaine lettuce hearts, chopped

2 ounces

kalamata olives, halved or chopped

1

medium cucumber, halved and thinly sliced

1

small shallot, peeled and thinly sliced

1

medium avocado, cut into slices or diced

4 ounces

red grapes, sliced in half
---
Instructions
Prepare protein toppings ahead of time so they will be chilled by the time you are ready to serve the salad. In skillet or oven, cook bacon until crisp. Drain fat and chop bacon, set aside.
Place chicken breast, salt, bay leaf, and garlic clove in a medium saucepan and add enough water to cover. Bring to boil, then reduce to simmer and poach until internal temperature of chicken is 135° F (about 8-12 minutes). Remove chicken and allow to cool. Discard water and bay leaf, but reserve garlic clove.
Smash garlic clove with a fork or spoon in a bowl or jar (it should be quite soft). Add all dressing ingredients and whisk or seal in jar and shake to combine.
Prepare the romaine lettuce and other salad toppings as described in ingredient list. Cut cooled chicken breast into bite sized cubes.
Make a bed of chopped romaine lettuce on a platter and then arrange each of the toppings in a pattern of your choosing.
To serve, use tongs to toss salad together and then drizzle on about half of the dressing and toss again. Serve salad with remaining dressing for diners to add individually to taste.
Prep Time:

30 mins

Cook Time:

12 mins

Category:

Salad

Cuisine:

American
Want to be the first to hear about new AIP-friendly, gluten-free, Paleo recipes? Please sign up for my weekly email newsletter to stay in the loop!
Processing…
Success! You're on the list.
Whoops! There was an error and we couldn't process your subscription. Please reload the page and try again.
---
Looking for more salad recipes? Try these…
Looking for a one-stop shop your entire AIP journey, including reintroductions? I recommend ShopAIP!
Click to Pin It!