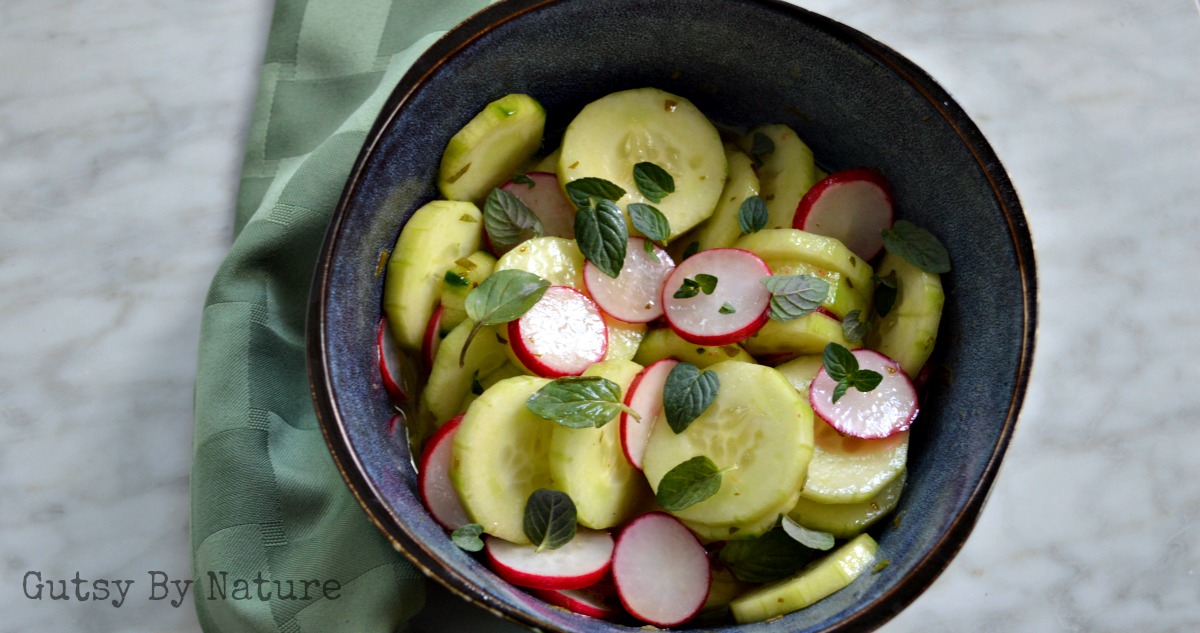 The sun is shining and life is good! It rained for 6 straight days here last week and I could really feel my mood and wellbeing improve when the skies cleared and the sun appeared again. Even though I knew all of those days of rain were good for my urban vegetable garden (if you missed it, see my April update here and the May update here), I was longing for it to stop. The old adage "be careful what you wish for" certainly proved true though, because now the oppressive summer humidity of Washington, DC is making an early appearance. I guess we get the moisture, one way or another!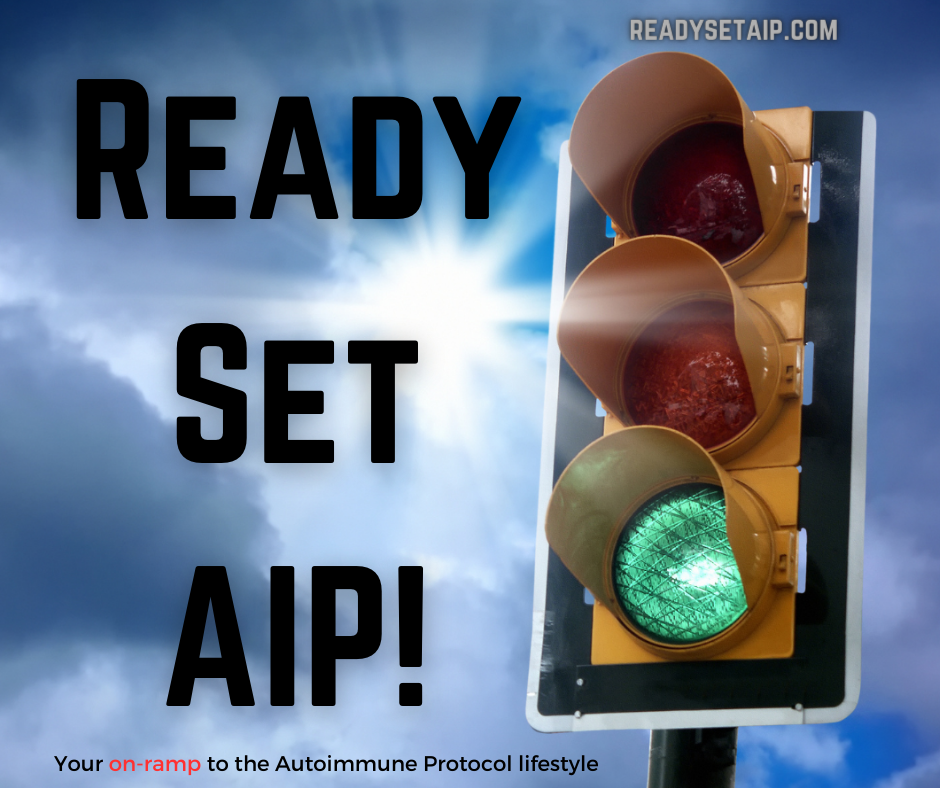 Because of the way I am using every inch of space to grow vegetables, the radishes suffered a bit from this excessively rainy period. They were planted in the washout area of the downspout from our three story townhouse and were thus nearly flooded out. That meant I had to harvest them a bit sooner than I would have liked, but I think that may have turned out to be a gift because the "baby" radishes had a lovely mild flavor that I very much enjoyed. I was particularly pleased with the way they combined with the cucumber's coolness and the lemon's bite combined in a simple salad for a mellow and yet still crisp flavor. A sprinkle of fresh herbs, including mint, rounds it out and makes this a lovely accompaniment to grilled meats or seafood.
Ingredient and equipment notes
The proportions here are very flexible. Just combine however many sliced radishes with whatever size cucumber you like. If it seems like too much dressing, scale that back as well, or reserve some of it for another use. I used the herbs that were growing the most dramatically in my garden at the moment, but if you have other favorites, feel free to substitute another combination – just make sure they are fresh herbs as dried would not be very pleasant.
I used a regular knife for the version of this recipe you see in the picture, but I also experimented with using a mandoline to get very thinly sliced radishes. If you have tiny radishes like I did, this isn't necessary, but if your radishes are larger and therefore have a stronger flavor, it seems that cutting them in very thin slices allows them to better soak up the dressing and have a more balanced flavor. Don't have a mandoline? This is the simple and inexpensive one I have.
Wondering what other products I use and love? See them all here!
Notes for healing diets
This recipe is 100% compliant with the elimination phase of AIP, is SCD-legal, Whole30 approved, low-FODMAP, and even vegan. No modifications needed for any of these!
Cucumber & Radish Salad Recipe
Print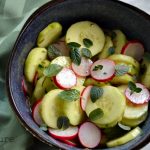 Cucumber & Radish Salad (Paleo, AIP, SCD, Vegan)
---
Author:

Total Time:

5 mins
Description
This simple combination of cucumber, radish, and fresh herbs is a spring time delight! It will keep for a day or two in the refrigerator, but do be aware that the red of the radishes will bleed into the cucumbers and make everything a little bit pink-ish.
---
1

large cucumber

1

small bunch of radishes
Juice of

1

lemon

2 tablespoons

olive oil

1 teaspoon

finely chopped fresh parsley

1 teaspoon

finely chopped fresh chives

1 teaspoon

finely chopped fresh thyme
Pinch of salt

1 tablespoon

fresh mint leaves, roughly chopped
---
Instructions
Peel and slice cucumber. Slice radishes. Place both in a bowl.
Combine lemon juice, olive oil, parsley, chives, thyme and salt. Then pour over cucumbers and radishes.
Sprinkle with mint leaves.
Prep Time:

5 mins

Category:

Salad
Did you enjoy this recipe? Want to be the first to hear about new AIP-friendly, gluten-free, Paleo recipes? Please sign up for my weekly email newsletter to stay in the loop!