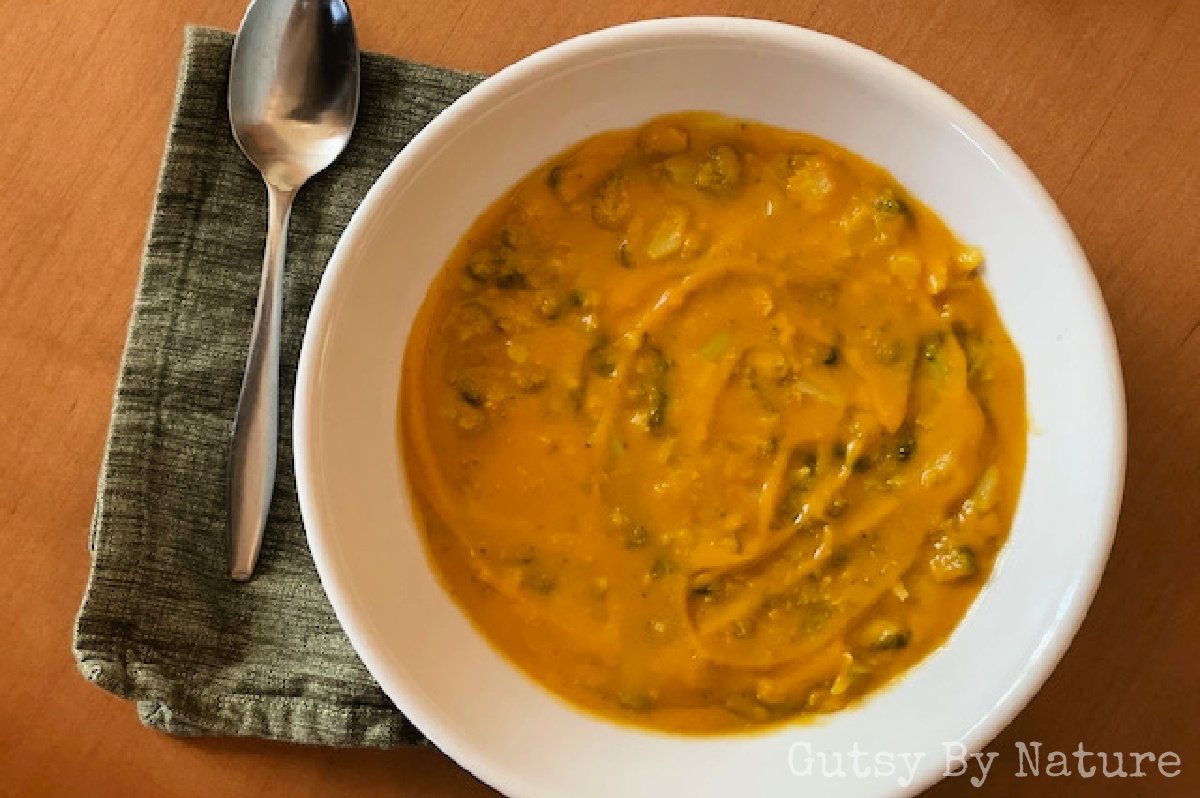 You have an onion, two sweet potatoes, a broccoli crown, and some bone broth… What can you make? Believe it or not… these humble AIP-friend ingredients make a "cheddar broccoli soup" that will knock your socks off, without any dairy or dairy-replicating gimmicks! I'm not promising that this recipe will fool dairy die-hards into believing that it is the real thing, so I've resisted giving that name officially and am instead simply calling "broccoli and sweet potato soup." But it comes pretty dang close! And either way, it is comforting and delicious, especially on a chilly and dark winter day.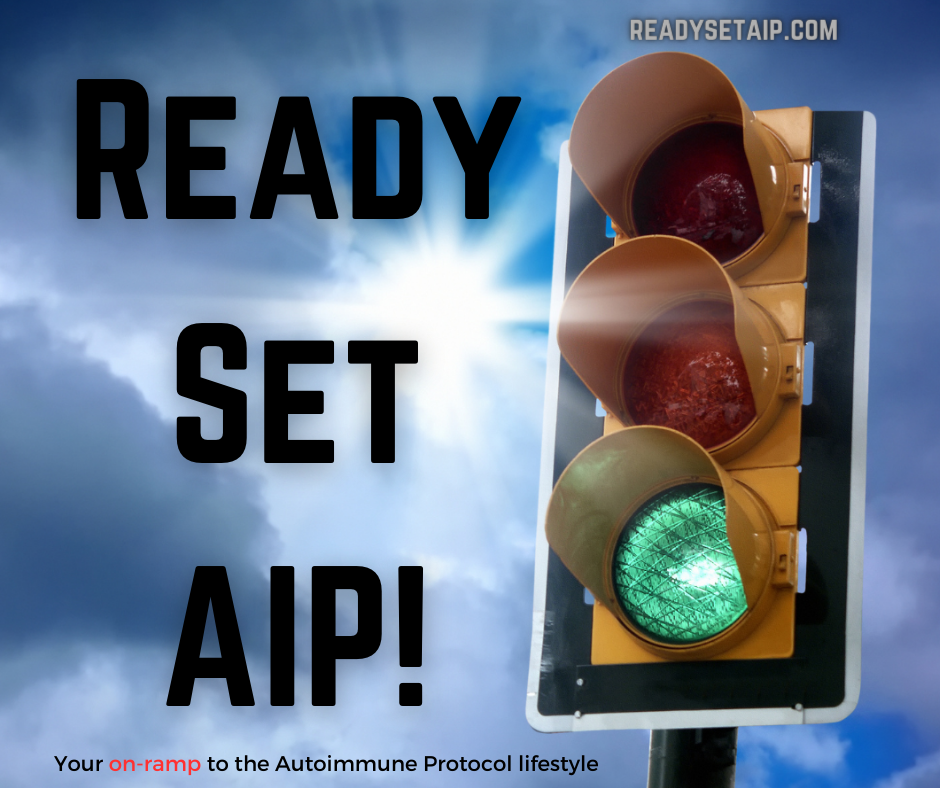 Best blender for soups
This soup does rely upon one critical piece of equipment – a quality, high-powered canister blender. I have made similar soups (such as this one for a butternut squash and broccoli soup) that could utilize an immersion blender, but to get this thick and lucious smooth base you really need the serious power.
I know that these "professional"-grade blenders are a significant investment and am forever grateful that I have one at my disposal. If there is room in your budget to make this investment now, I promise that you won't regret it!
This is the brand I use and wholeheartedly endorse…
I've also heard great things about the slightly less expensive Ninja Professional blender, but don't have any personal experience with it.
What brands of bone broth are AIP compliant?
Second probably only to the question about which bacon can you have, this is another frequently asked questions in the AIP world! It is a mark of just how long I've been doing this that I can remember a time when that question would have made no sense at all because the only way you could get "bone broth" was to make it yourself.
Today, there are an often overwhelming number of choices for store-bought bone broth. If you are in the AIP elimination phase, you can never go by what is listed on the front of the package and must look at the ingredient label closely.
Here are some tips.
Does it have any identifiable nightshades, like tomatoes? If so, then it is NOT compliant.

Does it have any identifiable seed or berry based spices, like black pepper? If so, then it is NOT compliant.
Does it have anything you can't clearly identify, like "spices" or "natural flavors"? If so, then you must assume it is NOT compliant unless proven otherwise.
If you are consuming bone broth for the purported health benefits, you'll also want to do some extra due diligence to get the best possible broth available. Remember that "bone broth" is not a regulated term and any company can swap out the labels on products they used to call something else in order to get on the bandwagon. For that reason, I also recommend my clients observe these additional tips…
Look in the freezer section. Many grocery stores in the United States now carry Bonafide Provisions and others will have additional regional brands. Frozen broth is more likely to be the real nutrient dense good stuff than anything in a carton or can.
Whether purchasing frozen or shelf stable, always opt for a USDA certified organic bone broth.
The best broth will be thick and gelatinous when it is cold. If you buy a carton or jar of broth and it remains fully liquid in your refrigerator, make a note of that and look for a different brand next time, if possible.
And finally, remember that the best way to ensure you get a nutrient dense and compliant bone broth is to make it yourself! It's also a far more cost effective option, especially if you are using bones from meat you'd be buying anyway. Check out this blog post for all my broth making tips!
AIP Reintroduction Ideas
This recipe for broccoli "cheese" sweet potato soup as written is compliant with the elimination phase of the autoimmune protocol (AIP), and a great option for the people who discover through the reintroduction process that they don't tolerate dairy to enjoy something that is at least reminiscent of something cheesy! For those who have reintroduced other foods, here are a couple ideas of how to jazz it up even more.
Use ghee (stage 1) or butter (stage 2) in step 1.

Add

black pepper

(stage 1) in the final step.

Punch up the flavor with paprika (stage 3) or cayenne pepper (stage 4) as desired.
Top with shredded cheddar cheese or a dollop of sour cream (stage 3).
Do you need a refresher on the reintroduction stages and the best way to test these foods? Check out this blog post by my friend and mentor Angie Alt – Reintroductions on AIP: The Definitive Guide.
Broccoli Sweet Potato Soup Recipe
Print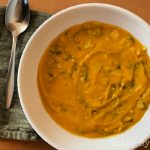 Broccoli & Sweet Potato Soup (AIP)
---
Author:

Total Time:

50 mins

Yield:

4

servings

1

x
Description
This is a great no-dairy option for people who like cheddar broccoli soup! Use nutrient dense bone broth to make it a complete and satisfying meal for the AIP elimination phase.
---
2 tablespoons

coconut oil

1

large onion, peeled and cut into chunks

2

–

3

garlic cloves, peeled

2

medium sweet potatoes, peeled and cut into chunks

3 cups

bone broth

1

broccoli crown, chopped
salt to taste
---
Instructions
In a large saucepan over medium heat, melt the coconut oil. When hot, add onion chunks and garlic cloves and cook for about 5 minutes, or until soft and starting to take on color.
Add sweet potatoes and broth. Bring to a boil, then reduce to simmer and allow to cook until sweet potatoes are cooked through and soft enough that a fork insert into one will easily break it apart with a gentle twist (about 20 minutes). Set aside to cool somewhat.
Carefully transfer contents of pan into professional-grade mixer jar (you may need to complete this in two batches, depending on the capacity of your mixer). Puree until completely smooth.
Return to saucepan. Add chopped broccoli crown to soup and bring contents back up to simmer. Cook for another 10 minutes, or until broccoli pieces are cooked and as soft as desired.
Taste and add salt as desired.
Prep Time:

15 mins

Cook Time:

35 mins

Category:

Soup
Did you enjoy this recipe? Want to be the first to hear about new AIP-friendly, gluten-free, Paleo recipes? Please sign up for my weekly email newsletter to stay in the loop!

Looking for more soup recipes? Try these…
Looking for a one-stop shop your entire AIP journey, including reintroductions? I recommend ShopAIP!
Click to Pin It!