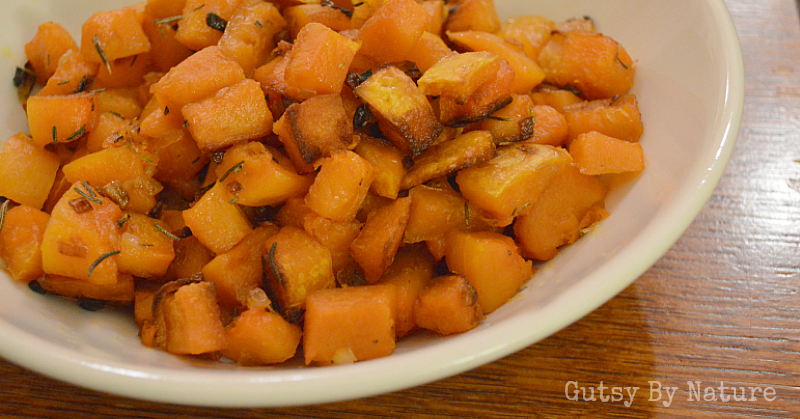 UPDATE: Congratulations Lori L., you are the winner! Check your email and reply to confirm your address…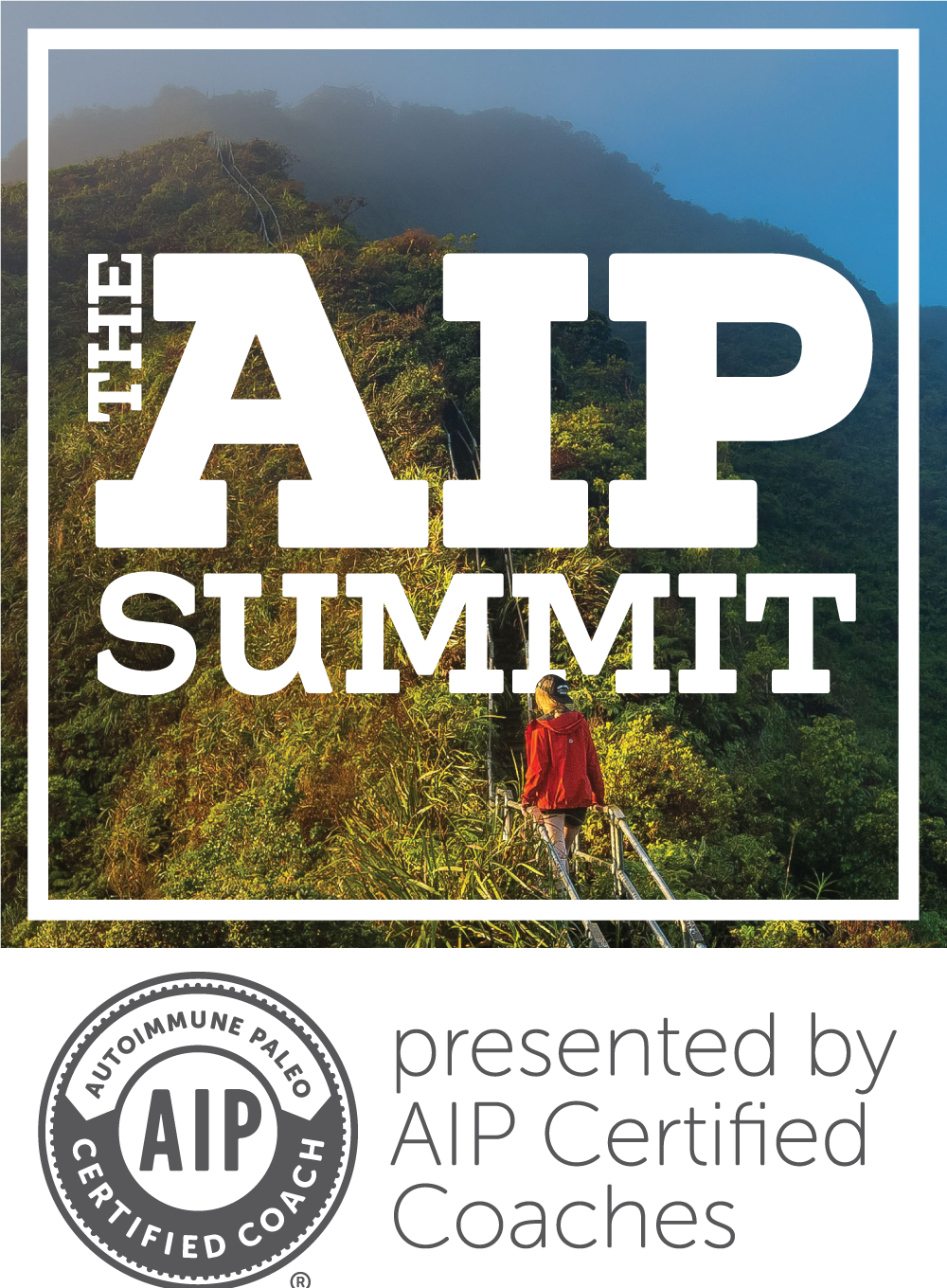 I find it hard to believe now, but for the longest time I thought I hated squash. One of the delightful side effects of going on a diet that restricted most of the starchy foods I used to fill my plate with is that I was forced to branch out and ultimately discovered that many of my food preferences were all wrong. This delicious and simple recipe for roasted butternut squash with shallots and rosemary is one of those dishes that will turn most anyone into a squash lover too.
It comes from the new AIP-friendly book from Angie Alt – The Alternative Autoimmune Cookbook, now available both in e-book format and paper back. I'm happy to announce that Angie is kindly offered me a digital copy to give one of my readers! Be sure to scroll all the way to the end of this post to enter to win!  (Closed)
Angie has also given me permission to share the recipe for Rosemary and Shallot Roasted Butternut Squash, but before I get to that I want to tell you a little more about this incredible new resource.
What makes The Alternative Autoimmune Cookbook so great?
The recipes in The Alternative Autoimmune Cookbook are delicious yet completely accessible for people who are new to cooking from scratch and/or unable to devote a great deal of energy to cooking due to illness. This recipe is a great example of that – just a few ingredients easily found in the produce section of your grocery store (Tip – If the thought of peeling and and cutting up a whole butternut squash is a bit daunting, try using a package of frozen butternut squash. Fresh is usually tastier, but you will get all the same nutrient density with frozen and it will still be tasty!).
Other easy recipes suitable for any stage of the paleo autoimmune protocol include "meaty mains" like the Kale and Pineapple Breakfast Skillet (which I think you could eat any time of the day!), easy soups and sides like Honey and Rosemary Glazed Carrots, and a whole section of easy drinks and desserts like a Sunrise Smoothie and lightly sweetened and tender Rosemary Tea Time Biscuits .
But that is just the tip of the iceberg! One difference between The Alternative Autoimmune Cookbook and other existing resources is that Angie acknowledges that the protocol is meant to be an elimination diet for healing and not necessarily the way you eat forever, so she has included recipes for ALL stages of the protocol. This gives you something to look forward to as well as ideas for how to safely reintroduce foods when you are ready to do so. She also provides guidance whenever possible for making the later-stage recipes compatible with the elimination stage by omitting or substituting ingredients.
Altogether there are 24 main dishes, 22 soups and side dishes, and 12 drink and dessert recipes, with the majority suitable for the elimination phase of the protocol. The book also includes information on what AIP entails, helpful charts, a food journal you can print out and fill in to record your own journey, and personal essays on topics such as denial, anger, fear, grief, and acceptance. I especially like that Angie draws upon the lessons she has learned working with clients as a certified health coach, including advice for progressing into and out of the elimination phase gradually if you aren't ready to dive straight in.
Finally, The Alternative Autoimmune Cookbook is just beautiful to look at! Every recipe has a full color photograph and the whole book is laid out in a way that is both pleasing to the eye and very easy to read and use. Also, each recipe is self contained on a single page, so no flipping back and forth, and she clearly highlights important information like how many servings, prep time needed, and cooking time – something I'm continually surprised so many cookbooks don't do and find very frustrating. The attention to detail is extended in the later phase recipes by clearly calling out which ingredients are required to have been reintroduced, so it is very easy to tell at a glance if a recipe is going to work for you at this time. Again, since so many of us are quite ill when we start the protocol and perhaps even suffering from symptoms like brain fog, this clear guidance is so welcome!
The Bottom Line
If you are thinking about trying the paleo autoimmune protocol (AIP) or are currently on any stage of elimination and reintroduction, this is a great book for you! Everyone from kitchen newbies to skilled cooks will find something in here to love and be inspired by. In addition to a great collection of recipes, this is a complete introduction to the hows and whys of the protocol as well, so it would make a wonderful gift for loved ones who want to better understand and support your healing journey or for those people you know would benefit from trying AIP but are reluctant because they think it would be too hard or too restrictive.
Two purchasing options
The e-book version of the book sells for $17.00 and is available here.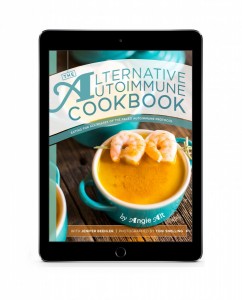 Prefer to have a physical cookbook? The list price on Amazon is $35.00 but be sure to check below and see what the current price is – Amazon has been selling it at a nice discount recently.
Shallot and Rosemary Roasted Butternut Squash Recipe
Print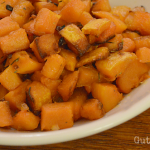 Rosemary & Shallot Roasted Butternut Squash and a Review of The Alternative Autoimmune Cookbook
---
Author:

Total Time:

45 mins

Yield:

4

-6

1

x
Description
This AIP-friendly side dish is shared with permission from The Alternative Autoimmune Cookbook.
---
1

butternut squash, peeled, seeded and diced

2

shallots, diced

3 tablespoons

coconut oil

1 teaspoon

dried rosemary

1 teaspoon

salt
---
Instructions
Preheat oven to 400 degrees. Put diced squash in a large bowl and drizzle with oil. Add shallots, rosemary and salt. Stir to coat.
Spread squash in a single layer on a baking sheet. Roast 30 minutes, stirring halfway through for even browning. Serve and enjoy!
Prep Time:

15 mins

Cook Time:

30 mins

Category:

vegetable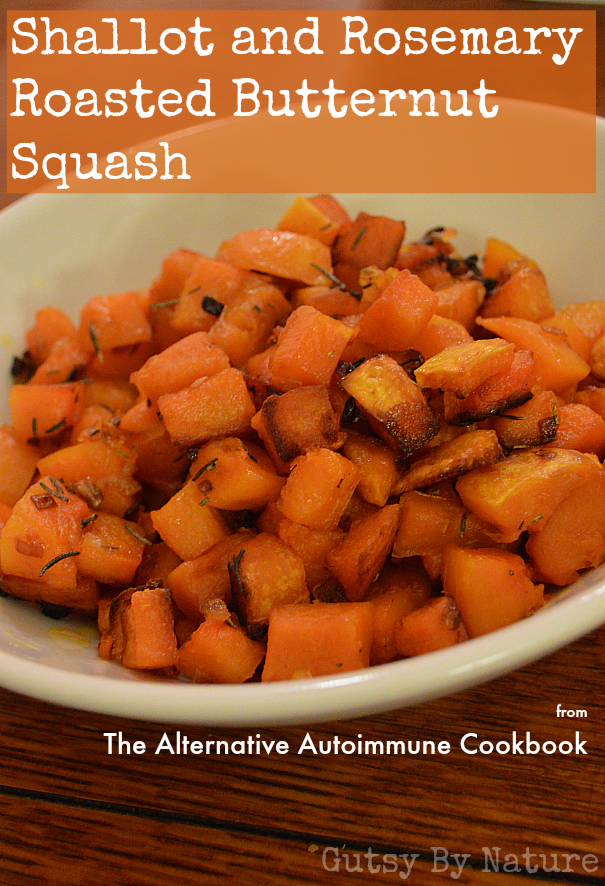 GIVEAWAY! Win your own electronic copy!