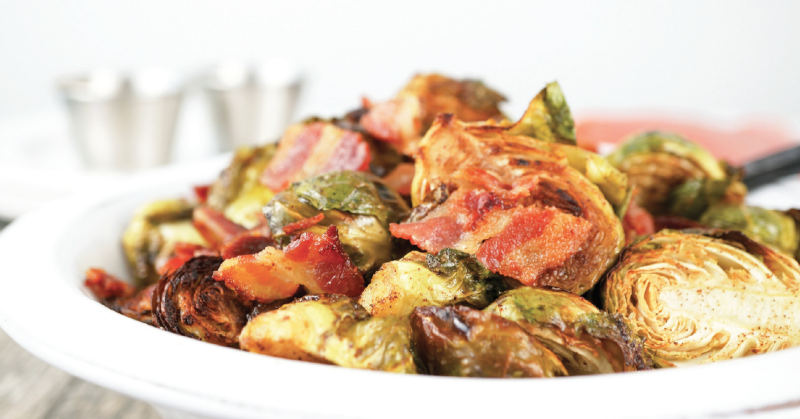 This recipe for roasted brussels sprouts with bacon and cinnamon from the new book The Healing Kitchen is guaranteed to change your view of the seasonal vegetable that everyone seems to either love or hate. I'm one of the members of the former camp, but this way of preparing of them takes them from good to "YUM" and for people who are not already fans of the baby cabbage from Belgium, this recipe will turn them into lovers. It is just fancy enough to serve for special occasions but easy enough to make for every night meals… actually, that is a great way to describe the vast majority of the recipes in The Healing Kitchen: 175+ Quick & Easy Paleo Recipes to Help You Thrive
, a new paleo cookbook from Alaena Haber and Sarah Ballantyne.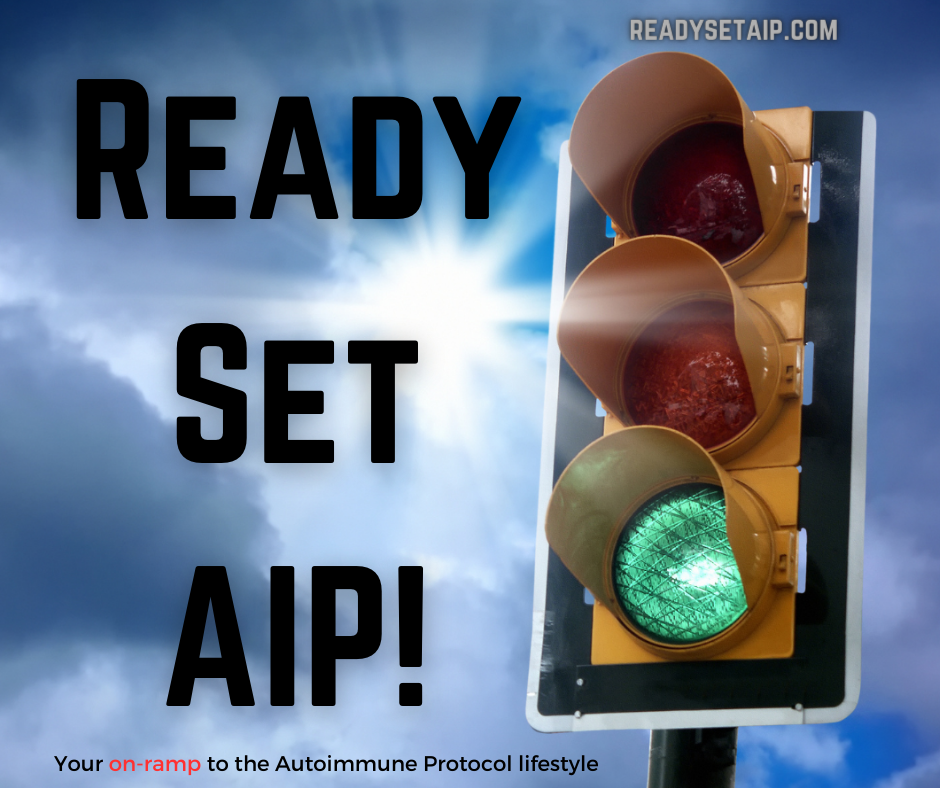 What's so great about The Healing Kitchen?
A lot of cookbooks pass through my kitchen, both ones I purchase on my own and ones like this that I am provided to review for all of you. Simply because I love reading about food and seeing other people's recipes is inspiring, I usually find something to like about all of them. But I'm at the point in my development as a cook that I don't really need to use recipes anymore for every day dishes, so it is rare for me to find a cookbook like The Healing Kitchen that I actually want to use in the kitchen and cook from! Every recipe I tried was delicious and I suspect will become a part of my regular rotation, and I have many more bookmarked to try in the coming weeks and months. These recipes definitely pass the "taste" test, which is my number one criteria for a cookbook to stay in my collection (as much as I love them, space is limited!).
So far, in addition to the brussels sprouts recipe Alaena and Sarah so generously allowed me to share with you in this post, we have made and loved the Avocado Mayo, the Mojo Pulled Chicken, the Spicy African Kale, and the Garlic Roasted Broccoli. I'm looking forward to trying the Bacon-Date Crusted Salmon, the BBQ Pulled Pork, the Rosemary and Prosciutto Stromboli, and Cherry Pie Bars – all of which I have heard fantastic things about from some of the other bloggers who got preview copies.
Other yummy recipes…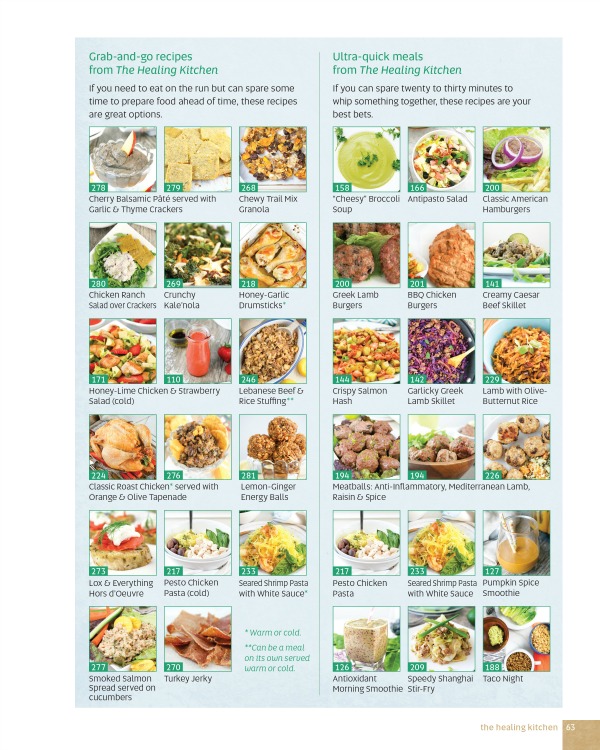 I'm also thrilled to say that the recipes in The Healing Kitchen pass the "easy" test, which is why I'm not only excited to have this book for myself, but why I'm happily recommending it to all my readers, whether you are a kitchen newbie or an experienced cook. One of my favorite features of the recipes is that all of them include tips for storage and when relevant, reheating as well. I don't think I've ever seen another cookbook that does that and it is highly appreciated, especially since eating paleo means giving up convenience foods and batch cooking and relying on leftovers helps fill that void for busy people.
The other thing I love about the recipes in this book is that whenever it is relevant the authors have provided directions for both the slow cooker and for the pressure cooker (including the Mojo Pulled Chicken we tried). Since I love my multi-function Instant Pot
, this is really exciting!
What about my healing diet?
As the name implies, the 175+ recipes in this book are all suited for a healing paleo diet, specifically the paleo autoimmune protocol (commonly referred to as AIP). This means they meet the usual paleo criteria of being based on whole un-processed foods and are free of grains, refined sugars and oils, dairy, and legumes; plus they are free of additional foods that have been shown to provoke autoimmunity in some people, including eggs, nuts, seeds, and nightshades. But unlike many resources that just stop with the "YES/NO" list, this book also features a lovely and easy to understand graphic that shows that many foods fall onto a spectrum and that the good and bad points should be weighed. For example, eggs are "NO" foods for AIP and should be eliminated at first because they are a common allergy and contain immune stimulating lysozyme, but have tons of benefits if you tolerate them, including many vitamins and minerals, and are a good source of healthy fats and protein.
While every recipe in this book is 100% compliant with the elimination phase of AIP, I really appreciate the message that most people can and should eventually expand their diet to include other beneficial foods, depending on what they personally tolerate. So often I hear from people who are daunted by AIP because of the long list of foods they can't have, so I always want to emphasize that it isn't meant to be forever! In the mean time though, it is exciting to have another cookbook full of delicious recipes to make the elimination phase not just tolerable, but enjoyable!
Side note: If you are new to the paleo autoimmune protocol, you may want to check out my reviews of other AIP-friendly cookbooks.
Also, be sure to check out this post where I round up the best of 2015 in cookbooks for the paleo lifestyle and enter to win the book of your choice, plus a $25 Amazon gift card. Click here to enter by December 31, 2015! 
Other great features of The Healing Kitchen…
As if over 175 delicious and beautifully photographed recipes that are all gluten-free, dairy-free, paleo, and AIP-compliant and require no weird ingredients you can't find at your local grocery story or specialty kitchen tools was not enough, this book also includes some awesome front matter, which makes it a great introduction for people just starting out on their journey of using food for healing and managing autoimmune disease. This includes an easy-to-understand explanation of the autoimmune protocol, the aforementioned "yes" and "no" food lists, tips for shopping on a budget and navigating a grocery store to find the healthiest foods, and much more. It also includes a total of twelve weekly meal plans with shopping lists. The first four plans (so enough for an entire month) are general meal plans, and then they also provide one they call a "one-pot meal plan for those who dislike doing dishes," another that includes only recipes with 5 ingredients or fewer, one that is all recipes that take 20 minutes or less, an on-the-go meal plan for super busy people, one for families with kids to please, and my personal favorite… "leftovers reinvented for those who like to mix it up." Finally, they also provide two batch-cooking meal plans that offer step-by-step instructions for making several meals at once and companion videos!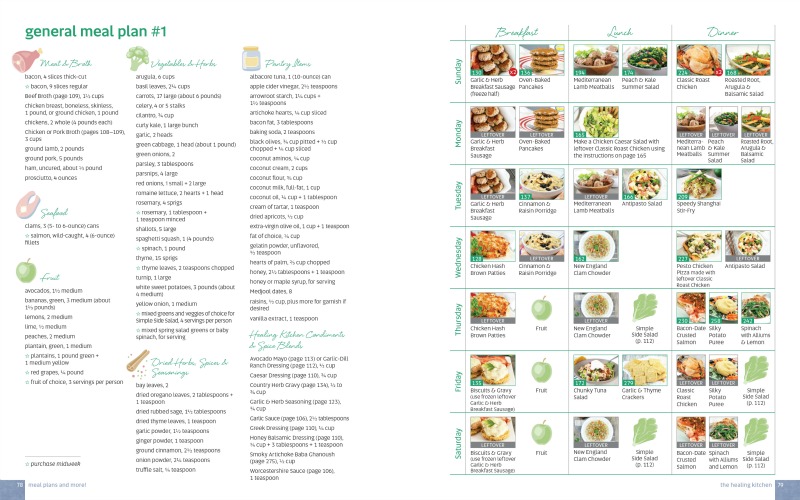 Sorry this post is getting a little long… I just have so many good things to say about this book! Finally, here is the recipe. Big thanks to Alaena and Sarah for letting me share it with you!
Roasted Brussels Sprouts Recipe
Print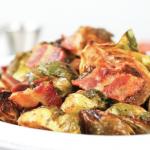 Roasted Brussels with Bacon and Cinnamon
---
Author:

Total Time:

37 mins

Yield:

serves 4
Description
Reprinted with permission from The Healing Kitchen by Alaena Haber and Sarah Ballantyne.
---
1

pound Brussels sprouts, halved lengthwise

1 tablespoon

extra-virgin olive oil

1/2 teaspoon

ground cinnamon

1/2 teaspoon

fine sea salt

4

slices bacon

1/4 cup

raisins

1 teaspoon

balsamic vinegar
---
Instructions
Preheat the oven to 400 degrees. Line a rimmed baking sheet with parchment paper.
In a medium bowl, toss the Brussels sprouts with the olive oil, cinnamon, and salt.
Roast for 25 minutes or until golden brown and crispy on the edges, stirring halfway through the cooking. Add the raisins and roast for 5 minutes.
Meanwhile, in a skillet over medium heat, cook the bacon until crispy. Transfer to a cutting board and chop into 1/2-inch pieces.
Sprinkle the balsamic vinegar on the roasted Brussels sprouts and toss with the bacon. Serve warm.
Store & reheat: Once cool, store in a sealed glass container in the refrigerator for up to 5 days or in the freezer for up to 3 months. Reheat in a skillet over medium heat until warm and crispy.
Prep Time:

7 mins

Cook Time:

30 mins

Category:

Side
Shared on Paleo AIP Recipe Roundtable